Fun swells over the coming days a touch larger early next week
Bali and Mentawais forecast​​​​​​ by Craig Brokensha (issued Tuesday 30th October)
Best Days: Wednesday through Friday, and then Monday onwards next week
This week through next week (Oct 31 – Nov 9)
Bali: The swell bottomed out yesterday but we should be seeing some new S/SW swell on the build today, with the most size expected through tomorrow afternoon.
The S/SW energy was generated by a slow moving fetch of W/SW gales on the polar shelf, with inconsistent 4-5ft sets expected across south magnets by dark today, if not more so tomorrow morning. A better SW groundswell is due into the afternoon though, produced by a smaller but more northerly positioned and stronger fetch of W/SW gales that developed south-east of Madagascar.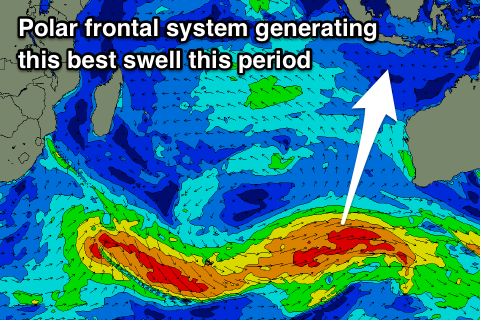 This should provide sets to 6ft across swell magnets (4-6ft in reality), easing slowly from this size Thursday morning, further into the weekend.
We should see SE trades kicking in from tomorrow, light and variable each morning and freshest through the weekend before easing again and tending more S/SE through next week.
Our next significant increase in swell is expected early next week, with a strong polar front projecting up slowly towards Western Australia, producing a good fetch of strong to gale-force W/SW tending SW winds.
A moderate to large sized S/SW groundswell should result, building Monday to 6ft+ across south swell magnets, easing back from 5-6ft Tuesday morning, smaller Wednesday. Longer term we may see another more southerly long-period groundswell later next week, generated by a late forming storm on the edge of our swell window, but more on this Thursday.
16 day Bali Forecast Graph
16 day East Java Forecast Graph
16 day Sumbawa Forecast Graph
Ments: The surf should also be on the build across the region this afternoon, with our better SW groundswell tomorrow likely to reach 4-6ft at magnets, before easing off slowly from 4-5ft on Friday.
The surf will continue to ease through the weekend with the southerly swells for Bali due next week being generated on the edge of our swell window and as a result not due to provide too much size at all.
Later Monday and Tuesday morning south facing breaks are looking to see sets in the 4ft range, easing back into the end of the week.
Winds through this period look to follow the general pattern of SE-E/SE through the mornings and then S-S/SW into the afternoons.
16 day Mentawai forecast graph
16 day Nias forecast graph
16 day South Sumatra forecast graph