Large swell this week, slow until mid-next week
Bali and Mentawais forecast​​​​​​ by Craig Brokensha (issued Tuesday 23rd October)
Best Days: Experienced surfers tomorrow through Friday, then Tuesday afternoon next week onwards
This week through next week (Oct 24 - Nov 2)
Bali: Small surf is currently breaking across the region along with our funky winds, but our large new S/SW groundswell due tomorrow and Thursday is on track, with the swell coming in large-oversized and on forecast across Western Australia.
This swell was generated by a strong polar front projecting a fetch of SW gales up ideally towards the south west of WA, on top an active sea state and in our southern swell window.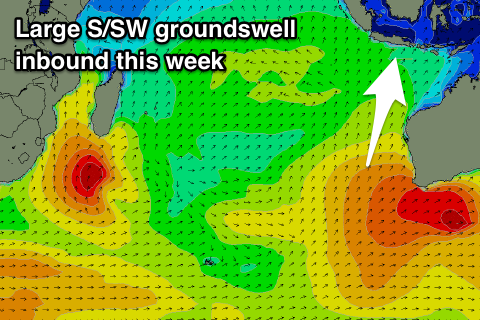 An initial pre-frontal fetch of W/NW gales should generate an initial S/SW groundswell for later today, reaching 4ft at south swell magnets with bigger waves tomorrow morning to 5-6ft, but the larger S/SW groundswell should arrive later in the day and kick to 6-8ft across south swell magnets, easing from a similar size on Thursday morning, smaller and back from 5-6ft Friday morning, smaller into the weekend.
No new swell is expected until Tuesday and more so Wednesday/Thursday next week and this only looks to be moderate sized but persistent S/SW groundswell from broad but not overly strong polar frontal activity around Heard Island and south-west of WA.
At this stage we're looking at a slow build Tuesday towards 4-5ft at exposed breaks, with scope Wednesday afternoon for sets more to 6ft, easing slowly into the end of the week.
Wind wise our funky S/SW winds will persist over the coming days (variable each morning) before tending more S/SE through the afternoons from Friday and holding through most of next week.
16 day Bali Forecast Graph
16 day East Java Forecast Graph
16 day Sumbawa Forecast Graph
Ments: The groundswell impacting Bali on Wednesday/Thursday should spread radially up into us tomorrow evening, kicking late out of the south to 4-6ft, with a peak on Thursday more in that upper 6ft range before easing slowly through Friday and further over the weekend.
The S/SW groundswell energy from Tuesday next week looks a little smaller across our region, but a burst of SW gales south-east of Madagascar generating Wednesday's best pulse will be aimed nicely through our swell window, with good 6ft sets likely at swell magnets into the afternoon, easing back from 4-5ft Thursday.
Winds over the coming period look good and out of the E/SE-SE each morning, S'ly into the afternoons, following this pattern most of next week.
16 day Mentawai forecast graph
16 day Nias forecast graph
16 day South Sumatra forecast graph