Good inconsistent swell tomorrow, slow ahead of new activity mid-late next week
Bali and Mentawais forecast​​​​​​ by Craig Brokensha (issued Thursday 11th October)
Best Days: Swell magnets tomorrow and Saturday morning, similar Tuesday morning and then Thursday onwards
This week through next weekend (Oct 12 - 19)
Bali: We should be seeing our new long-range and inconsistent but strong long-period SW groundswell building this afternoon, with it coming in on forecast across Western Australia yesterday.
Our peak is still expected tomorrow with good 6ft sets across swell magnets, easing slowly into the weekend and further through early next week.
The easing trend will be somewhat slow but even so, make the most of tomorrow and Saturday.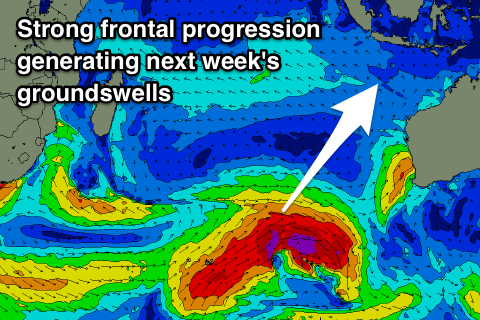 Our next increase in swell is due later Tuesday and more so Wednesday next week, generated by an initial strong polar front firing up in the Heard Island region today, projecting a small fetch of W/SW gales towards us.
Only a moderate sized swell is due, but as it starts travelling towards us, we'll see a secondary mid-latitude front pushing on top of it, aiming an additional fast moving fetch of strong W/SW winds.
This isn't likely to add any size to the swell, just consistency, with a late pulse expected on Tuesday to 3-5ft, with a peak due on Wednesday to 4-6ft on the sets at swell magnets, smaller elsewhere.
Of greater importance is a stronger frontal progression forming in a similar area to the above activity, with a pre-frontal fetch of severe-gale to storm-force W/NW winds creating an active sea state for an additional post-frontal fetch of weakening severe-gale SW tending W/SW winds to move over.
The system is a little disjointed but this will help in the longevity department with an initial pulse of long-period S/SW groundswell later Thursday to 4-5ft+ on dark, peaking Friday morning around 6ft on the sets, with the secondary pulse arriving into the afternoon to 6ft+, easing from a similar size Saturday morning.
We're likely to see continued polar frontal activity in our southern swell window through the middle to end of next week, generating another large S/SW groundswell early the week of the 22nd, but more on this next update.
Winds over the coming day will be fairly standard, variable in the mornings with afternoon SE trades, but from Sunday we'll see winds go more S-S/SE into the afternoons as tropical depression moves through the region, even S/SW into Wednesday before going back more S/SE later week.
16 day Bali Forecast Graph
16 day East Java Forecast Graph
16 day Sumbawa Forecast Graph
Ments: The swell should be kicking strongly this afternoon and reaching 6ft on the sets by close of play today, holding a similar size tomorrow morning, if not for the odd sneaker at magnets.
We'll then see the swell slowly drop through the weekend, further through next week ahead of our new S/SW swell mid-week.
The initial polar low is only of interest to us and we're expected to see a late increase in size Tuesday and peak to 4-5ft Wednesday across south magnets, easing into Thursday.
The larger groundswell for Friday should provide some better size later in the day Thursday, peaking in the 6ft+ range before easing into the weekend.
Coming back to our winds and a small tropical low will direct NW tending SW winds across the region as it moves slowly east tomorrow with variable breezes into Saturday. It looks like SE winds will kick back in from Sunday with SE-S/SE breezes through the rest of the forecast period.
16 day Mentawai forecast graph
16 day Nias forecast graph
16 day South Sumatra forecast graph