Easing surf, with a weak swell for the weekend, much better next Tue/Wed
Bali and Mentawais forecast​​​​​​ by Craig Brokensha (issued Tuesday 5th June)
Best Days: Tomorrow, Thursday morning, Saturday morning swell magnets, Tuesday afternoon next week onwards
This week and next (Jun 6 - 15)
Bali: A slowish weekend across the region, though light trades created clean conditions most of the days across exposed breaks, opening up plenty of options.
Today our new S/SW groundswell has filled in with fun sets across the magnets, with this due to ease back into Wednesday from 4-6ft at exposed spots.
This downwards trend will continue into the end of the week along with weak trades, favouring magnets.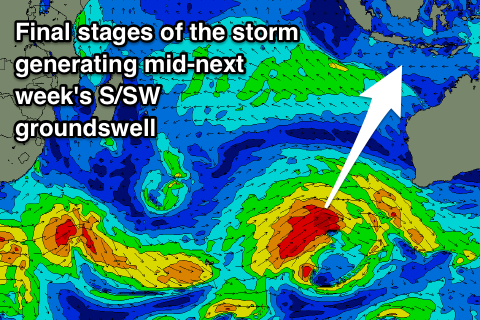 Some new weak mid-period SW swell is due to build Friday afternoon and peak Saturday.
This swell be consistent, but as I said weak generated by a patchy fetch of strong SW winds projecting a good distance north towards us, but without any strength.
Size wise, with the weak nature of the swell, it won't wrap into the Bukit as well, but the direction will help this a little.
Magnets are expected to build to 3-5ft Friday afternoon, holding 4-5ft Saturday as the swell swings more S/SW, easing back through Sunday. The trades will kick back in from Friday, becoming fresh and gusty over the weekend (variable early each morning), back to moderate to fresh next week.
From early-mid next week we've got some much better and proper S/SW groundswell on the cards, linked to more standard polar frontal activity through our southern swell window.
An initial large S/SW groundswell for later Tuesday and Wednesday will be generated by a good polar fetch of W/SW gales developing west of Heard Island and projecting east-northeast towards WA over the coming days, with a slight intensification of winds to severe-gale through Friday.3
A good, consistent, long-period S/SW groundswell will be generated, building Tuesday afternoon and reaching at least 6ft+ by dark, easing slowly Wednesday from 6-8ft.
A secondary pulse of large S/SW groundswell is then due into the following weekend, with a likely large long-period SW groundswell for Monday the 18th generated by a very intense storm spawning south-east of South Africa. More on this Thursday.
16 day Bali Forecast Graph
16 day East Java Forecast Graph
16 day Sumbawa Forecast Graph
Ments: Small to medium waves with light winds the past days, but we should see some new long-period S/SW groundswell kicking later today and peaking tomorrow to 4-6ft across south magnets, easing into the afternoon and further Thursday morning.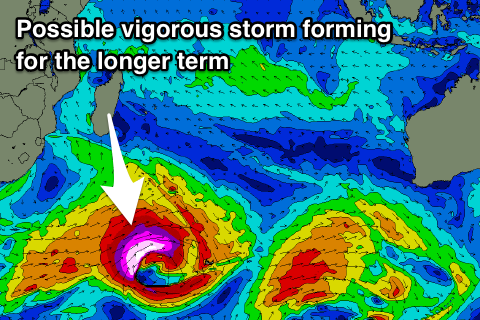 Our average and moderate to fresh S/SE winds are still expected tomorrow, limiting surfing options to more protected spots, persisting Thursday though weakening and then variable into Friday.
The mid-period energy will come out of the S'th and be fairly weak, building Friday afternoon and peaking Saturday to 3-5ft across south magnets, easing back into Sunday and becoming small to tiny Monday and Tuesday morning.
The better long-period S/SW groundswell will form a little late in our swell window, but we'll see stronger and fun sets to 6ft on Wednesday morning, with variable winds, easing back through Thursday ahead of the secondary swell later Friday/Saturday.
Of greater importance is the low forming south-east of South Africa with large surf expected Sunday the 17th it it holds, but we'll confirm this Thursday.
16 day Mentawai forecast graph
16 day Nias forecast graph
16 day South Sumatra forecast graph