Slowing down into spring
Bali and Mentawais forecast​​​​​​ by Craig Brokensha (issued Tuesday 3rd October)
Best Days: Swell magnets over the coming period
This week and next (Oct 4 - 13)
Bali: The surf is miminal today with inconsistent background S/SW groundswell breaking across swell magnets, small to tiny elsewhere.
We'll see this swell easing back into tomorrow leaving very infrequent 3ft to occasionally 4ft sets at magnets.
Another background S/SW groundswell should arrive through Thursday, produced by a great but unfavourably aligned and broad fetch of W/NW gales through our swell window, south-west of WA.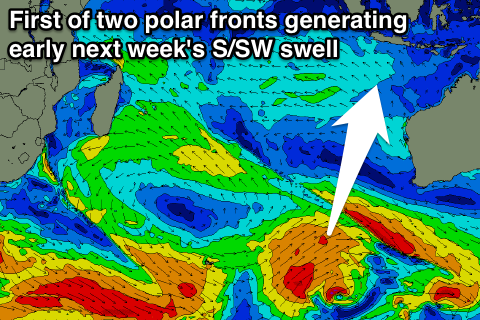 This should bump exposed breaks back up to the inconsistent 3-5ft through the day, holding into Friday morning.
A slightly stronger increase in size is due through the afternoon an inconsistent swell from a distant but long-lived polar low fills in. A couple of sets to the 6ft range should be seen at magnets into the afternoon, easing off slowly Saturday from 4-6ft.
Weak trades are expected over the coming period, variable for good periods of time during the mornings.
Into early next week a couple of fun S/SW swells are due, the biggest for Tuesday. Back to back polar fronts firing up from the Heard Island region towards WA over the coming days, with an initial increase in S/SW swell Monday to the 4-6ft range, followed by a secondary increase in S/SW swell Tuesday more to a consistent 6ft.
The swell should ease slowly from Wednesday, further Thursday with a possible reinforcing swell Friday, but more on this next update.
16 day Bali Forecast Graph
16 day East Java Forecast Graph
16 day Sumbawa Forecast Graph
Ments: Small waves the past few days, but we should see some small background S/SW groundswell from the polar low building through tomorrow, more so into Thursday.
Variable winds will create great conditions with sets due to build to 3-5ft at magnets by dark tomorrow, increasing further towards a more consistent 5ft later Thursday, easing from 4-5ft Friday, smaller into the weekend.
The fronts firing up towards WA over the coming few days will only form late in our swell window, and with this the size will be a bit smaller than seen across Bali.
The first front out of the two will form a touch further west and more in our swell window compared to the second, so our biggest increase in size will be seen with the first pulse later Sunday and Monday morning.
Magnets should build towards 5ft later Sunday, easing slowly Monday and down further through Tuesday and Wednesday. Longer term the outlook remains quiet.
16 day Mentawai forecast graph
16 day Nias forecast graph
16 day South Sumatra forecast graph