Fun S/SW swell, slow into next week, hopefully a better swell the following week
Bali and Mentawais forecast​​​​​​ by Craig Brokensha (issued Thursday 28th September)
Best Days: Bali - Friday/Saturday, later Monday onwards at swell magnets, Ments - Friday, Saturday, later next week onwards
This week and next (Sep 29 – Oct 5)
Bali: A new mid-period S/SW groundswell should be filling in across the islands this afternoon, generated by a relatively weak but slow moving polar front turn mid-latitude low firing up west of WA.
This system pushed quite north so the consistency should be up and we should see exposed breaks hitting 5-6ft on the sets, easing back into tomorrow morning.
A reinforcing S/SW groundswell is due into tomorrow afternoon, generated by a distant polar frontal progression over the weekend, with infrequent sets due to 4-6ft due to persist at swell magnets, easing back into Saturday, further Sunday.
There's nothing too major due into next week with some background S/SW groundswell from an unfavourably aligned fetch of W/NW gales firing up south-west of WA.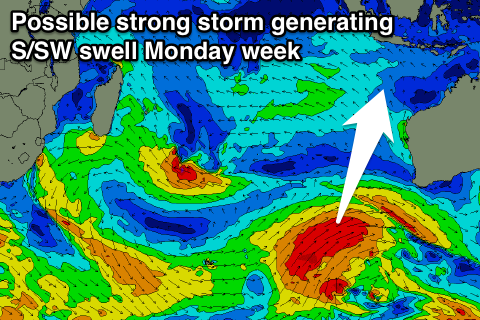 Exposed breaks should build to an inconsistent 4-5ft later Monday, holding Tuesday before easing slowly from Wednesday.
As touched on in the last update, E/SE trades should weaken into early next week, tending more SE from the weekend. In saying this early each morning winds will be variable across all locations.
Longer term we'll hopefully see a fun sized S/SW groundswell late next week from a strong and sustained polar low, but beyond this, a strong polar front projecting up towards us during the middle to end of next week should produce a better S/SW groundswell early the next week. More on this Tuesday.
16 day Bali Forecast Graph
16 day East Java Forecast Graph
16 day Sumbawa Forecast Graph
Ments: The surf should be also building across the Mentawais out of the S'th this afternoon, with sets due to reach 6ft by dark, though with average S/SE winds for exposed breaks.
The swell should ease from 5-6ft tomorrow morning, further into the weekend as winds become more variable.
The S/SW swell energy due across Bali will be generated too late/east in our swell window to influence us, with small to tiny surf due early next week.
Some small background S/SW groundswell energy is due late week (Thursday/Friday) from a slow moving polar low, though sets don't look to top 5ft at this stage. Winds will remain variable creating good conditions at spots open to the swell.
A slightly larger swell is possible the following week, but more on this Tuesday.
16 day Mentawai forecast graph
16 day Nias forecast graph
16 day South Sumatra forecast graph