Fun swells over the coming period
Bali and Mentawais forecast​​​​​​ by Craig Brokensha (issued Tuesday 12th September)
Best Days: Fun waves from tomorrow, largest Friday around Bali, largest Sunday across the Ments
This week and next (Sep 13 - 22)
Bali: Generally small surf over the past few days but we should see some better groundswell energy filling in across the region from later today.
The first will be a new long-period S/SW groundswell, generated by a strong but distant polar low late last week and into the weekend. This low generated a slow moving fetch of W/SW gales between Heard Island and Western Australia, with a late increase due today, ahead of a peak tomorrow to an inconsistent 4-6ft across exposed breaks, easing slowly into Thursday.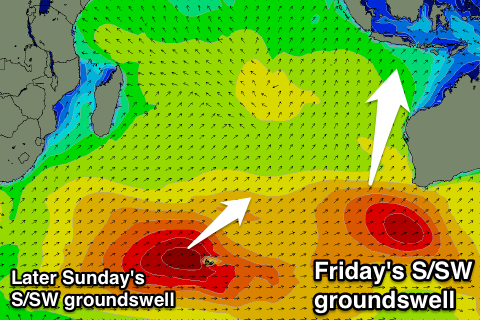 A bigger S/SW groundswell is due into Friday, produced by a better aligned mid-latitude front that's currently pushing across the south-west corner of Western Australia.
More size and consistency is due off this swell, with it due to arrive overnight Thursday, peaking through Friday morning to 6ft to occasionally 8ft across exposed breaks.
A steady drop in size is due Saturday ahead of a new similar sized but less consistent S/SW groundswell Sunday afternoon, easing Monday.
This swell started to be created south-east of Madagascar on the weekend by a strong polar low, but this system is now weakening while tracking east across and past the Heard Island region.
While inconsistent sets should reach the 6ft to occasionally 8ft range into Sunday afternoon/evening, easing back from 6ft+ Monday.
A fun reinforcing SW swell is expected into Tuesday afternoon, produced by a tight and intense but short-lived mid-latitude low forming north of Heard Island on Thursday.
Winds are expected to reach the severe-gale range, with the swell keeping 4-6ft sets hitting exposed breaks all day, ahead of a drop from Wednesday.
Looking at the winds expected over the coming period and E/SE trades are due to remain relatively weak through the end of the week, freshening a little Sunday/Monday before backing off again. As always, early each morning winds will be more variable and conditions clean across more exposed breaks.
Longer term there's nothing major on the cards until the next Sunday, so make the most of the coming swells.
16 day Bali Forecast Graph
16 day East Java Forecast Graph
16 day Sumbawa Forecast Graph
Ments: A fun SW groundswell provided a kick in size Sunday and yesterday, but S/SE winds have limited surfing options ti more protected breaks.
We should see some new inconsistent S/SW groundswell energy later today, peaking tomorrow morning in the 4-6ft range, easing into the afternoon.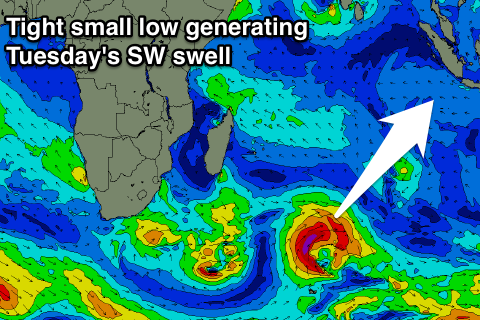 The mid-latitude front pushing into WA formed late in our swell window, with less size expected compared to Bali. This swell is due Friday and should provide inconsistent 6ft sets across south swell magnets before easing into Saturday.
The S/SW groundswell from the polar low that formed south-east of Madagascar should fill in Sunday, with 5-6ft+ surf due across exposed breaks, easing back slowly Monday, slowed Tuesday by the reinforcing SW swell from the tight mid-latitude low. This will keep sets up around 5-6ft ahead of a drop in size through Wednesday and Thursday morning.
Winds will remain fresh and average from the SE tomorrow before easing off and tending more variable Thursday, remaining so for the period besides a slight re-intensification on Sunday/Monday.
Longer term some large new groundswell is due the following weekend, but more on this Thursday.
16 day Mentawai forecast graph
16 day Nias forecast graph
16 day South Sumatra forecast graph