Fun but inconsistent S/SW swells for the period
Bali and Mentawais forecast​​​​​​ by Craig Brokensha (issued Tuesday 4th July)
Best Days: Every day this period around Bali until the middle of next week, more protected breaks Sunday when winds tend more S/SE
This week and next (Jul 5 - 14)
Bali: A good S/SW groundswell is breaking across the region today, with it kicking later yesterday.
This swell should ease off through tomorrow from the 6ft range at exposed breaks, smaller into early Thursday morning.
Into the afternoon Thursday and more so Friday morning, a new long-period and inconsistent S/SW groundswell is due across our coasts.
The swell started to develop late last week by a strong polar low forming west of Heard Island. A fetch of storm-force W'ly winds were generated in our far swell window, with the polar low moving east while slowly weakening over the weekend.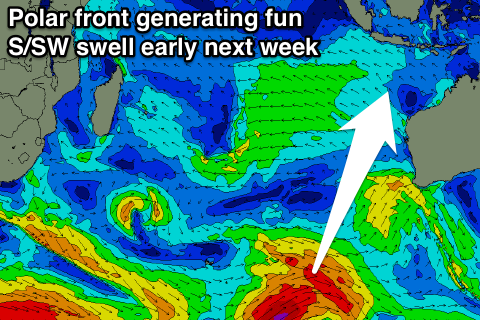 An increase is due Thursday afternoon, reaching an inconsistent 5-6ft at exposed breaks by dark, peaking Friday morning to 6ft to occasionally 8ft. A drop in swell is due through the afternoon, further into Saturday.
A couple of mid-period S/SW groundswells are due Sunday and Monday across south magnets, generated by a back to back polar fronts developing around Heard Island and projecting north-east towards Western Australia.
The first for Sunday should keep 6ft sets hitting exposed breaks all day, with a second similar sized pulse for Monday, easing back into Tuesday and Wednesday.
For the rest of the week there isn't anything major due. A very infrequent and long-range SW groundswell is due Thursday, generated by a distant storm south of South Africa today and tomorrow.
Beyond this some weaker frontal activity through the south-eastern Indian Ocean will produce moderate pulses of S/SW swell from the weekend of the 15th into early the following week, but more on this Thursday.
Moderate to fresh E/SE trades are due to persist but tend more SE over the coming days and weekend, becoming less favourable from the S/SE Sunday and then easing off into next week. Remember that early each morning more variable winds are expected across most regions.
16 day Bali Forecast Graph
16 day East Java Forecast Graph
16 day Sumbawa Forecast Graph
Ments: A good S'ly groundswell should be breaking across the region today, with a drop in size due through tomorrow from 4-6ft on the sets.
The tight polar low mentioned above, generating a storm-force W'ly fetch should produce a new inconsistent S/SW groundswell for Thursday afternoon and Friday morning, coming in at 4-6ft, easing into the afternoon.
The S'ly swells impacting Bali over the weekend and early next week will only be generated late in our swell window, and come in under the size of a better long-range SW groundswell.
This groundswell was generated by a tight but intense polar low forming south of South Africa over the weekend. It will be very inconsistent but should build through Saturday to an infrequent 4-5ft at swell magnets, easing back through Sunday.
Into early next week the swell will become small ahead of another long-range and inconsistent S/SW groundswell Thursday, generated by the polar front currently south of South Africa. Sets to 4-5ft are due again into the afternoon, with some possible reinforcing swell for Friday/Saturday.
Light variable winds should persist over the coming days, possibly increasing slightly from the SE early next week before tending variable again from Wednesday.
16 day Mentawai forecast graph
16 day Nias forecast graph
16 day South Sumatra forecast graph