Smaller S/SW swells ahead of long-period SW energy
Bali and Mentawais forecast​​​​​​ by Craig Brokensha (issued Tuesday 16th May)
Best Days: Bali Wednesday, Thursday and then Sunday onwards, Ments Wednesday and then Saturday onwards
This week and next (May 17 - 26)
Bali: Large pumping surf to end last week, dropping back steadily through the weekend and further into yesterday.
A small inconsistent SW groundswell should currently be breaking across the region, followed by a mid-period increase in S/SW swell later today, peaking tomorrow.
We should see exposed breaks coming in at 4-5ft, easing off slowly into Thursday, smaller Friday.
As talked about last update, some very inconsistent long-range SW groundswell is due from the weekend through early next week, generated by a strong but distant polar frontal progression south and south-east of South Africa and Madagascar.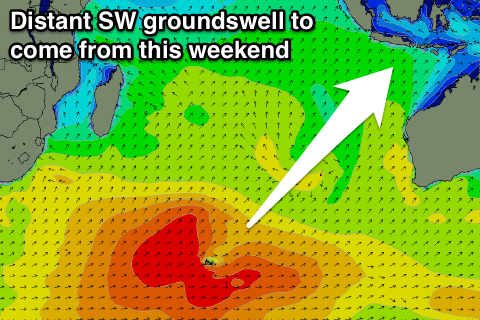 There'll also be some more consistent mid-period energy in the mix for early-mid next week, generated by weaker fronts pushing further north into the Indian ocean over the coming days.
But coming back to the expected size due across the region, and an initial increase is due Saturday afternoon to a very infrequent 3-5ft by dark, with a better pulse Sunday to 4-6ft.
The most size is due through Monday and Tuesday with building sets to 6-8ft at exposed breaks, easing back from 6ft+ Tuesday, down slowly through Wednesday and Thursday from a more S/SW direction.
Looking at the local winds, and moderate to fresh E/SE trades are due to weaken from Friday, kicking up again into early next week (with variable breezes expected regardless early each morning).
Longer term we've got further pulses of inconsistent long-period SW groundswell due next weekend and into early the next week, generated by distant storms firing up south-east of South Africa later this week and weekend. More on this Thursday though.
16 day Bali Forecast Graph
16 day East Java Forecast Graph
16 day Sumbawa Forecast Graph
Ments: After some epic large waves late last week, the surf has been a bit slower, bumped up a bit yesterday and today by some new mid-period S/SW energy.
This swell should ease back through tomorrow, smaller into Thursday and Friday with swell magnets picking up 3ft to sometimes 4ft sets.
The SW groundswell energy impacting Bali will come in from a more S/SW direction across our region, with an initial pulse Saturday to 4-5ft, building further Sunday to 6ft+ into the afternoon and holding this size Monday.
The swell will ease in size and power while tending more S'ly into Tuesday and Wednesday, with south magnets providing the best waves.
Longer term we look towards the storms firing up south-east of South Africa later this week and weekend. This should generate some new large S/SW groundswell from Friday afternoon through the following weekend.
Winds over the coming period are due to be light but taking a slight E/SE-SE bias as a strong high pressure system builds to our south.
16 day Mentawai forecast graph
16 day Nias forecast graph
16 day South Sumatra forecast graph