Tuesday, 11 October 2016
Easing surf over the coming days, new S/SW swells from Sunday
Bali and Mentawais forecast​​​​​​ by Craig Brokensha (issued Tuesday 11th October)
Best Days: Bali Wednesday through Thursday, Sunday onwards, Ments protected spots Wednesday and Thursday as well as from Sunday onwards as the NW'ly kicks in again
This week and next (Oct 12 – 21)
Bali: A consistent mid-period SW swell should be breaking across the region today, offering 5-6ft+ sets.
This swell should ease back over the coming few days while tending more S/SW, a result of the mid-latitude front generating the swell moving closer to WA in its final stages.
Exposed south facing breaks are expected to ease from 5-6ft on the sets, down further from 4-5ft Thursday morning and small Friday and Saturday.
Weak E/SE trades are due over the coming period, variable and locally offshore each morning.
As talked about last update, inconsistent amounts of distant S/SW groundswell are due from Sunday with a more S'ly pulse for Monday afternoon and Tuesday morning.
The first pulse is being generated by a distant polar frontal system that developed west of Heard Island the last day or so.

This will produce a very inconsistent 4-5ft of groundswell for Sunday across exposed breaks, while a better increase in mid-period energy is due off the remnants of the front pushing over the Heard Island region and towards WA over the coming days.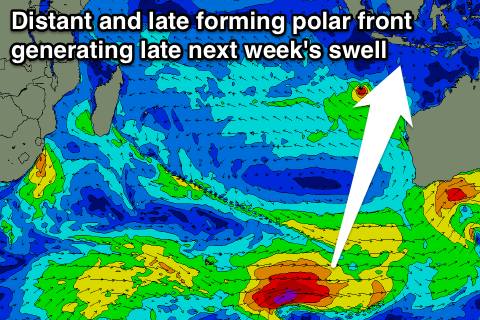 The fetch won't be especially strong, but a more consistent and slightly larger increase to the 5-6ft+ range is expected later Monday, easing from a similar size Tuesday morning, further into Wednesday.
Winds look to play out similarly, with a slight freshening of E/SE trades Thursday as a new long-period S/SW groundswell fills in. While this swell will be stronger than the surf seen earlier in the week, it will also be more south and less consistent, building to 5-6ft by dark Thursday and then easing quickly Friday.
Longer term there's nothing too significant at all on the cards unfortunately.

16 day Bali Forecast Graph
16 day East Java Forecast Graph
16 day Sumbawa Forecast Graph
Ments: Similar to Bali, south facing locations should be seeing a consistent and solid S'ly swell this morning, easing back gradually over the coming week,
Average NW winds will persist tomorrow and Thursday weakening off Friday before unfortunately freshening from Sunday through Tuesday again.
The S/SW groundswell energy for Sunday is expected to build to to a similar 4-5ft across the Ments, with the mid-period S'ly energy being a little less favourable and to 4-5ft+, fading into Wednesday.
Later in the week we won't really see the S/SW groundswell impacting Bali, with it forming too late in our swell window, leaving us to rely on some background SW groundswell energy to 3-5ft Thursday and Friday.
16 day Mentawai forecast graph
16 day Nias forecast graph
16 day South Sumatra forecast graph