Tuesday, 4 October 2016
Moderate swell pulses, consistent into Tuesday next week
Bali and Mentawais forecast​​​​​​ by Craig Brokensha (issued Tuesday 4th October)
Best Days: Exposed breaks both regions Wednesday, Thursday morning, Friday, Saturday, Sunday, Tuesday onwards
This week and next (Oct 5 – 14)
Bali: A mix of inconsistent SW groundswell and larger more consistent S/SW groundswell were seen yesterday, with sets becoming largest into the afternoon. More funky variable winds created some lump across the Bukit reefs.

Today a reinforcing S/SW groundswell has produced a touch more size across the coast, with this due to ease back through tomorrow from the 6-8ft range at exposed south facing breaks, smaller down from 4-5ft+ Thursday morning.
Our inconsistent S/SW groundswell due for Friday is still on track, with a strong polar low generating it over the weekend, south-west of WA.
A slight downgrade in size is expected with 5-6ft sets at exposed breaks, easing into Saturday.
Slightly smaller mid-period SW swells are then due through the weekend and more so Tuesday next week, from a couple of relatively weak but northward projecting fronts through the central Indian Ocean.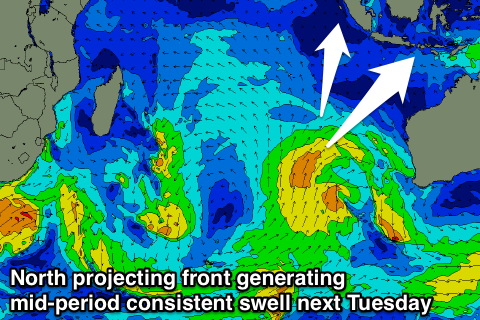 The best for Tuesday should provide consistent 4-6ft sets Tuesday, easing very very slowly while tending more S/SW in direction from Wednesday as the front remains north in latitude while tracking towards WA.
Beyond this there's nothing too significant on the cards.
Winds are due to remain variable through the coming days, kicking up a touch from the E/SE Friday afternoon and early next week.

16 day Bali Forecast Graph
16 day East Java Forecast Graph
16 day Sumbawa Forecast Graph
Ments: The S/SW groundswell seen across the region yesterday and this morning should be easing into this afternoon, steadying through tomorrow in the 3-5ft range across south magnets.
Some new inconsistent SW groundswell is due into Thursday afternoon and more so Friday, from a distant but strong frontal progression that fired up under South Africa late last week.
Good inconsistent 5-6ft sets are due at the swells peak Friday, easing back into Saturday and further Sunday.
The consistent mid-period SW swell mentioned for Bali on Tuesday and into the end of the week will come in at a more S/SW swell angle across our region and come in at a slightly stronger 5-6ft or so due to the front being closer to us. There may be the odd sneaker, but we'll review this Thursday.
Generally light winds are due over the coming period besides tomorrow afternoon and Thursday with a moderate to fresh NW'ly developing.
16 day Mentawai forecast graph
16 day Nias forecast graph
16 day South Sumatra forecast graph