Thursday, 9 June 2016
Large easing S/SW groundswell, slow next week
Java, Bali, Lombok, Sumbawa forecast by Craig Brokensha (issued Tuesday 7th June)
Best Days: Coming days for experienced surfers until Saturday afternoon, exposed breaks next week
This week and next (Jun 8 - 10)
Through yesterday afternoon strong levels of new long-period S/SW groundswell started filling in across the region, with large 6-8ft+ sets across exposed breaks by dark under E/SE trades (video from Bali Belly below).
A little disappointingly this morning the swell came in under forecast with only 6-8ft surf reported across the Bukit. This is a little puzzling as the swell performed as expected in WA, but did come in a little under cooked in SA.
Sometimes these extremely large long-period swells are focussed into some areas and steered away from others, and this may have been the case.
From here we're expected to see the surf ease, but the lower period energy on the backside of the swell most likely won't see that steering effect, so no major downgrade in size is expected.
Exposed breaks should still offer 8ft+ sets, smaller on the Bukit with the S/SW direction, easing back into the afternoon with a further drop back from the 6ft range Saturday morning.
A new inconsistent S/SW groundswell is due to fill in Sunday afternoon, produced by a small but intense polar low east of Heard Island. The surf should build to an inconsistent 4-5ft through the afternoon across exposed breaks before easing back into Monday and further Tuesday.
Fresh E/SE trades will continue over the coming days, lighter and more variable each morning, before easing from the middle of next week and tending more variable.
From the middle of next week small to moderate S/SW groundswell pulses are due from weak but persistent frontal activity through the Indian Ocean.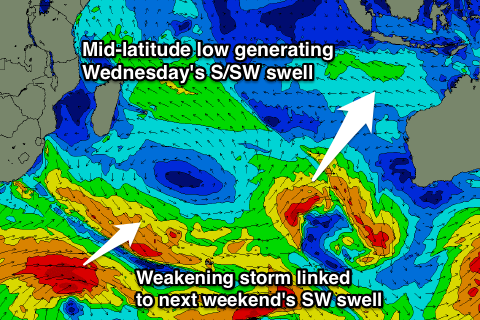 The first pulse for Wednesday will be quite consistent, as a relatively weak mid-latitude low pushes up towards us over the coming days. Exposed breaks are due to kick to 4-5ft, easing back into Thursday.
A slightly stronger long-period and less consistent pulse is due to fill in later Thursday and hold Friday, but again only offer 4-5ft sets at exposed breaks. The variable winds will open these spots up though for most of the morning.
Longer term, into next weekend a very inconsistent long-range SW groundswell is due from a low that's currently under South Africa.
This storm was very strong but super far way, resulting in very inconsistent surf to 4-5ft or so with the odd clean up 6ft+ set. Beyond this there's nothing too major due with a blocking pattern setting up, but more on this Tuesday.
16 day Bali Forecast Graph
16 day East Java Forecast Graph
16 day Sumbawa Forecast Graph