Thursday, 2 June 2016
Large easing swell, even larger swell next Thursday
Java, Bali, Lombok, Sumbawa forecast by Craig Brokensha (issued Thursday 2nd June)
Best Days: Every day for experienced surfers over the coming period (smallest and most accessible Monday, Tuesday and early Wednesday)
This week and next (Jun 3 - 10)
Easing surf was seen through yesterday across the region but today, a large and powerful new SW groundswell is filling in under favourable winds.
We should see exposed breaks reaching 10ft to possibly 12ft across exposed breaks in Bali this afternoon/evening, slowly easing back through tomorrow from the 10ft range on the sets.
This easing trend will be slowed into the afternoon and Saturday by a reinforcing S/SW groundswell pulse, and this has trend has been confirmed across Western Australia today.
Exposed breaks are due to continue in the 6-8ft range Saturday, while a fresh pulse of new long-period S/SW groundswell on Sunday will keep the surf around a similar size.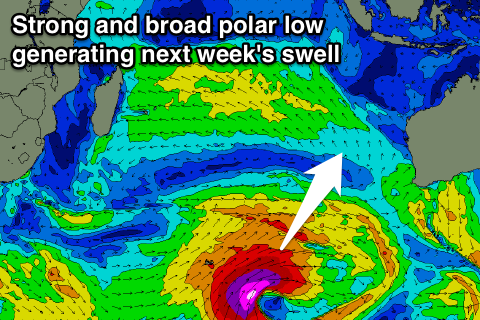 The surf should then take a noticeable drop through Monday and further Tuesday.
Trades are due to really weaken from tomorrow and due to tend variable for most of the mornings and remain so through until around Tuesday next week opening up plenty of options.
As touched on last update, a very large S/SW groundswell is on the cards for early next week, but it's probably only going to be a touch bigger than the swell filling in today.
This swell will be generated by a vigorous polar low developing in the Heard Island region Friday, generating a fetch of severe-gale to storm-force SW winds through our southern swell window before projecting north-east towards WA while weakening.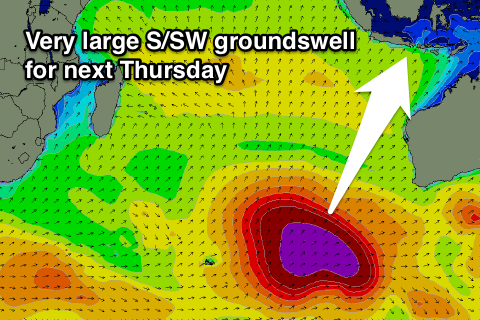 A large long-period S/SW groundswell will result, with the fore-runners arriving later Tuesday and building through Wednesday, reaching an easy 10ft by dark and peaking Thursday to 12ft+.
Fresh E/SE trades are due to kick back in by Wednesday afternoon, persisting the rest of the week (variable each morning) as the swell then eases into Friday and Saturday.
16 day Bali Forecast Graph
16 day East Java Forecast Graph
16 day Sumbawa Forecast Graph