Sunday, 1 May 2016
Large swells to start and end the week
Java, Bali, Lombok, Sumbawa forecast by Craig Brokensha (issued Sunday 1st May)
Best Days: Every day over the coming period
This coming week and weekend (May 2 – 8)
Wednesday's large long-period S/SW groundswell (pictured below, taken by Harley Banks) eased very slowly over the last few days, smaller into this morning and is expected to bottom out into this afternoon/evening.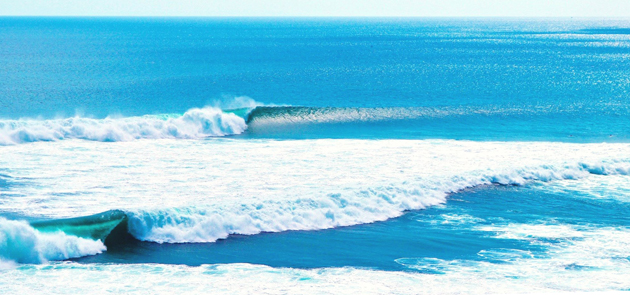 Into tomorrow and Tuesday though our two strong pulses of S/SW groundswell are due, with the swells coming in well across Western Australia.
Both pulses are due to be around a similar size, with good 6ft+ sets across exposed breaks in Bali and occasional 8ft bomb sets before the swell starts to ease into Tuesday afternoon, further through Wednesday.
Moderate to fresh E/SE trades are due through tomorrow and Tuesday (variable early each morning) before weakening and tending variable from Thursday.
As touched on the last few updates, heading into the end of the week we're set to see a large long-period S/SW groundswell emanating from the Southern Ocean.
This will be side-band energy off an XXL swell hitting the Southern Australian coast, produced by a vigorous and expansive storm developing under the influence of the Long Wave Trough.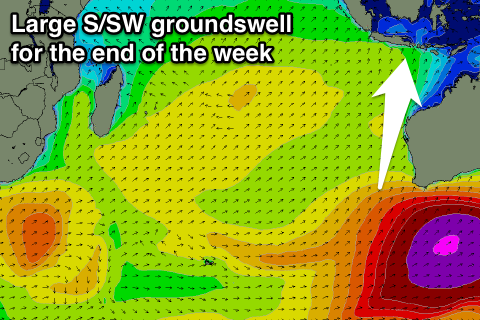 A polar low developed in the Heard Island region last night and is generating a fetch of severe-gale to storm-force SW winds through our southern swell window, weakening but persisting on the edge of our swell window through Monday.
This should produce a large long-period S/SW groundswell that's expected to arrive through Thursday, building towards 6-8ft later in the day at exposed breaks ahead of a peak Friday morning around 6-8ft+.
The swell should start to ease later in the day, dropping back more noticeably overnight and down from 6ft+ Saturday morning. A reinforcing S/SW pulse for Saturday afternoon should slow the easing trend through the day before dropping back from 4-5ft Sunday morning.
As touched on earlier, light variable winds are due from Thursday, offshore locally each morning and variable into the afternoon's. This means the Bukit reefs won't becoming as perfectly lined up and crisp as they usually are under trade-winds.
Longer term we've got some fun SW groundswell on the cards from the following weekend with not much in between, but check back here Tuesday for more on this.
16 day Bali Forecast Graph
16 day East Java Forecast Graph
16 day Sumbawa Forecast Graph