Tuesday, 30 June 2015
Slower period, large SW swell due late next week
Java, Bali, Lombok, Sumbawa forecast by Craig Brokensha (issued Tuesday 30th June)
Best Days: Wednesday, exposed breaks Thursday and Friday mornings, later Saturday, Sunday, Monday, later next week
This week and next week (Jul 1 – Jul 10)
What an incredible run of very large, pumping surf across the region. This morning the surf was still large at exposed spots but on the ease with early variable winds, before fresh trades kick in.
Over the coming days we'll see the swell continue to ease, dropping back from an inconsistent 6ft+ at exposed breaks tomorrow and further down from 4-5ft Thursday morning. Smaller surf again is then due into Friday.
The trades will remain moderate to fresh through tomorrow (variable at dawn) before strengthening through Thursday and Friday and then easing again through Saturday afternoon and Sunday morning.
Our next increase in noticeable swell is due over the weekend, that being an inconsistent pulse of S/SW groundswell generated the last couple of days by a small fetch of severe-gale W/SW winds just east of Heard Island, pushing towards WA.

The swell from this system should arrive through Saturday afternoon, building to an inconsistent 4-6ft by dark across exposed breaks, and then ease from a similar range slowly through Sunday.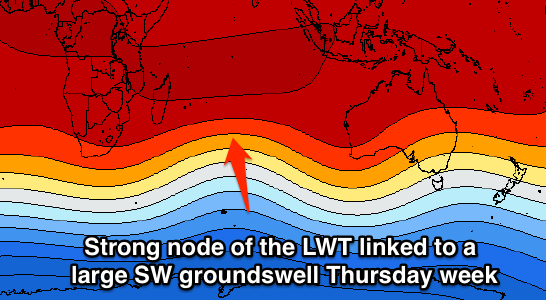 Another similar but less consistent pulse to 4-6ft is due on Monday before easing back through Tuesday and Wednesday, bottoming out into the afternoon.
Of greater importance is a new strong node (peak) of the Long Wave Trough moving in through the Indian Ocean later this week and through the weekend.
This will direct a strong polar frontal progression up from south-east of South Africa, into the middle of the Indian Ocean and then across to WA.
With this we should see a large SW groundswell generated for Thursday/Friday next week that looks at this stage to be in the 10ft range. We'll have a closer look at this in Thursday's update though.
16 day Bali Forecast Graph
16 day East Java Forecast Graph
16 day Sumbawa Forecast Graph