Thursday, 4 June 2015
Large swells to come
Java, Bali, Lombok, Sumbawa forecast by Craig Brokensha (issued Tuesday 2nd June)
Best Days: Every day over the coming period
This week and next week (Jun 5 - 12)
The surf should be slowly building across the region today as a new long-range SW groundswell fills in. This should reach 5-6ft across exposed breaks into this evening, and hold into tomorrow morning at a similar size.
Into Friday afternoon a new large S/SW groundswell is due to start showing across the coast, peaking through Saturday ahead of a secondary pulse Sunday.
These swells were generated by a broad and elongated fetch of severe-gale W/SW winds through the south-eastern Indian Ocean.
The first pulse should offer infrequent 8ft to occasionally 10ft waves across exposed breaks Saturday as it peaks, before a second pulse Sunday comes in at a similar size. The models are showing more size into Sunday but this is because it's incorrectly combining Saturday's easing pulse and Sunday's new pulse.
A drop in size is due through Monday from 6-8ft+ at exposed breaks, smaller into Tuesday morning ahead of a new and late increase in new long-period S/SW groundswell.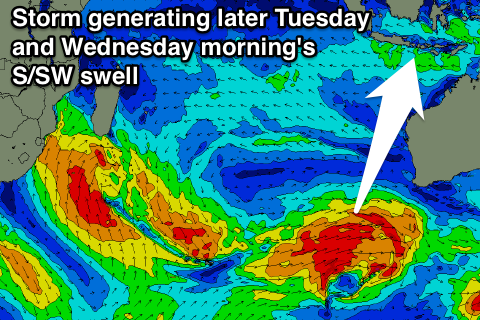 This will be generated over the coming days by a vigorous and broad frontal system in a similar position to the ones generating the weekend's swells, with exposed breaks due to kick later Tuesday back to 6-8ft before peaking Wednesday morning to 6-8ft+.
After this a general drop in swell is due into the end of the week, slowed slightly by a long-range and inconsistent SW groundswell pulse Thursday evening Friday.
Winds over the coming period are due to back off from fresh to strong E/SE trades during mid-next week before possibly picking up again the week thereafter.
Longer term a cut-off low in the Indian Ocean will generate a funky S/SW groundswell for the week starting the 15th, with nothing too major on the cards after that. More on this Tuesday though.
16 day Bali Forecast Graph
16 day East Java Forecast Graph
16 day Sumbawa Forecast Graph