Tuesday, 16 September 2014
Great outlook with large swells into the end of the month
Java, Bali, Lombok, Sumbawa forecast by Craig Brokensha (issued Tue 16th Sep)
Best Days: Every day over the coming period
This week (Sep 17 - 19)
A very strong and powerful long-range but inconsistent SW groundswell pulsed late Sunday and peaked Monday morning with solid waves across Eastern Indonesia under light trades.
This swell is easing back through today but still strong at exposed breaks under weak E/SE trades.
We should see the swell continuing to ease back through tomorrow with exposed breaks coming in at an inconsistent 5-6ft+ ahead of a late and strong kick in new long-range SW groundswell.
This SW groundswell was generated by another vigorous polar low similar to the system that generated the last couple of days swell, although it was a touch smaller and shorter-lived resulting in the size being a touch under.
Exposed spots in Bali should pulse to a strong but inconsistent 6-8ft+ later tomorrow evening before easing from a similar 6-8ft+ Thursday morning.
From here on a steady drop in size is due through Thursday afternoon and Friday, bottoming out Saturday. Winds should remain favourable with moderate to fresh E/SE trades that should be variable each morning across selected spots.
This weekend onwards (Sep 20 onwards)
After the swell bottoms out Saturday, we'll move into a new active period with a couple of large swells due into the next week/weekend, peaking Wednesday and Saturday respectively.
This will be a result of a new strong node (peak) of the Long Wave Trough moving through the Southern Indian Ocean over the coming days before weakening over the weekend and being followed up quickly by another node into early next week.
With this a series of vigorous polar fronts will be projected towards us, with a flurry of activity generating building and strengthening pulses of SW groundswell initially through early next week, peaking Wednesday.
Before this though a long-range and inconsistent S/SW groundswell should fill in Sunday offering 5-6ft waves at exposed breaks, with similar surf due into Monday.
From Tuesday two pulses of SW groundswell will arrive, the first an inconsistent long-period SW groundswell, reaching 6ft to possibly 8ft at exposed breaks later Tuesday, with a much more consistent pulse on Wednesday with more west in it to 8ft+ at exposed breaks.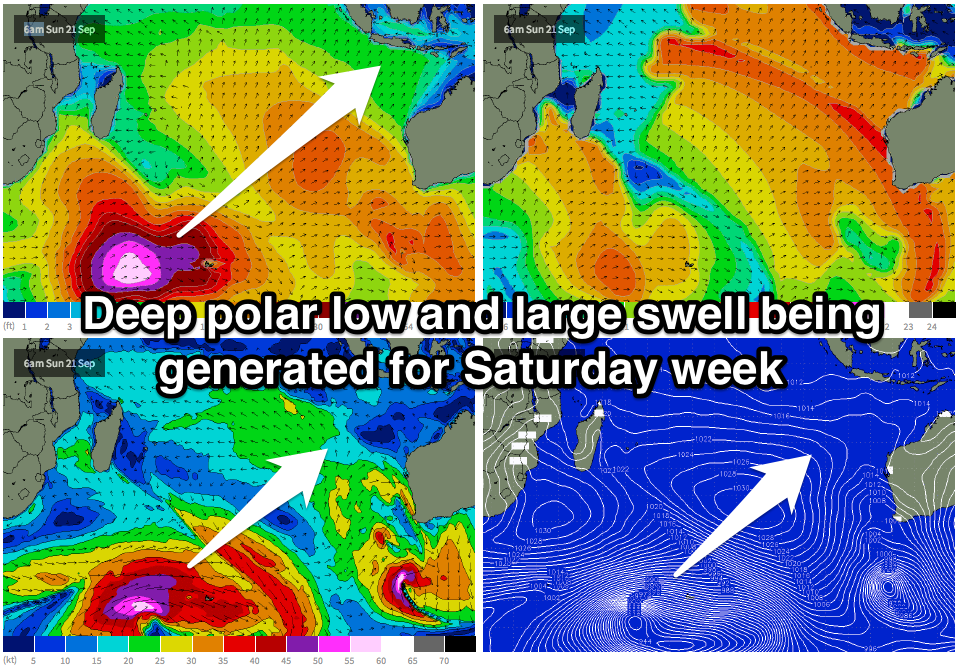 A drop is then due through Thursday and Friday ahead of a very long-range, inconsistent but strong long-period SW groundswell Saturday.
This swell will be produced by a monster polar low firing up south-east of South Africa, aiming a broad fetch of severe-gale to storm-force W/SW winds towards us.
The large distance between the source of the swell and our coasts will result in a lot of swell decay and loss in consistency, but we should still see a very large and powerful SW groundswell impacting Saturday the 27th. Exposed spots around Bali should come in at a very inconsistent 8-10ft+ and winds look great with light E/SE trades.
We'll review all of this again on Tuesday though.
16 day Bali Forecast Graph
16 day East Java Forecast Graph
16 day Sumbawa Forecast Graph