Thursday, 21 August 2014
Large and dangerous swell Sunday, secondary pulse Thursday
Java, Bali, Lombok, Sumbawa forecast by Craig Brokensha (issued Thu 21st Aug)
Best Days: Late Friday, Saturday, Sunday and Monday morning for experienced surfers, Tuesday, Wednesday, Thursday for experienced surfers
This Friday through next week (Aug 22 - 29)
The swell's dropped away from a fun pulse yesterday, and we'll continue to see it fade into the afternoon and remain on the small side tomorrow morning.
A late increase in long-range S/SW groundswell is due tomorrow evening to an inconsistent 4-6ft across exposed breaks on dark before easing back from 4-5ft+ Saturday morning. Fresh E/SE trades will continue across most breaks, although selected areas should see variable winds for a couple of hours after dawn.
Of much greater importance is an oversized, very powerful and consistent SW groundswell due Sunday across Indonesia.
This swell has been upgraded since Tuesday's large forecast, with the enormous frontal progression generating the swell undergoing a secondary intensification yesterday under the influence of a strong amplification of the Long Wave Trough.
A vast area of open ocean swell over 40ft, about the size of Victoria, has been produced in the Southern Indian Ocean, with this swell expected to move up and towards us over the coming days, arriving overnight Saturday and peaking through the middle of the day Sunday.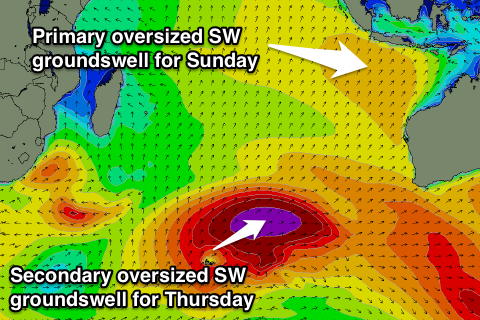 Exposed spots are now expected to offer enormous 12ft+ surf with 15ft bombs with even protected spots likely coming in too big across most regions. Strong E/SE trades will limit options to protected breaks before easing through next week as the swell steadily drops away.
Monday morning will still be large and powerful though with the swell tending a touch more S/SW and easing from 10ft+ across exposed breaks.
A low point in swell is pencilled in for Wednesday morning, but this will only be temporary as the secondary large and powerful SW groundswell arrives late in the day before a peak on Thursday.
The source of this swell will be another vigorous polar front firing up in the Southern Indian Ocean under the effects of the Long Wave Trough, projecting a fetch of severe-gale to storm-force SW and then W/SW winds towards us in a couple of bursts.
This system won't be as long-lived and be a touch less consolidated but in saying this, a very large and powerful SW groundswell will still result, peaking through the middle of the day to 10-12ft at exposed breaks around Bali.
The E/SE trades will be weaker so morning variable winds across selected locations should open up plenty of options for experienced boardriders.
From here on the strong node of the Long Wave Trough is forecast to shift slowly off to the east and under Australia resulting in a drop in swell activity into the start of September. More on this next Tuesday though.
16 day Bali Forecast Graph
16 day East Java Forecast Graph
16 day Sumbawa Forecast Graph