Tuesday, 19 August 2014
Fun week, very large and powerful Sunday
Java, Bali, Lombok, Sumbawa forecast by Craig Brokensha (issued Tue 19th Aug)
Best Days: Most days over the coming period, large and dangerous Sunday and Monday
This week (Aug 20 -22)
After a good pulse of long-range SW groundswell Thursday afternoon and Friday morning, a drop in size was seen into the weekend ahead of a fresh pulse later Sunday and yesterday.
The swell should of dropped a touch into this morning but a new SW groundswell should arrive later today and persist through tomorrow with inconsistent 4-6ft sets due at exposed spots.
A slow drop in size is due Thursday, with Friday afternoon due to see a new pulse of long-range S/SW groundswell to a slightly larger size than Wednesday's swell.
Winds will strengthen from the E/SE over the coming days and likely peak in strength on Sunday as a large and powerful SW groundswell fills in, but more on this below.
This weekend onwards (Aug 23 onwards)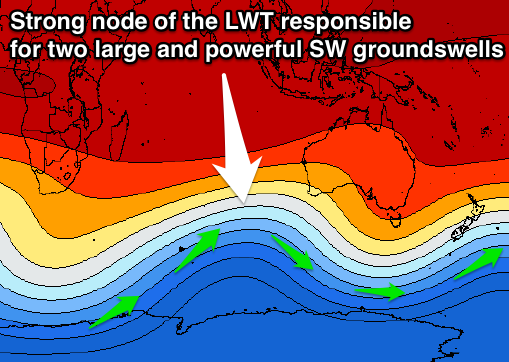 As touched on last update we're looking at some large swell from this weekend and into the following week as a strengthening node of the Long Wave Trough stalls south-west of WA tomorrow, and remains in the area for almost a week.
This is currently steering and strengthening a vigorous polar front pushing up from the south-east of South Africa, north of Heard Island and directly towards us, protruding very north into the Indian Ocean.
A broad fetch of severe-gale SW winds will be aimed towards us, and the extra projection up towards the Equator will help generate a large, powerful and consistent SW groundswell. The size is looking similar to the swell we saw the Ripcurl Padang Cup run in just over a week ago.
The forerunners of this swell are due to arrive very late Saturday with no increase in size likely until after dark, with a peak due during the day Sunday to 10-12ft+ at exposed breaks with the odd 15ft bomb likely at times.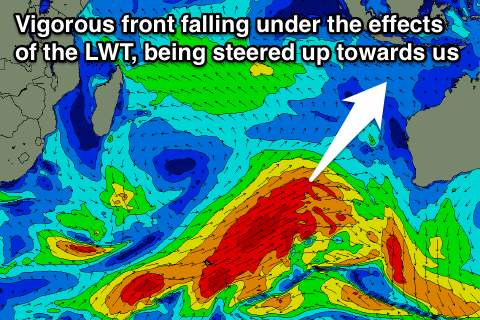 The swell should drop steadily through Monday and Tuesday, likely bottoming out Wednesday morning as fresh to strong E/SE trades start to relax.
Another large pulse of slightly more southerly SW groundswell is due into Wednesday afternoon ahead of a peak Thursday morning though, as another vigorous polar front falls under the steering and amplifying effects of the Long Wave Trough.
This secondary front will be a touch stronger, but shorter-lived resulting in a slightly smaller and less powerful, as well as less consistent swell than Sunday's.
Still exposed spots should come in at the large 10ft to occasionally 12ft range at exposed spots possibly late Wednesday and more so Thursday morning.
From here on a steady drop in size is due into the start of September but we'll look over this again on Thursday.
16 day Bali Forecast Graph
16 day East Java Forecast Graph
16 day Sumbawa Forecast Graph