Bali: Easing into the weekend, oversized S/SW swell Monday
Java, Bali, Lombok, Sumbawa forecast by Craig Brokensha (issued Thu 7th Aug)
Best Days: Friday, Saturday morning, late Sunday, Monday for experienced surfers, Tuesday onwards
This week and next week (Aug 8 - 15)
Tuesday's strong but inconsistent SW groundswell eased back slowly through yesterday, but a reinforcing pulse today has kept solid sets hitting most spots under moderate to fresh E/SE trades.
The swell will slowly drop through tomorrow and further Saturday, bottoming out Sunday morning to 4-5ft across exposed spots. Moderate to fresh E/SE trades are expected to continue over the coming days before strengthening through Sunday afternoon and Monday, limiting the best waves to protected breaks.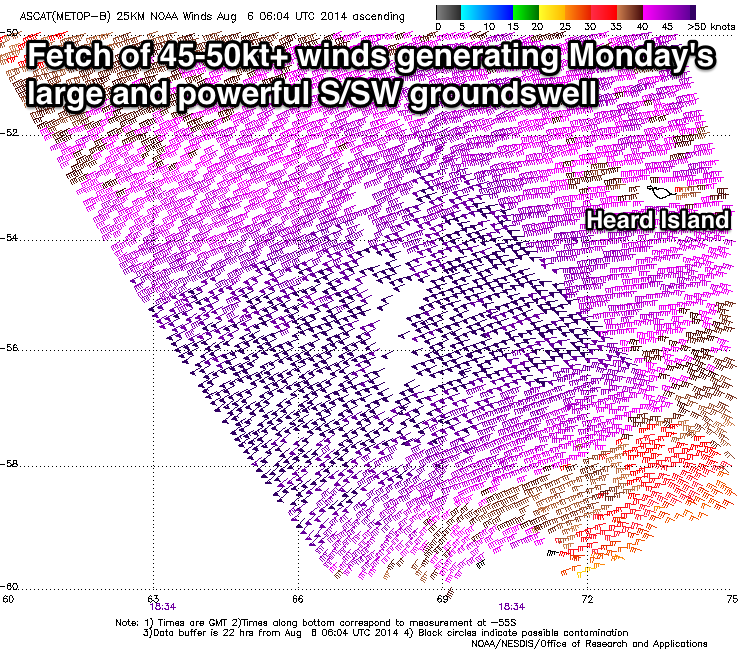 Now, Monday's large and powerful S/SW groundswell is tracking along really nicely with satellite observations (right) confirming a broad fetch of severe-gale to storm-force W/SW winds in the Heard Island region. This was at the strongest stage of the polar frontal progression generating the swell, and we should continue to see a fetch of severe-gale W/SW winds produced through our swell window today and tomorrow before the system starts moving out of our swell window, under Australia Friday afternoon.
The fore-runners of this groundswell should arrive late in the day Sunday but Monday morning will reveal the peak of the swell with very large 10-12ft sets expected at exposed locations around Bali, with the odd bigger bomb possible through the morning.
Sumbawa will see a touch less size while East Java should come in similar to Bali.
Protected locations will be the go under fresh to strong E/SE trades but these should ease off through the week as the swell also does from later Monday afternoon. Tuesday should still be in the 8-10ft range at exposed spots before dropping to more manageable levels Wednesday and bottoming out overnight.
The next increase in size is due through Thursday afternoon and Friday morning will be a much more playful swell, but still come in solid across exposed breaks.
A weaker and shorter-lived polar frontal progression from the same area around Heard Island will generate this swell, but we should only see inconsistent 6ft+ sets at exposrd spots as it peaks Friday morning before easing off slowly into the afternoon and weekend.
Variable tending moderate to fresh E/SE trades should open up plenty of options for surfers to go exploring.
Longer term there's nothing too major on the cards (which is change!) but we should still continue to see inconsistent pulses of medium to possibly large SW groundswell through the following week. More on this Tuesday.
16 day Bali Forecast Graph
16 day East Java Forecast Graph
16 day Sumbawa Forecast Graph