Thursday, 29 May 2014
Fun run of waves with some larger stuff due from next weekend
Java, Bali, Lombok, Sumbawa forecast by Craig Brokensha (issued Thu 29th May)
Best Days: Every day over the coming period
This Friday and weekend (May 30th – Jun 1)
The swell would of started off real slow and small this morning but a late increase in new SW groundswell is due ahead of a peak through tomorrow. Exposed spots should offer 4-5ft+ sets, but these locations will be out of the question with fresh E/SE trades.
Into Saturday a larger increase in SW groundswell is expected to be seen through the day, generated in our far swell window to the south-east of South Africa and Madagascar over the weekend.
A strong kick should be seen later in the day to 5-6ft before peaking overnight and easing from 5-6ft+ Sunday morning. Due to the very large distance between the source of the swell and our coasts there'll be very long waits between sets, so you'll have to be patient.
Trade winds will back off temporarily into Sunday and Monday opening up more options early each morning as land breezes create more variable winds at exposed locations during the first few hours around dawn.
Next Monday onwards (Jun 2 onwards)
There's been no real change to the outlook for next week, with medium + levels of SW groundswell expected to pad out most of the week with a low point expected Friday morning.
This will be due to a flurry of mid-latitude frontal activity through the Indian Ocean producing inconsistent but good pulses of swell either side of 5ft from Monday through Thursday.
Trade winds will remain light to moderate Monday but kick up again from Tuesday limiting options to protected breaks, which will be smaller than exposed locations.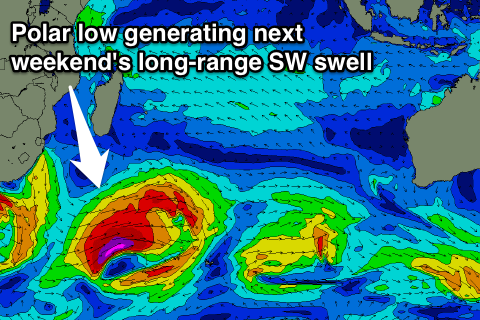 Longer term a larger SW groundswell is currently on the cards for next weekend, again from our far swell window to the south-east of South Africa. Behind the polar low generating this swell we may see the westerly storm track fire up from next weekend onwards, with more consistent pulses of S/SW groundswell on the cards for mid-June, but we'll review this Tuesday.