Brett Herring: Staying true to the cause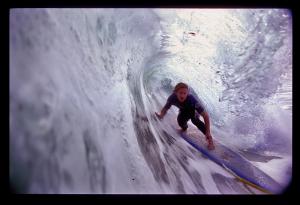 When your older brother is acclaimed as one of the most talented surfers of his generation and the pundits proclaim you to have equal ability, a pro surfing career seems inevitable. Brett Herring walked away from that to follow a different path. It has been a long and varied journey and it is very far from finished.

Swellnet: So just for a bit of background tell us about your contest record.
Brett Herring: As a grom I was right into it, club contests, the Northern Beaches, State Titles but I always missed the Australian titles cos I went to Indo every time they were on; I was 16 and 17 and spent three months the first time, then four months in Nias the following year while Shane was doing his thing. There were reports that I was doing alright so Peter Crawford lined me up with Quiksilver and there was YU surfboards too so there was a bit of money to pretend to do the WQS circuit. Did Australia, Europe and Hawaii but I never really chased it. I won a pro junior at Burleigh cos all the local boys were giving me waves and blocking the others (laughs) and I made the quarters at the Kirra Pro and surfed against Sunny Garcia and Tommy Carroll. So I had a bit of a taste of it there for a few years.
The Indo trips really changed me. I was a very competitive young bloke, I thrived on it. Whereas after Indo chasing two foot onshore contests didn't appeal to me. That and seeing what went down with my bro. I don't know if it was the way he was treated or what but I didn't really like it. I remember one of my last pro juniors, it wasn't fun and it wasn't long after that I moved up to Seal Rocks and spent four years there. Then West Oz via South Oz, that was another four years, then floated around Sydney for a couple of years in the early 2000s, then another four years at Seal Rocks and now back in West Oz for the last four years.

Tell me about that second trip to WA.
I had an accident at Seal Rocks and broke my leg. I tried to work but couldn't. I had sickness benefits, I owned an old 83 Subaru and drove across Australia in it. The only thing that went wrong was the fuel filter which was like five bucks, it's still going now!

So all this time travelling and surfing, where are your favourite spots?
I still love Dee Why, it's bizarre when you come back, it's still a great point break. Living wise I love the Seal Rocks area and you do get great waves there, but reliant on sand so you can go long periods without. It's one of my favourite spots in the world. Everyone loves Indo of course. South Oz, that's the pinnacle, to be true, living there and surfing those waves would get you at your best. There are awesome waves down there. WA is unreal and I do love it but there are a lot of good surfers there so you don't get the empty line ups that you really love. I spent quite a bit of time up at The Bluff, I've never really got into Gnarloo, that's pretty crowded. When everyone goes up to Gnarloo The Bluff is still really good. I did have Gnarloo good this year with only five guys so I can tick that one off the list.

I did seven weeks in a tent in the jungle at G Land. That was an experience. Pay off the rangers at $5.00 a day, there were six of them so I did the math and it worked out a packet of cigarettes a day for each of them. That was awesome, it was in 2000 with Camel.

What about places on the list that you haven't ticked off yet?
A long time ago now Tracks listed the top 100 waves...I was in the seventies on that but things have changed, there are a lot of different waves out there now. J Bay I never did, doesn't bother me, it's crowded.

Did you do Hawaii?
I did Hawaii twice, I was more of a spectator than anything, but it was awesome being out there with best of the best at second reef Pipe. I was young and never really got any classic Pipe waves but I got to see it from a better vantage point than most would. All the best, Tom Carroll, Derek Ho, Johnny Boy Gomes, Liam McNamara and an underground crew that were ruling it that you never hear their names, the true Hawaiians, guys going switchfoot and stuff.

What's the plan now?
I've got a two year old son so he will keep me in West Oz for awhile.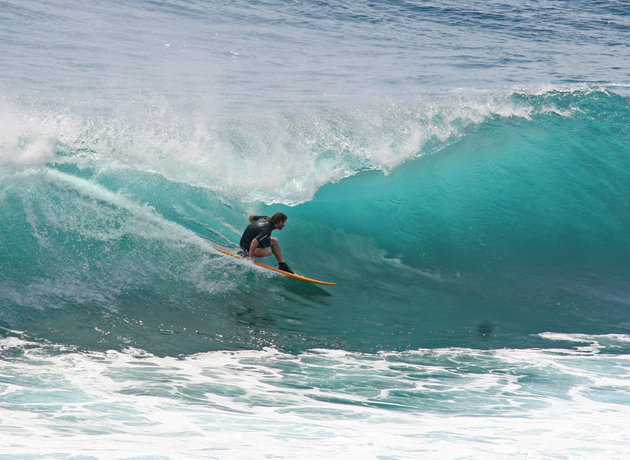 What about surfboards?
I haven't got any newish boards I've got a 6'10" which is like 3 inches thick, a round tail with a fin box and side fins. I went single fin for 10 years but places like The Bluff make you put side fins in to get a higher line. You can't be pure you have to come back to what you need for certain waves. I also have a 7'8" I got in 2005 and a 9"0 from 2001. I also have a 5'8" Ozzie Wright gave me for the small stuff. It was a great gift!

Why single fins?
I found my uncle's old seventies boards in the late-nineties and started riding them, then got to West Oz and was hanging with Camel and he was right into them. They are a lot faster taking off on bigger waves, less drag so at places like G-Land and Ulus they work unreal, you don't need to wiggle to generate speed!

What about the changes you have observed?
Yeah, people are crazy now, the waves they're surfing, I can remember surfing Indicators in Nias when there was no-one really surfing it and it was only ten years earlier that they were calling that unsurfable, a perfect right-hand barrelling wave but very shallow, but now very shallow, steps and ledges and 20ft!

Anything you want to add?
Yeah by actually walking away from pro surfing I've had opportunities to meet people and become part of their families in places were pro surfers aren't welcome (laughs), so I have no regrets about not chasing that. The pros live inside a bubble and it's hard to branch out and meet other people, or get involved with the culture. There's a big difference, you don't fly into Gnarloo on a private jet, surf the swell for two days and get out of there. You're living in the desert for four months! The pros have got wealth but I know a lot of poor people who are pretty happy.
(Photo credits: top Mick Klaunzer, bottom unknown)