Finding higher ground in New Zealand - photos
Thursday, 17 November 2016
Sign up to Swellnet's newsletter and get the latest news and forecast notes sent to your inbox. You'll also go into the draw to win a free trip to P-Pass for you and a mate. It doesn't get any easier so click here to sign up now.
On Monday morning a severe earthquake struck the northeast coast of New Zealand's South Island. The quake measured 7.8 and was centred near Kaikoura, a dairy town on the northeast coast. Though the quake was felt right around New Zealand much of the damage happened close to Kaikoura.
When they felt the quake Kaikoura residents near sea level sought higher ground, yet the coast they returned to had significantly changed.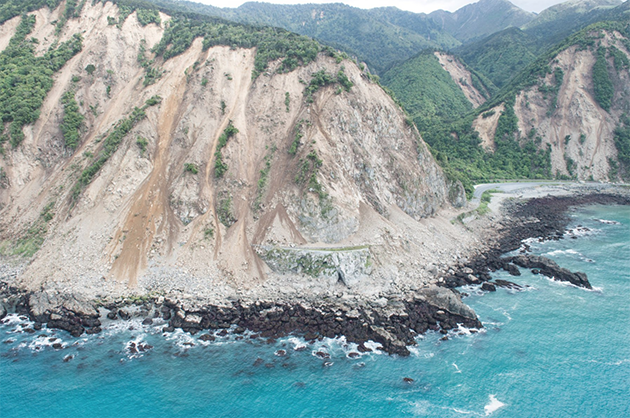 Landslide near Kaikoura (NZ Civil Defence)
The day after the quake both New Zealand's Civil Defence and Tonkin + Taylor, an environment and engineering company, flew over the damaged region and uploaded their photos to social media. "Aerial photographs show the seabed uplift north of Kaikoura – estimated to be between 2–2.5 metres," Tonkin + Taylor wrote in one of its tweets.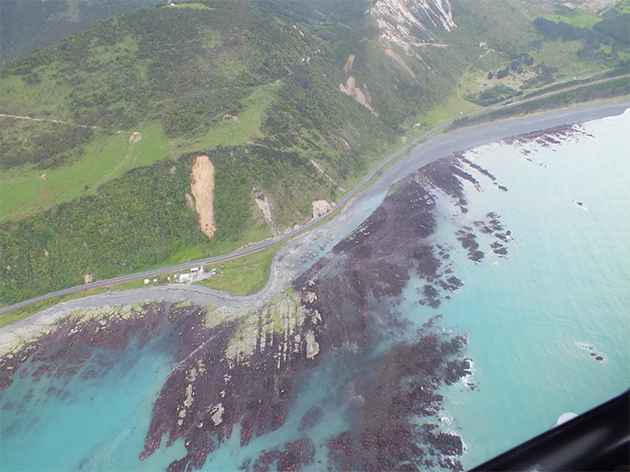 (Tonkin + Taylor)
The purple tinged areas off the coast mark the uplifted reef. The purple colour is karengo seaweed which normally grows below the low tide line but is now on newly exposed rock platforms.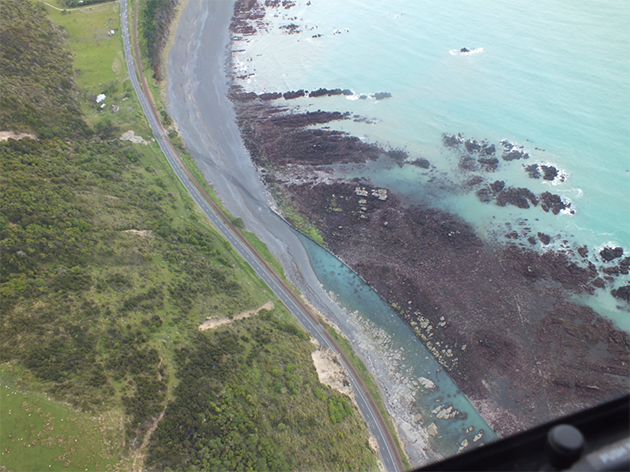 (Tonkin + Taylor)
The vertical lift is similar to damage caused by recent quakes in northern Indonesia where reefs have been lifted out of the surf zone. Surf breaks have been both ruined, such as Asu, and improved, such as Nias, following those earthquakes. One commenter to Tonkin + Taylor's Twitter account said: "Absolutely mind blowing. I'm thinking there may be some new surf spots up the coast and hopefully none destroyed."
It will be a while before the landlsides are cleared so no-one knows what the outcome will be.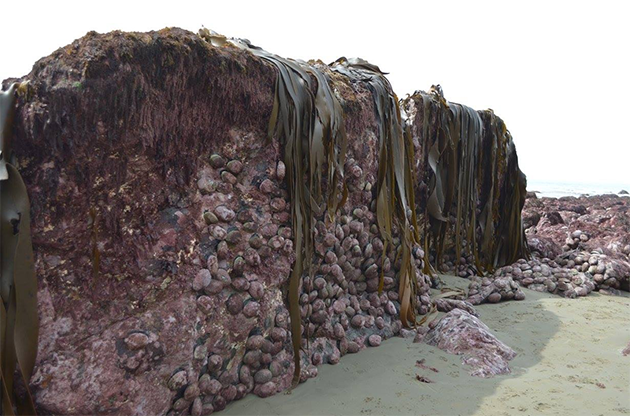 (Lou Gorden-Green)
Dr Joshu Mountjoy, a marine geologist at the National Institute of Water and Atmospheric Research (NIWA), told Fairfax newspapers the seabed lift was a first for modern New Zealand scientists. "I've never seen it before during an earthquake and it's the first time we've seen something like this."
Dr Mountjoy said. "Some faults go side-to-side while others move vertically, like in this case, where the fault has pushed the land up into the air."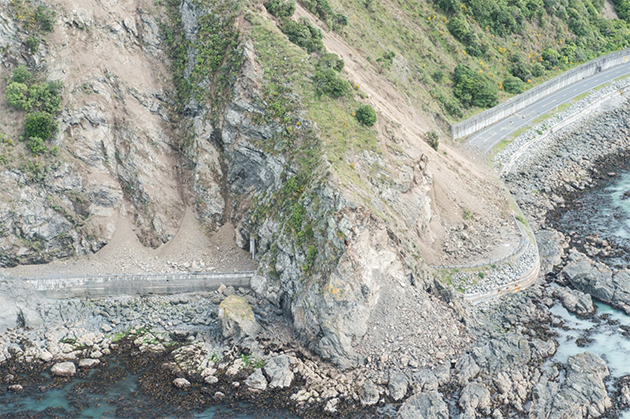 (NZ Civil Defence)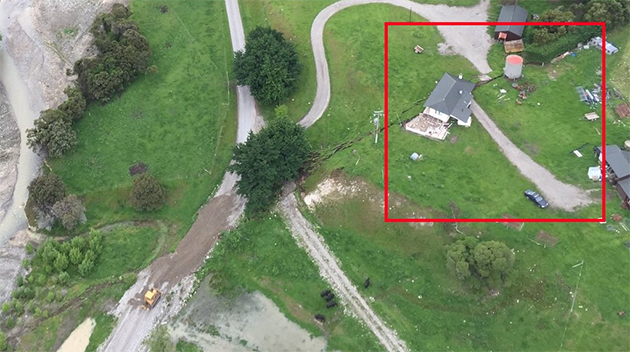 Note driveway for how far the land moved (Radio New Zealand)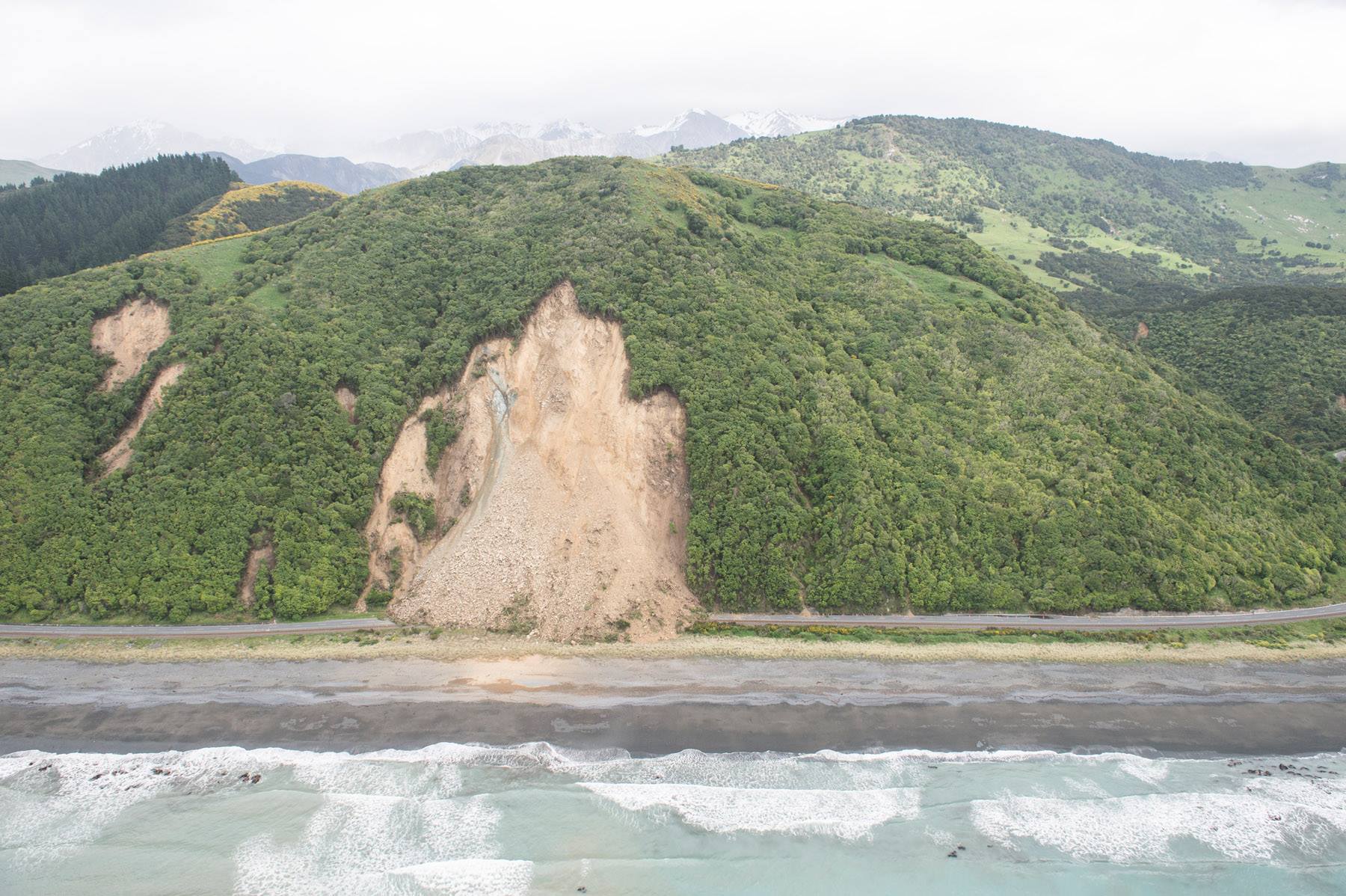 Landslide near Kaikoura (NZ Civil Defence)