The WSL secures access to North Point for the Margaret River Pro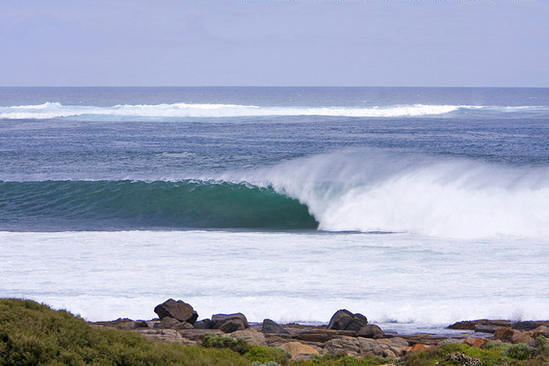 During last year's Margaret River Pro a large swell hit WA's south-west. The swell was large enough to wrap into the semi-sheltered Cowaramup Bay with sets up to eight foot breaking down the reef at North Point. It's an infrequent wave but when it breaks it's one of the best in the region.
Unfortunately for contest organisers - and also for surfers in the contest - North Point was out of bounds. The WSL, and the organisation who run the Margs event, Surfing WA, hadn't secured rights to move the event up the coast to Cowaramup Bay.
This year, however, Surfing WA have secured permission to use North Point should another bombing swell hit within the waiting period. It's taken a long time and included a few false starts but they've just been given the green light.
Swellnet spoke to Surfing WA CEO, Mark Lane, about the just-announced news.
Swellnet: The WSL has gained permission to use North Point, but are there any limitations on its use?
Mark Lane: Yes, we have been granted two days use of North Point during the event window - which in swell and surfing terms is about right. Regarding other limitations, yes, we have approximately three pages of compliance conditions that we must adhere to: mostly safety, environmental and traffic management conditions.
How long did the negotiations take?
We spent approximately two months initially speaking with some stakeholders to get more of an idea as to what would be involved in gaining approvals. That would inolve Police, Emergency Services, Shire, Department of Parks and Wildlife, Ratepayers etcetera. From that point it took approximately four months of more formal communication with all of these groups to ensure that they were comfortable with our planning and approach.
How many stakeholder groups had a say in the North Point access proposal?
Ultimately there are only two groups that give final sign off. However, getting final sign off involves us having to speak with and gain approvals from a variety of additional stakeholders under these two main umbrellas. In total we had to gain approval from eight different stakeholder groups, then proceed with one month of publicly advertising our proposal via newspaper advertising. Following the public advertising period we were then required to address all of the public concerns - which we were happy to do. Following that process our proposal then went to the Shire Meeting to be discussed and voted upon. Which was thankfully passed.
So what are some examples of the plans and concessions Surfing WA must have in place to gain permission to use North Point?
The plans are really extensive. There's a:
Bush Fire Management Plan
Emergency Response Plan
Traffic Management Plan
Risk Management Plan
Water Safety Plan
Marketing Plan
Waste Management Plan
As for concessions: having surfed in the area ourselves for forty years, the concessions are really more commonsense and mainly revolve around us protecting the environment and making sure people are safe and just to give confidence to authorities and stakeholders that we are well planned.
If conditions present themselves, where would the judging tower sit?
The judging tower would sit on a purpose built scaffold deck.
And where would spectators watch from?
Spectators, after we bus them in from a free parking location would need to view from the beach in the middle of the bay. Alternatively, they can watch it on the big screens on the main event site in Margaret River, or of course on phones, tablets, and TV.
After all this effort let's hope the swell comes.
Yeah, spot on. Fingers crossed.
The Drug Aware Margaret River Pro runs from April 8th to 19th.