The Eddie gets the green light
Tuesday, 9 February 2016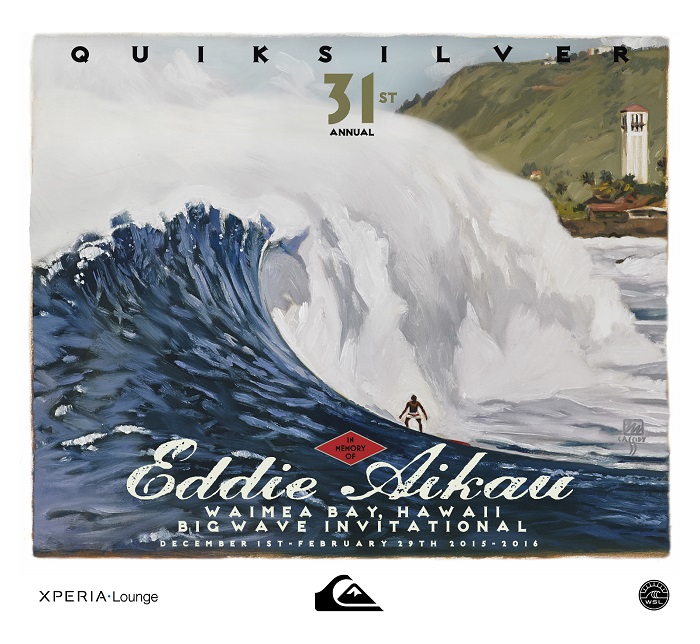 For the third week in a row a powerful XXL swell is bearing down on the Hawaiian islands. For the first two swells the organisers of the Eddie Aikau Invitational passed on the opportunity to run the competition and the baton passed by default to Peahi on Maui.
Their decisions attracted criticism as each swell met the Eddie threshold yet they remained steadfast: the timing of the swells, they claimed, wasn't conducive to an eight hour competition.
The third swell, currently being formed in the North Pacific, is due to hit on Wednesday Hawaiian time and in the organisers favour it will peak in the morning hours just after sunrise. In response, they've just pressed the green light for the '15/'16 Eddie Aikau, the first time it's run since 2009/2010 when Greg Long won.
Meanwhile, Kelly Slater has offered up his spot in the Eddie - a comp he won in 2002 - to Hawaiian great, Tony Moniz. In an Instagram post Slater gave thanks to Tammy Moniz, wife of Tony then said: "I'm happy to give my spot up to @tonymoniz this week if he wants to go charge a few!?"
So set the alarm early, shuffle your diary, and get set for a great day webcast watching.
The 2015/2016 Eddie invitees:
Aaron Gold, Albee Layer, Bruce Irons, Clyde Aikau, Dave Wassel, Garrett McNamara, Grant Baker, Greg Long, Ian Walsh, Jamie Mitchell, Jamie O'Brien, Jeremy Flores, John John Florence, Kala Alexander, Kelly Slater, Kohl Christensen, Makua Rothman, Mark Healey, Nathan Fletcher, Noah Johnson, Peter Mel, Ramon Navarro, Reef McIntosh, Ross Clarke-Jones, Shane Dorian, Sunny Garcia, Takayuki Wakita, Tom Carroll
Official alternates (in seeding order):
Mason Ho (Aikau Pick), Danilo Couto, Mark Matthews, Koa Rothman, Ben Wilkinson, Jamie Sterling, Billy Kemper, Shawn Dollar, Carlos Burle, Kealii Mamala, Gabriel Villaran, Michael Ho, Kai Lenny, Kahea Hart, Nathan Florence, Damien Hobgood, Kalani Chapman, Ryan Hipwood, Danny Fuller, Nic Lamb, Anthony Tashnick, Rusty Long, Derek Dunfee and Brock Little