Judge not...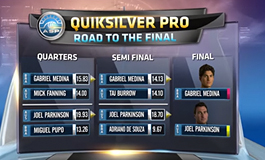 Much more than a rant about judges, blindboy purges himself of past misdeeds and offers the ASP judging panel some good advice. Real advice! Read on...
It was sometime around 1980 that I swore on whatever it was, now forgotten, but seemed sacred at the time, never to have anything further to do with surfing competitions featuring any other than personal friends. And, in particular, I would under no circumstances take any interest in the subject of judging such events. It was a subject that had never brought me happiness. The only time I actually judged a serious event I was accosted outside the official tent by a wild eyed, apparently ex-friend who accused me of various perversions and atrocities, including placing his brother last in his heat. But it wasn't judging per se that caused me grief so much as the opinions I expressed about it.
Once, under the persuasive influence of those with even less sense than me, I actually entered an event I should have known not to. I wasn't too disconsolate about coming last in my heat, I knew it had been a less than distinguished performance, until an important media entity of the day on walking past remarked "That'll teach you to be a smart arse." But it didn't and I continued, as the chance arose, to make sarcastic remarks about the competency and objectivity of the judging panels.
Despite evidence to the contrary I still claim it was not an obsession but neither was it some sort of quest to make the world of surfing competitions even more perfect than their press releases claimed them to be. In the end it was probably motivated by not much more than a desire to raise an index digit at that smug and self satisfied minority whose main interest in surfing was increasingly to extract as much personal profit from it as possible while hiding behind a charade of charitable benevolence to those, all too often literally, poor bastards doing the surfing.
But time moves on and having forgotten the exact nature of the oath I swore at midnight on those deserted crossroads and having long ago exhausted whatever advantages the servants of satan promised me in exchange for said vow, I now feel free to offer an opinion again. I would like to suggest that my motives are of a purity rivalling the gold holdings of our corporate captains, but you probably wouldn't believe me, so I won't bother.
In truth things are better. I am fairly sure they don't let Claw judge at Bells anymore, and while I can't be sure about the investment status of the current panels nor their employment histories or those of their spouses and children, I am a believer in the benefit of the doubt and " by their works ye shall know them" so I am happy to concede objectivity in that sense. If some of the judges are biased by corporate or national loyalties, they seem to be balancing each other out.
Then there are the numerous technical improvements such as moving from 5 man heats with 120 possible result permutations to man on man heats with only 3. The hiring and training of a professional body has also clearly improved things. So by historical standards there is not much to complain about but I think I am on to something. I like it because it reflects the same kind of hubris that has always simultaneously fascinated and repelled me about pro surfing.
It's the scale! 1-100 or 0.1 - 10.0, if you must. There's a sort of message in that alone. I mean if you are going to judge on a 100 point scale why not just use those numbers? Well, for a start I think jumping up and down and declaring a wave "a perfect 100" might arouse some skepticism. More significantly it might, just through the way it is expressed, cause more people to wonder just what is the difference between a 99 point ride and a 100 point ride. 9.9 and 10 are so much more user friendly, so much less obtrusive.
Taking this further, an analysis of the scoring waves in the Quarters, Semis and Final of the Drug Aware Pro suggests that the 100 point scale is too wide. If the scale was appropriate the judges' scores should fall within a narrow spread but this was not the case. There were only two waves with a spread of less than 0.5 and many were significantly higher even exceeding 1.0 in some cases. Removing the high and low scores improved things but there were still many waves with a spread of 0.5 or more and some still up towards 1.0.
But then there is another factor which is even more telling. If the scale is valid, then the spread of judging values ending in the digits 0 - 9 should be relatively even. That is, there should be roughly the same number of scores ending in .2 as in .5 or .7. On the heats I looked at this was clearly not the case. There were far more scores on .0 and .5 than on any of the others. The obvious conclusion from this is that the judges are frequently reverting to a de facto 20 point scale.
The significance of this analysis is that it very strongly suggests that the results of close heats are influenced by random factors beyond the official criteria. In particular it would suggest that two different panels would be quite likely to come to opposite conclusions about the results of such heats. This should not come as a great surprise to anyone but it is not a happy situation. It could be argued that the problem is intrinsic to the sport and there is a fair amount of truth in that but the problem could be significantly reduced. Using a 20 point scale with a third or fourth wave tie breaker would give more reliable results and introduce a bit more pressure on the competitors and excitement for the spectators.// blindboy