US Government shuts down the waves
Friday, 4 October 2013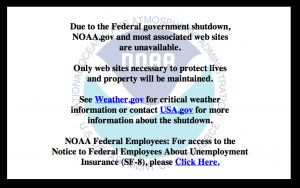 Obamacare will lead to less crowded surf...maybe.
In news that will delight grizzled surf purists the world over, the United States budget debacle may shutdown weather prediction services, including every automated surf forecast that relies on them.
In a worst case scenario we'll find out if the old axiom is true: surf forecasting causes crowding in the surf.
Now in its third day, the US government standoff has forced state departments to wind down many of its operations. All public service employees have been deemed essential or non-essential with the latter being given a sudden holiday. Best they don't visit a National Park though – every single park in the US is closed as they're run by other non-essential employees.
One of the less visible services provided by the US government is weather analysis and prediction. The core data is produced by NOAA (National Oceanic Atmospheric Administration) which is then used by 99% of surf forecasting sites.
As of today the NOAA website shows this message: "Due to the Federal Government shutdown, NOAA.gov and most associated web sites are unavailable. This site will remain accessible during the federal government shutdown. However, information on the site may not be up to date and we may not be able to respond to inquiries until appropriations are enacted."
What this means is that NOAA's systems will run as normal but if there is a technical problem – which happens frequently – there is no-one available to fix it. If that scenario comes to pass then subsequent departments and companies that rely on NOAA's data will be affected. Amongst them are:
The Climate Prediction Center The Ocean Prediction Center NCEP Central Operations Weather Prediction Center National Centers for Environmental Prediction (NCEP) The NCEP Climate Forecast System Aviation Weather Center: AWC NOAA National Weather Service
Of course, there's also the many automated surf forecasting websites that will be adversely affected: Surfline, Magic Seaweed, Buoyweather, Windguru, all will stop updating their forecasts if NOAA goes down. No more up-to-the-minute forecasts. It's also worth noting that wave models can take five days to get up to speed following a prolonged outage. So, if it were to stop for seven days it'd be twelve days before accurate data were again output.
Only forecasting sites that employ professional surf forecasters - such as Surfline and Swellnet - will be able to continue updating their forecasts although they'll be restricted to manual forecasts. Also, the unavailability of NCEP weather data could impact the reliability of the forecasts due to the loss of cross-reference forecasting products.
All of a sudden the US government balls-up just got a whole lot more interesting.