Listen Up: Don't Go To Indo
Call me skeptical but I'm always wary when people mix activism with leisure. It's a concept that surfers, who often travel to Less Developed Countries, have a special skill. How to allay First World Guilt while travelling to exotic yet poverty-stricken nations? Claim the surfing is good for the people or the environment, maybe even start a campaign about the plight of the locals, and then carry on unencumbered.
In some instances the campaigns have been successful bringing real, tangible benefits to local communities. SurfAid comes immediately to mind. Yet SurfAid is a charity with a specific charter run by highly trained, selfless staff. The notion that simply visiting a location – and, of course, surfing all its perfect waves - is charity enough seems too self-serving for comfort.
A new campaign is currently challenging the ethics of surf travel. Turning them on their head in fact. 'Don't Go To Indo' is a movement concerned with the Indonesian occupation of West Papua and the founder of the campaign is hoping it will cause surfers to rethink their Indonesian travel plans.
The number of West Papuans who have been killed since Indonesian rule is anywhere between 100,000 and 450,000. Numbers vary but at any rate they amount to genocide under the United Nations Constitution. Indeed, the situation has been described as a 'slow motion genocide', and a mostly silent one too.
Yet while the violence continues West Papua has gradually been attracting the gaze of surfers. One of the early explorers was John Seaton Callahan, photographer for the famed surfEXPLORE team of travellers whose raison d'etre is traversing less-travelled coasts, often in poor or war-torn regions.
Swellnet: How do you rate the surf potential on West Papua's north coast?
John Seaton Callahan: Excellent. In the northeast monsoon season this area receives consistent swell and there are dozens of potential surfing locations. The drawbacks are bad roads and expensive petrol, but fortunately many of the best setups are close to town, so there's less need for driving.
Do you foresee a day when more surf tourists might travel to West Papua?
Yes. If 88% of all foreign visitors to Indonesia visit just one island – Bali - then there is great potential for diversification of the Indonesian visitor industry, surfers included. Until recently, it was impossible to buy a ticket on an Indonesian domestic flight while outside of Indonesia - so many visitors did not travel beyond their initial point of arrival. Now it is possible, and the rest of Indonesia's 18,000 islands should have more visitors, including West Papua.
Were you aware of the political situation before you went?
Yes. We do quite a lot of research before we do a project and we were aware of the political situation in West Papua.
What is the situation like on the ground in West Papua?
I would say it is largely peaceful. Papuans are assertive of their rights and Jakarta is very far away. We personally saw very few security forces and did not witness any violence between the mainly Christian indigenous Papuans and mainly Muslim resettled transmigrasi people. But it is also clear there are few parallels beyond Indonesian citizenship between the two cultures and even a minor incident could trigger an explosive situation between the two groups.
Journalists aren't allowed to enter West Papua: did you have any trouble travelling with cameras?
No. We got the additional inter-province travel permit from the police, which no one asked to see - not even once. No one made a problem about cameras or video, but we were not in town most of the time and clearly not in West Papua for political purposes either.
There are many different ways to raise awareness for causes, do you think the methods of the 'Don't Go To Indo' campaign are sound?
Personally, as with the longstanding 'Boycott Myanmar' campaign, I think these sorts of initiatives are well-intentioned but politically impotent and frequently harmful to the very people whom they are trying to help. Nothing was achieved by discouraging travel to Myanmar and nothing will be achieved by doing the same with West Papua.
If foreigners, surfers included, do travel to West Papua, then much can be achieved in increased awareness, publicity and income for those engaged in tourism-related enterprises.
In the case of surfers and surfing, indigenous Papuans are way out in front, offering accommodation, surf guide services and a lot of laughs and good times to the surfers from Australia and elsewhere who may come to West Papua to share their waves. Isn't that the way it should be?
*****
Joe Jenkinson is the founder of 'Don't Go To Indo' (DG2I). He is an English surfer with a strong sense of social justice and an advertisers eye for attracting attention.
Swellnet: 'Don't Go To Indo' satisfies all the requirements of a successful campaign: it's short, it rhymes, and best of all it's very controversial. How's the response been?
Joe Jenkinson: Glad you like the campaign name, it is intentionally controversial and there to try and grab the attention of surfers. The response so far has been largely positive and surfers from around the world have been sharing posts and tweeting to their friends, surprised and a bit confused as to why they hadn't heard about this 'other side' of Indonesia before.
This is not to say of course that it's all been positive. Support for the campaign, so far, has mostly been from people already aware of Indonesia's occupation of West Papua and this was not my intention when setting up the campaign. Having seen that there are surfers out there that 'get it', I'm now hoping the issue will attract greater support from the international surfing community.
With surf tourism a massive industry in Indonesia, there's a likelihood that raising the profile of the West Papuan's struggle amongst surfers will result in positive changes. I am aware, however, that this campaign may ruffle a few feathers. A natural result if the status quo looks like it might be threatened.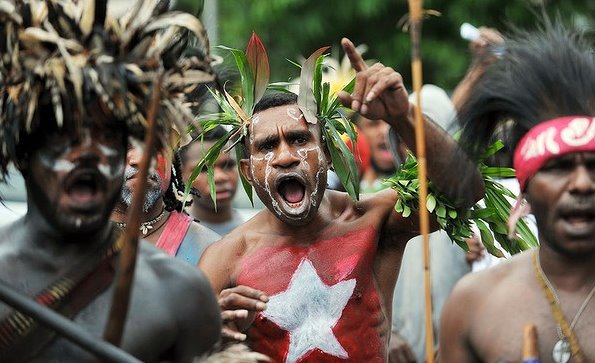 Is 'not going to Indo' the best form of activism in this instance? What do you encourage surfers to do?
The title is there to grab attention and encourage people to learn about what's going on in West Papua so that they can make an informed decision whether or not to go to Indo, put their plans to go to Indo on hold, or surf elsewhere. Some surfers might still want to go ahead with a trip to Indo but make efforts to increase awareness to achieve some sort of karmic balance.
The most important thing is raising awareness about the issue and not necessarily to seek a complete boycott of Indonesia. After all, it isn't tourists or traveling surfers who are to blame, nor is it independent businesses in Indonesia trying to make a fair living from surfers that arrive on their doorstep.
We should enjoy perfect waves responsibly and speak out on issues such as the 'slow-genocide' and oppression in West Papua that is being orchestrated from Indonesia, a place most of us otherwise hold in high regard as a wave paradise.
Are you aware of John Seaton Callahan's recent photographic trip to West Papua?
Yes, this was recently brought to my attention. It's great to see John picking up on West Papua as an 'adventure travel' surf destination, with quality waves to match. It does provide a great alternative to Indonesia and is virtually free from crowds too. It is a shame from an awareness point of view that the article referred to 'Pacific Indonesia' as opposed to West Papua but this is forgivable given the sway 'Pacific' holds in surfing circles. We'd love to connect with John, bring the campaign to his attention and discuss his time in Papua.
Have you spoken to any of the surf travel agents sniffing about the area for potential?
The campaign hasn't yet approached any surf travel agents operating in proximity to West Papua. However we suspect there could be good relationships to establish here with any conscientious operators with an open mind that are interested in coaxing people away from Bali and towards the untapped shores of West Papua. We hope that by seeing West Papua first-hand, people will return home and tell stories about the reality of life there for the 1.7 million Papuan's that have been living in fear and under Indonesian control for over 50 years.
For those wanting to know more: -Al Jazeera's 'People and Power' story on West Papua. -ABC's 7:30 Report 'Reign of Terror - A rare look inside West Papua and the independence movement'. -The Telegraph UK 'West Papuan rebels struggle for freedom'
Surfers wanting to support this cause can: -Spread the word to friends and through social media. Simply tweeting and posting the video on Facebook can help a great deal with this. Ask anyone that tells you they are going to Indo if they've heard of West Papua and whether they know about what the Indonesian government is doing there. -Connect with a local Free West Papua Campaign group. -Write to their Member of Parliament or local government representative asking them to pressure Indonesia into holding a free and fair referendum on Papuan Independence. More info here. -Consider voting for the Greens in the upcoming Australian federal election who are speaking out on West Papua where others aren't willing to do so.