Wavegarden stake their claim: World's first surfer-centric wavepool built
It's been nigh on thirty years since the World Inland Championships, the first and only ASP wavepool competition, was held in Allentown, Pennsylvania. The waves for the event were a dismal two feet at three seconds, best compared to a relentless barrage of boat wakes in a choppy chlorinated pool.
Although they could technically be surfed (Tom Carroll won the competition) the Allentown experience made it abundantly clear that there was much work to be done in the field of artificial waves. Few however, would have thought it'd take the best part of three decades before a legitimate wavepool would be built. In the interim there's been no shortage of ideas, curiosity and commercial desire, but the progress has been inexorably slow and the results wholly frustrating.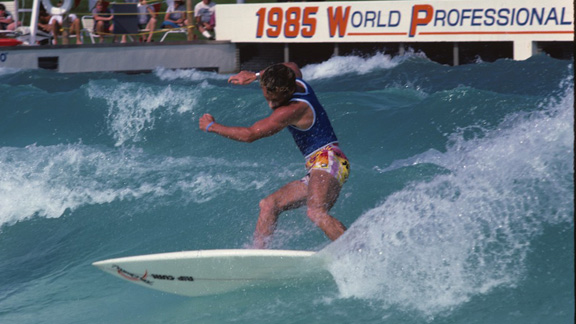 During the last few years the race to build the first surfer-centric wavepool has been between Webber Wave Pools and the Kelly Slater Wave Company. Each company had been working with the concept of a 'continuous' wave breaking around a circular pool.
At the same time an engineering company from Spain's Basque Country led by Jose Odriozola had also been working on wavepool technology but coming at it from a different angle. Rather than a circular continuous wave the Wavegarden is a linear wave that breaks down both sides of a lagoon that's roughly rectangular in shape.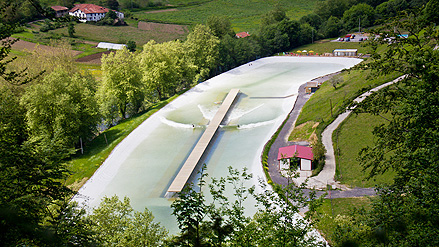 The reason I use present tense when describing the Wavegarden is because Odriozola and his group already have their full-scale lagoon in the ground. Unveiled to the public today it is the first wavepool that, if I were looking for a distinguishing criteria, I'd expect surfers would pay money to ride.
The complex is on a property near San Sebastian and provides simultaneous waves (approximately 3 feet, 1.2 metres, or chest high depending on your metric) that peel down either side of the lagoon offering rides approximately 18-seconds long in an area of the lagoon known as 'the Peak'. The waves are created by a device that runs at floor level down the centre of the lagoon displacing water that then creates the wave. When the device reaches the end of a pass, it decelerates and stops after which the wave subsequently begins to decrease in size. The wave then dissipates at the end of the lagoon in an area known as 'the Bay'. The device then rotates 180 degrees and proceeds back up the lagoon creating two more waves in a reverse, yet similar manner which ultimately dissipate into the Bay at the far end of the lagoon.
The San Sebastian complex is a full-scale demonstration facility and will be used for testing and research as Wavegarden begins its international roll out.
Andrew Ross is the founder and CEO of the Wave Park Group, the Wavegarden exclusive partner in Australia. He has ridden the San Sebastian wave several times, "I'm not a great surfer, but was getting up to 10 snaps in per wave." He now plans to bring the technology to Australia.
During a recent conversation Ross told me that talks have already begun with interested parties, "We've had discussions with local governments, state governments and freehold land owners." And those talks have taken place on either side of the continent, "Interest has come from parties in Perth and the Gold Coast." He's even had preliminary talks with Surfing Australia.
Rather than constructing fixed shape pools, Wavegarden can customise the lagoon to fit variable sizes and shapes. "The technology is very adaptable in that it can accommodate a range of site specifications," Ross says.
Does that mean the wave can be larger than that in the video? "Yes, we can go larger, however there's an exponential relationship between power and wave size and at greater than two metres we would need to have a look at the viability of the installation from a business perspective."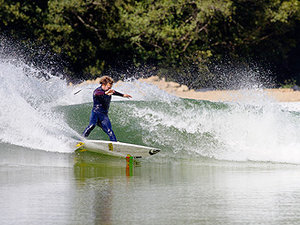 So what size will the Wavegarden be in Australia? "We expect to deliver two metre high waves," Ross freely tells me. He is, however, a bit more coy when I ask how much we'd expect to pay. "No, that's one of the things we have not finalised at this stage."
Unfurling the parts of his business plan he can share, Ross tells me there are four key markets Wavegarden plan to service. The first is the residents of the surrounding area seeking recreation and fitness ("a gym for surfers"), the second is the education and training market, from absolute beginners through to elite juniors, the third is the visitor market for travellers seeking a surf experience, and the fourth is competitions and events - everything from international top tier events to local surf leagues ("something akin to indoor cricket competitions"), and corporate hospitality.
As we spoke about competitions in a Wavegarden Ross mentioned the recent upgrade of the Margaret River Masters to WCT status: "It's possible that we could have a complementary event in Perth before or after the Masters event." He later broached the idea of even holding a World Championship Tour in Wavegardens situated around the world.
Clearly Andrew Ross and his partners in Wavegarden have got their eye on the long game envisioning opportunities for Wavegarden far into the future. Surfers however, are a bit more impatient - after all its been 28 years since Allentown stirred the imagination. The latest video from Wavegarden shows waves far beyond what Tom Carroll surfed 28 years ago, but just how much longer will we have to wait? "There's a twelve month build time from development sign off to completion." Ross says.
Now, just got to get the first one signed off.
Postscript: Upon hearing news of Wavegarden's development Greg Webber was unbowed and brimming with confidence: "I can explicitly state that our wave will be better. In surfboard terms it'll be like comparing a vee bottom to a concave," Webber says cheekily. "Congratulations to them for getting one in the ground first though." Webber has made a few key changes to his technology and despite earlier claims, he now expects his first one will be built in 18 months. Webber Wave Pools is also in discussion with partners to develop his business model. It may have taken a while to get up to speed, but the wavepool race is now well and truly on.