Board Bazaar - May 2014
Welcome to the May edition of the Board Bazaar. It was a slow old month on the second hand scene, reflective of a broader ease in the market. A conversation I had with a collector summed up the mood. "I'm just not getting for them what I used to," he lamented. "The prices aren't there." And this fella knows what his boards are worth. I asked him how big his collection is: "Over 100...probably closer to 150." He's no fly-by-nighter...
So this month plenty of lesser known or low quality boards failed to perform. Something to note whatever side of the transaction you stand - buyer or seller. The exception, as always, were the marquee boards which created interest and fetched respectable prices. There's a couple in the list below. And with that let's get into it...
The trip to Cactus is a rite of passage for Australian surfers, especially South Australian surfers for whom it's the literal and metaphorical Wild West. In Penong is 'Paul's Town Hall' where Paul Gravelle set up shop back in the 70s catering to the early Cactus surfers. This Gravelle thruster features a picture of some local Penong flora - lovely! Just the board to impress the lads on a crowded day at Caves. With a heavyset outline and four channels it's a classic 80s-era board. It was in good condition and a sole bidder scored it for $99.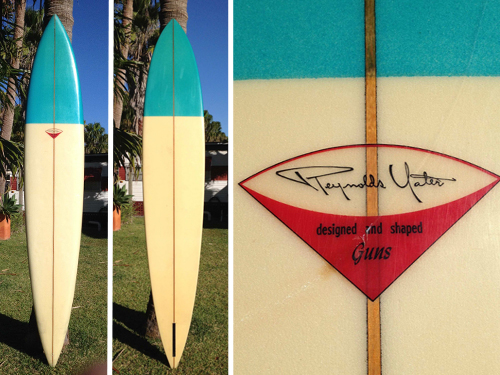 "Bring me my Yater Spoon - the 8'6"!"
And with that Robert Duvall uttered one of the great surfing lines to appear in mainstream film. This 9'6" Renny Yater gun is a foot longer than Colonel Kilgore's weapon and also of later vintage, being a mid-to-late 70s shape. It's a board of impeccable pedigree and it's in immaculate condition. Bidding hasn't closed but I was too excited to wait till next month's Board Bazaar to run it.
Check the link.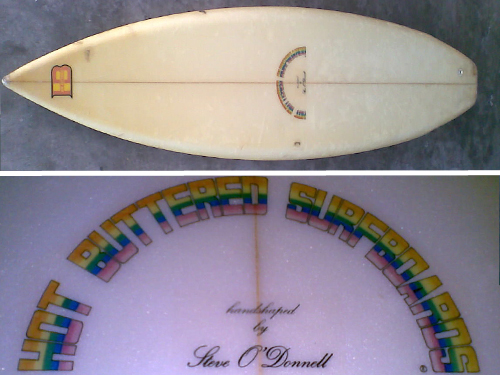 Why do you collect old boards? They ain't high performance so surely style plays just as big a part as substance. Which is no doubt why this bog white Hot Buttered thruster didn't receive a single bid above it's $220 reserve. Not one, despite being in Grade A condition. Now if it had a spray, a dripping HB logo, or some sort of Terry Fitz-inspired flair it would have the collectors in a lather. The owner has reposted it without a reserve and it's getting a bit more interest this time around...for a bog white HB thruster.
Last month I offhandedly questioned Michael Cundith's shaping legacy, at least where it stood in relation to his Californian peer, George Greenough. It got me thinking and then when this MC-shaped Sky thruster came up I paid attention. With fluoro orange spray and yellow star bursts on the deck this is 1980s central. Even got a first gen Gorilla Grip pad still intact. Woah! So I put down a $60 bid and woke the next morning the proud owner of a board shaped by an overshadowed master. Thank you Michael. Thank you eBay.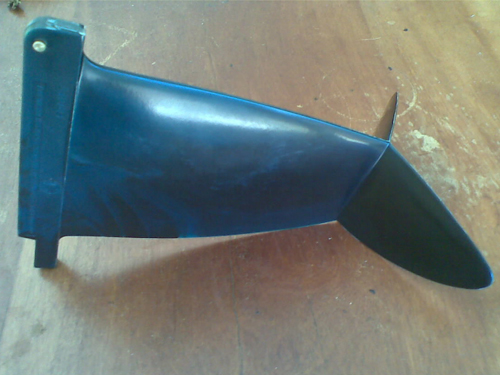 Geoff McCoy's boards are always popular on the second hand scene, especially his Lazer Zaps which often fetch top dollar. Thing is, many of them are stripped of the engine underneath: the Ben Lexcen-shaped star fin AKA winged fin. What's a Lazer Zap without one of these? I thought this would've gone for a pot but it suprisingly didn't register a single bid over its $110 reserve. Was it an original? Dunno, but McCoy starfins were stamped with the year of manufacture so the buyer could check. On a sidenote: With all things single fin how long till FCS bring out a copy?
From south of the border comes this Watercooled triple-stringer singley shaped by brutish Victorian Maurice Cole. Cole shaped for Watercooled post-Pentridge so this board would date 1978-79. In great condition with a backstory to boot it received no bids above its $500 reserve (further reinforcing the parlous state of the market). The owner has currently reposted it on eBay.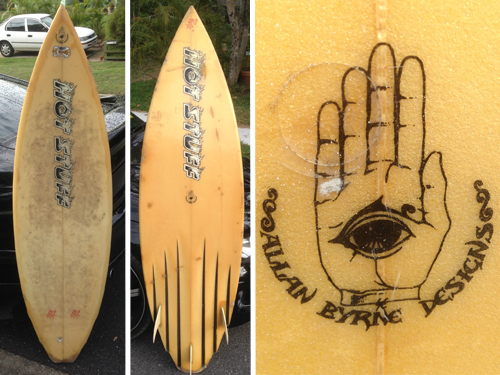 Apropos the aforementioned Hot Buttered: If you're gonna get a Hot Buttered you've gotta get a spray, and if you're gonna get an Allan Byrne you've gotta get channels. It just makes sense. Here was a chance to own a classic little AB 6 channel thruster. Bit worse for wear, no doubt, but that deck would scrub up OK and there's no terminal dings anywhere. 18 people bid with the winner paying just $212.50 - a veritable bargain.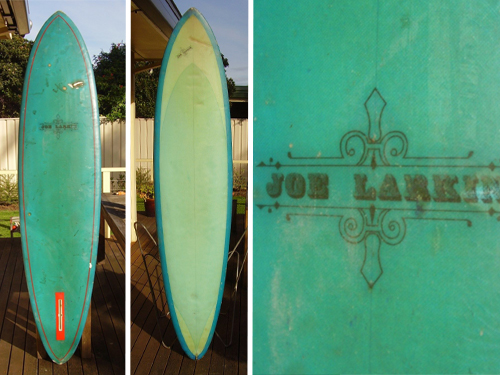 Although his shaping proteges - Keith Paull, Terry Fitzgerald, Michael Peterson, and Peter Townend - went on to more fame, Joe Larkin holds a position of reverence in Australian surf history. Said Rabbit: "It seemed like design breakthroughs were being made every week at Joe's factory." This 7'2" was shaped in '68, deep in the heart of the Shortboard Revolution. It's got a few bumps and dings, and the honest seller admits to a twist in the tail. Five people didn't mind and took the bidding to $310.30.
James 'Booby' Jones was the first person to get barrelled at Waimea and pushed the outside of the envelope on the North Shore throughout the 70s. This 10'0" of his dates from the 80s and like all extreme paddle boards just looking at it brings beads of sweat to the brow. Unfortunately it's a creature removed from its environment, despite many people watching none were keen to bid above the $1500 reserve. If the same board were sold on the North Shore...?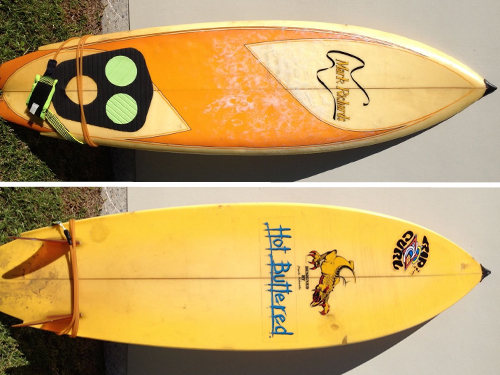 We leave the Board Bazaar with a mystery item. This original Mark Richards twinny is in great condition. Remove the Hot Buttered and Rip Curl stickers, and the nose guard and you've got a state of the art surfboard - if it were still 1979. Bidding opened at $0.99. So what did this coveted item go for? Zero. It didn't garner a single bid. Not even a smart blue board sock could entice the crowd. An original MR twinny for a dollar? Call it the one that got away.
Till next month...
Board Bazaar - April 2014
The Bazaar was closed due to laziness in March
Board Bazaar - February 2014