Board Bazaar - February 2014
Welcome to the Board Bazaar. This is the first instalment of what will be a monthly column looking at the second hand board market. This ain't a classifieds section, just somewhere to pore over notable boards that have recently gone under the hammer. As always, commentary, photos, and the odd spot of abuse are highly encouraged - see the comments section below.
February was a slower month than normal on the market. A couple of big name sticks that'd ordinarily have the collectors baying got off to slow starts and failed to reach their potential. Some passed in without any bids. Seasonal? It's gotta be. A hangover from Christmas I'd guess. Something worth noting if you're looking to get a bargain, and also worth noting if you're looking to sell. Hold on till tax time, punters.
A few sellers hocked what appeared to be whole collections. One such collection came from the NSW Central Coast with a weighting toward late-70s/early-80s boards. None of them in mint condition but a few with historical significance. You'll see one of them in the list below. Let's get into it...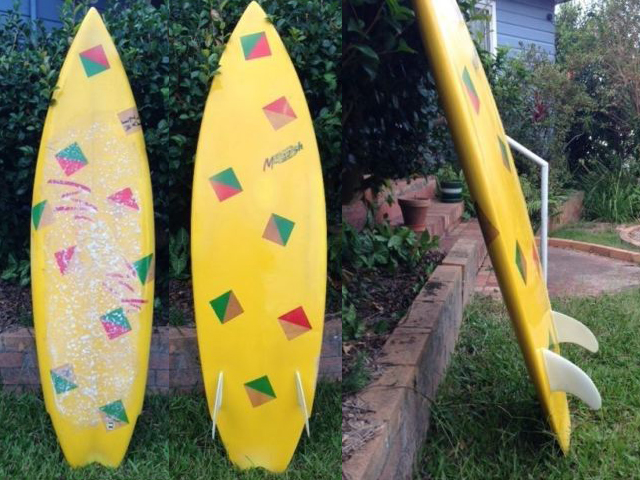 Starting with a twinny from one of McTavish's quieter periods. In 1981 ol' Bob was more likely to be found windsurfing at Flat Rock than sitting top of the point at Lennox. Of course he always kept making surfboards, he shaped for San Juan, Sky, and under his own name (before he lost ownership of it). A classic of the era, from spray to planshape to radically toed in fins. Compare them to parallel keels on a traditional Steve Lis fish! It got 10 bids with the winner scooping it for $316.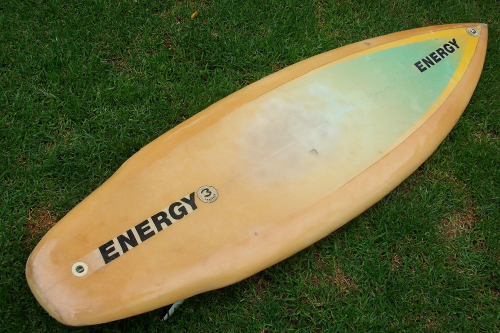 Here's one board from the aforementioned Central Coast collection: a classic Simon Anderson thruster replete with original Energy logo, panel spray, and '3' sticker. I'm estimating this board too have been made in 1981 or '82 as it sports the wider tail that Simon shaped into early thrusters, something believed was needed to handle the thruster fin cluster. Later boards had a marginally more refined tail. This one was a veritable steal at just $220.20.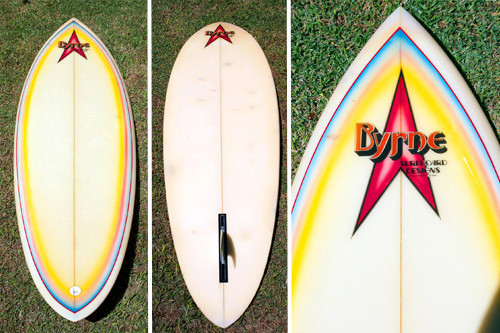 "This is breaking my heart..." reads the description to this classic late-70s/early-80s Byrne single fin. The owner gives a lovingly detailed description of dimensions and all the work she's had (hard to see but apparently there's some restoration in there). Clearly it's been cared for and the sale is reluctant. However, all's well that ends well and the board passed in without a bid. Call it a broken heart mended (unless the poor bastard now has to sell it for cheaper).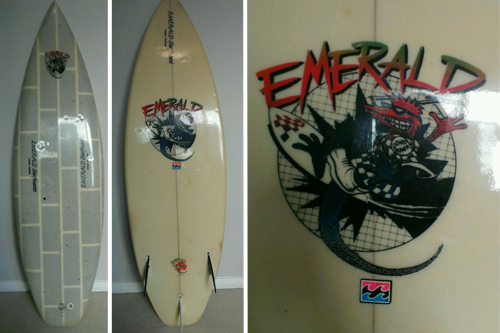 Richard 'Herbie' Herbert was a Cronulla legend. Shaped for many local labels, rode Shark Island as deep as anyone, and fronted a few local bands. Fella lived a full life. At one stage one of his songs hit no. 1 in The Netherlands and he moved over there a while. This 5'6" Emerald, shaped by Herbie, is classic mid-80's material though I imagine it'd only be of interest to Cronulla surfers, or perhaps a music fan in The Netherlands. Note the three fin boxes, a precursor to FCS-style fin systems.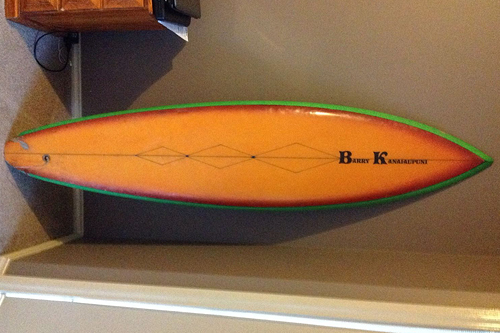 Haven't seen too many Barry Kanaiaupuni surfboards in Australia. The 70s Sunset master now shapes a few longboards but this classic downrailer appears straight from his prime time 30-odd years ago. It's an odd entry on eBay: The person selling appears to know what it's worth (starting bid, $1000) yet there're no dimensions or history. Check it yourself.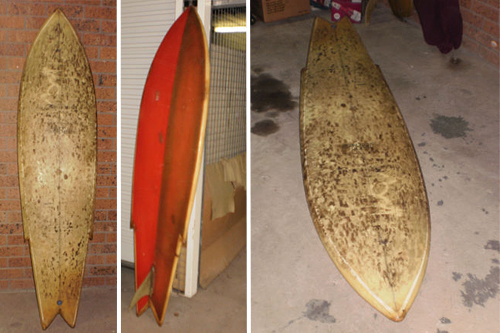 Part of the appeal in trawling the second hand market is finding overlooked gold. Except for a filthy wax job, this Aipa-style stinger is in excellent shape: the points on the deep swallow are intact; no major dings; original fin. The label is reportedly 'Velocity Surfboards' from Adelaide. A Google search comes up empty but who's to say what the history is. Worth the risk? One punter thought so. Put down $50 on it.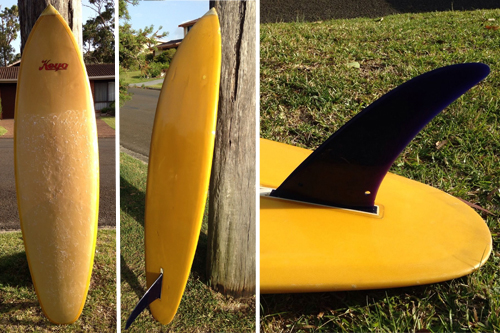 Here's a classic of the era. Which era? Early to mid-70s Australia. This stringerless Keyo single fin has all the hallmarks: S-deck, rolled bottom, full planshape. Plus it's in exceptional condition. A straight up prize surfboard, and a bargain too. It sold for just $250. I recently saw a similar one go for $1000.
Similar in planshape, and probably vintage, as the BK shown above, this Hohensee would make a good wall hanger. The vivid red deck is in excellent condition, the underside not so much. Not sure who shaped it, a few notable foam mowers went through Laurie Hohensee's factory in it's 70s heyday, but regardless of the craftsman it's a great item. Opening bid was $295, passed in at $295. No bids. Crazy world...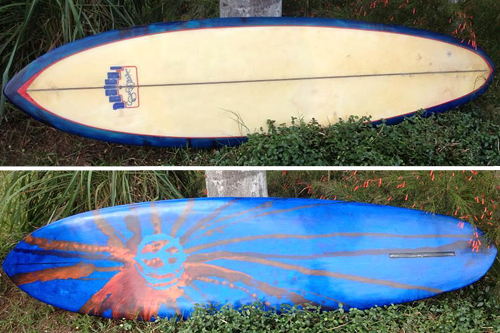 And now one from the US market. This 'Design 1' boards was shaped by the first Mr Pipeline, Butch Van Artsdalen, in '70-71. The board is 7'2" and appears in good nick. Bidding opened at $600 and after a week it hadn't receieved a single bid. It passed in and was immediately relisted, again at $600. More interesting is the board's backstory. Butch apparently shaped 10 boards in this batch but took great exception to the 'hippy insignia' sprayed on the bottom. He promptly burned them all yet his board survived. True story? Till next month...