Parting the Water: Part 1 - Fin Placement
Though surfboards consist of many design features, each which influence your surfboard in various ways, none have as much bearing as your fins. This shouldn't be a suprise as boards are generally described in terms of how many fins they have.
Yet despite their importance, those little things on the underside of your stick can be a mystery. And while it's true a good board needs every design feature working in harmony, it also helps to know what everything is doing, so what better place to start?
Today we're looking at fin placement, starting from singles and moving up to the five-fin Claw. In Part 2 we'll look at fin design.
Single Fins
Tom Blake is generally credited with putting the first fin on a surfboard. He did so in 1935, screwing a metal keel off an old speedboat onto his flat-bottomed surfboard.
Blake attached it near the tail of his board but for the sake of our conversation, let's imagine a board with one fin attached at the board's midpoint. With no forward bias, the board's nose and tail are effectively the same and, when put in motion, it'll want to spin around that midpoint.
Now, if we take the same board and begin to move the fin away from the centrepoint, when it's again put in motion it'll assume a direction away from the fin. The fin finds the point of least drag and tries to keep the board on that path.
Keep moving the fin and you'll reach a point where it'll offer a rider a modicum of control. The board will be loose, no doubt about it, much like trying to ride a skateboard with loose trucks, and like a loose skateboard it'll have a propensity to spin out of control, but the advantage is it'll be easy for the board to break the straight line.
In the late-70s, Hawaiian surfers such as Larry Bertleman (who incidentally was a very good skater), Buttons Kaluhiokalani, and Mark Liddel, set their fins far forward in the finbox to achieve max maneuverability, even pushing their boards into controlled 360s. Their V'Land sessions showed what was possible on a single fin when fin placement was taken to an extreme (they also provide inspiration for Derek Hynd to eschew fins altogether forty years later).
However, all that maneuverability comes at a cost. When single fins are set forward, the board is more likely to spin out of control, and it will also lack forward drive. Drive wasn't necessarily something the late-70s Hawaiians sought out for their small wave sessions, as even three foot V'Land has enough groundswell push to provide board speed without looking to design.
Elsewhere that wasn't the case. Here in Australia, especially on the East Coast, where big waves are the exception not the norm, surfers had to look at board design for speed - including fin placement.
If we started by moving the fin from the midpoint, where there was no control and it spun like a top, and then reached a point around ¾ to the tail where there was some control though it was still loose, then we should expect the pattern to continue as we move the fin further toward the tail.
As the fin approaches the tail, the board will increasingly have more control, meaning it'll be less likely to spin out, it'll offer the rider more drive (and hence speed) when it's pumped, however those benefits come at a cost: the board will be stiffer and less maneuverable.
The Australian model of back foot power surfing was based upon single fins with the base pushed further towards the tail than their Hawaiian small wave counterparts. It's difficult to have that conversation without also mentioning rails and rocker but for the sake of brevity that's what we've gotta do.
Twin Fins
The first twin fin was likely also built by Tom Blake in 1943, however Bob Simmons also developed a twin fin design in 1948 independently of Blake. Despite these early forays, it wasn't until the shortboard revolution reduced board length that the qualities of twins could be harnessed. Namely, increased speed and responsiveness.
Steve Lis, Nick and Bear Mirandon, Reno Abellira, and Mark Richards all played significant roles in modern twin fin design - and in the future that list may also include Garry McNeil and Simon Jones.
So how does the twin fin work?
If, for hypothetical reasons, we removed one fin out of a twin fin and pushed it through water, drag would veer the board towards that side. This means there's already an inclination to turn towards the side a surfer is leaning.
Early fish (Steve Lis) and many of the early-70s twins, all had the fins running parallel to the stringer. While there are still many benefits over single fins, this parallel design can sometimes make a board feel like it's running on railway gauge, locked into a single direction.
By the time Reno resurrected the fish, with a young MR eagerly watching on, this feeling was all but gone as shapers had begun to angle each fin inwards towards the nose - a feature called fin toe. While it's possible for twin fins with toe to run in a straight line, their natural inclination is to turn. Once a turn is slightly initiated, the inside fin - i.e the fin it's turning off - has force applied to its outside face and it tries to balance this by turning the board further in that direction.
In essence, the fin is trying to find the path of least resistance.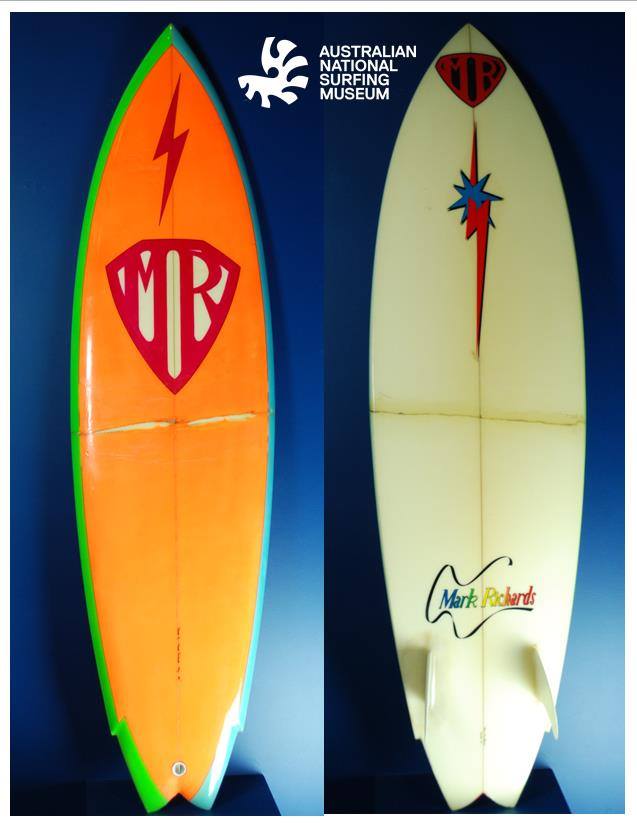 A common complaint of twin fins from the late-70s and early-80s was that they spun out a lot. In part this was due to old style rocker and also to fin placement, which put the fins further up the board than a single fin - recall that fins up the board are loose but prone to a lack of control. To combat the lack of control, shapers such as MR tried to achieve hold through larger fins and by reducing the tail area.
Lack of control caused by rocker isn't as much of a worry as it once was - modern rocker curve has seen to that - though you'll notice many modern twins incorporate channels for hold and fins inched rearward from their late-70s versions.
The Duo
"Twin fins perform better the closer the fins are till you're left with just one fin," said George Greenough echoing a sentiment about twin fins, that their speed and maneuverability are an unworthy payoff for their lack of control.
It's unknown when the first 'Duo' was built though it likely evolved from the early-70s twin fin design. More recently, Neal Purchase jnr struck on the design and named it, also proving the merits of said design through his own surfing.
Though it clearly has two fins, the Duo rides more like a single than your standard twinny; it's more stable, doesn't have that "wiggly, fishy feeling in the tail", as NPJ himself puts it, but has more speed than a single fin. A good compromise in other words.
The Thruster
Though it was famously unveiled in huge waves at the '81 Bells comp, Simon Anderson's Thruster wasn't the only three-finned board at the contest. Lesser known is that Ian Cairns also rode a tri fin shaped by Nev Hyman.
In fact, people had been putting three fins on a board for up to fifteen years before 1981. There were Bonzer's, Brewer tri-fins, twins with stabilisers, and singles with side-biters - which is what Ian Cairns rode at Bells '81. What there weren't, and what Simon Anderson introduced, were boards with three fins of equal size set in a triangle.
The Thruster was an immediate hit. By the end of the year, all bar one surfer in the then Top 16 was riding them. Even MR, who rode twin fins to four world titles, swapped to three fins, and eventually the lone holdout - Cheyne Horan - did too.
Yet nor was the Thruster a specialised design, as its qualities also lent itself to beginners and intermediate surfers as much as it did to pros.
To understand how the Thruster works, first visualise how a twin fin arcs off its inside fin when turning, ostensibly trying to find the path of least resistance. The side fin on a Thruster does the same, however the trailing rear fin is also cutting through the water, and always at an angle to the turn, and this creates drag.
This drag is key to the Thruster's versatility. To understand why, think about the rear spoiler on race cars. Tested in a wind tunnel, the spoiler creates resistance and should theoretically slow the car down, however the spoiler also pushes the rear end of a car down so it can corner faster. Though it's slower in a straight line, the car becomes faster overall.
The same is true of the Thruster where the quickest way to get from point A to point B isn't in a straight line. Through body locomotion, surfers generate speed by driving off the Thruster's increased fin area. And if theoretically the board isn't as fast through a turn as a twin fin, it's more stable and more forgiving, hence can be pushed harder.
Also, the combination of two fins to turn off allows a broader range of arcs, which can be placed in various parts of the wave. Where twins were limited, spinning out if pushed too hard in steep waves, the Thruster provided a stable platform across a wide range of scenarios.
As for negatives, the necessity for constant turning is the Thruster's main drawback. Constant motion lends itself to a sameness of style, where individual flair is gazumped by repeat gyrations. It's a criticism noted by the likes of Andrew Kidman and Dave Parmenter.
Quad Fins
The success of the Thruster slowed further innovation on fin configuration for a few years afterwards, yet it didn't stop progress completely. It's unclear who, where, or when the first quad fin was made, but Bruce McKee, Glen Winton, and Brazilian Ricardo Bocao all have legitimate claims to Patient Zero, most likely made shortly after the Thruster's unveiling.
All three pioneers, and other shapers who pursued quad design such as MR, Glenn Minami, Pat Rawson, and later Jeff Clarke, were looking to achieve the Thruster's acceleration and stability, but mixed with the twin fins' pure speed.
Though it has one more fin than the Thruster, drag is reduced in quads as the rear fin, which always slices at an angle through turns, is removed. As long as the board is leaning over, then the outside fin cluster is nullified, and the two inside fins control the turn. As they're set closer and also running at similar angles to each other, they create less drag than a Thruster.
Yet as we've observed, less drag means more speed but less control. A surfer's individual preference on the sliding scale from speed to control indicates their preference, or otherwise, for quads.
Many of Winton's mid-80s quads had the rear fins smaller than the front fins, and also placed them towards the rails, both of which created a looser back end. The 'rail centric' rear fin set up is in contrast to the layout Bruce McKee developed which placed the rear fins further back, closer to the stringer, and with a reduced fin toe. McKee also took a leaf out of Simon's design, making all four fins the same size (or very close to it).
By putting the rear fins closer together, McKee reduced the 'information gap' - referring to the lack of board feedback from twins and early quads, especially coming out of big turns after the rail is released but before fins make the board feel centred again.
Another aspect of quads, particularly those with all four fins of similar size, is that they have a preference for running laterally across a wave. Like a boat that, when unpowered, drifts 'beam on' to the swell, so too will a board with an excess of fin area - it wants to sit across the wave. Quads can be surfed vertically but they have to be urged away from the X-axis.
Around the turn of the century, quad fins began appearing on big wave guns, pioneered by the likes of Jeff Clarke. His theory was that big wave boards didn't have to be pumped like small wave boards - in fact they couldn't be pumped like small wave boards - so innate speed is a prerequisite for big wave design. Two decades later most big wave boards are still quad fins.
The Twinzer
Another design with a very clear originator. In the late-80s, Wil Jobson was shaping in Southern California when Martin Potter rode one of his four fin boards. Pottz liked it, had his shaper Glenn Minami knock one up, and Pottz included a Twinzer in his quiver on his '89 world title-winning campaign.
Rather than place additional fins behind the main fin set, the Twinzer reduces the size and puts them in front. The theory is similar to canards on planes, except here the small fins "punch a hole in the water" - as Rusty Priesendorfer puts it - and not air.
The canards disturb the water so the following fin, which is larger in size, creates less drag and the foil acts more efficiently.
Though the main fins aren't set quite as far forward as a standard twin fin, Twinzers were still very loose in the tail. A quality Jobson tried to correct by using narrow tails and channels - not unlike what shapers are using on modern long-railed twins.
Da Claw
American emigre Tom Hoye wasn't the first surfer to put five fins on a board, shaper Mike Croteau had done it and footage from the '82 Bells shows Midget Farrelly with a five fin surfboard, however, much like Simon Anderson and three fins, Hoye made the configuration work and he named it, forever connecting him to the design.
In the wake of the Thruster's big reveal, Hoye found himself shaping a lot of quads, a design he didn't know much about. So he shaped one for himself, however he didn't want "a glorified twin fin" so Hoye placed a fin in the back.
From the beginning, Da Claw showed promise, with five fins digging in it had extraordinary hold, however it also had a lot of drag, and this is where Hoye's refining began. To begin with, all of the fins are sanded down to about ½ inch shorter than Thruster fins, while the leading fins are set further forward than standard Thruster fins to loosen the board.
Yet even when sanded down, the overall fin area on a Claw is more than a quad, so, perhaps more than any design mentioned in this list, the Claw has remained a specialised configuration, reserved for big, hollow waves that easily overcome the drag factor.
Next week: Part 2 - Fin Design