Neal Purchase Junior and the Duo - interview and video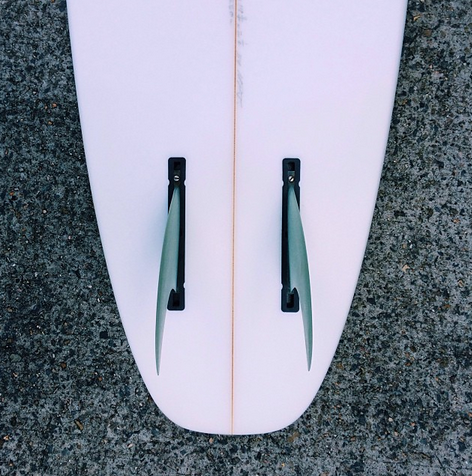 A nose for curiosity and a willingness to follow the scent has led Neal Purchase Junior down an interesting trail. The Duo is his latest design, a concept that, in his words, "splits the single fin apart" with two double foiled fins set six inches apart.
The design is all that Neal has been riding this year, even during his recent Indonesian trip. Rhythm clothing made a short clip of Neal at Ulus and Canggu (see video below) riding the Duo so Swellnet threw a few questions at him.
Swellnet: When did you strike upon the concept?
Neal Purchase Junior: I'd been thinking about it for quite some time. I had a blank that I wasn't real sure about so I thought I'd try something new with it. That was about eight months ago, it was just after the single fin contest at Burleigh.
Did it ride as you imagined?
Ah, yeah...it's funny, 'cos my favourite board is still that very first board. I started off with 7½ inch fins, I took them down to 6 ¾. As you go out to the rail the height of the fins has to come down quite considerably, so I sanded them down after each surf to the last point where I'd have the drive without slipping out.
So despite the first board being the best you've been developing the idea, moving the fins around and such?
It's funny, the first one was toed dead straight with fins 6 inches apart, 3 inches either side of the stringer. And then after that I was like, fuck, there's all these other places where you could put 'em in between there and where a normal twin fin is. So I went out to 6½ and then 7 inches apart and then to 8 inches apart, but after 7 inches they start just feeling like a twin fin which wasn't what I was after. It started getting that wiggly, fishy feeling in the tail.
So after about six boards or so I went back to the original design and kept them at 6 inches apart.
What bottom contours are you riding them with?
It's basically a very subtle concave under the front foot splitting into a double. A dead flat bottom with hard rails would work really well also. They're kinda similar contours to a single fin, what I was using in my single fins. They like flat decks or just slightly fuller rails like a single fin, as opposed to a low, soft, really modern rail.
Looking at it from a distance, that is looking at it through video, it seems the planshape is similar to your quads. Is that right?
Yeah, it's sort of an egg. That board is 5'11' by 21 inches wide, so it's really quite wide. It's almost like a fish. It handles up to 6 foot waves easily, no worries at all. It's got a 16 inch nose and tail which is probably quite wide, so they can handle a bit of width in the tail, more so than a thruster, or even a quad.
What are the ideal waves for it?
They like hollow waves. They really surf well in the pocket, so I was really stoked to go over to Indo and test them out there at Ulus and all the reefs. I originally thought they'd only go good in good waves but the 5'11" I'm riding goes well in waves from 1 foot to 6 to 8 foot. But they definitely like more punch, more steepness. The hollower the wave is, the better they seem to go.
Does that surprise you?
Well the fins are both double-foiled fins, and there's a bit of depth to them so I was kinda thinking they'd go good in good waves right off the bat. I was always thinking it'd be a better version of a single fin 'cos a single fin likes a nice wave as well.
Does it have any of the peculiarities of a twin fin?
It doesn't feel like a twin fin, but it gets away a lot quicker than a single fin. It's got that light characteristic and the further out the fins go the more and more they start feeling like a twin fin. It's got that get up and go of a twin fin but not the fishyness in the tail.
Can you describe the feeling of the Duo?
It feels snaky, squirty and smooth.
And have you sold many?
I put a few pictures up on my blog and I had a few of my customers who regularly get boards off me grab a few. So yeah, I'm doing a few, but it wasn't really for that, it was just an idea for a way of surfing that I'd been thinking about for a while. A traditional way of surfing but quite modern as well.
You're in a fortunate position, don't you think, being able to follow your own curiosity while also shaping boards that people want to ride.
Yeah, well, I wasn't expecting it to feel that good. But I guess as surfers we're always chasing those feelings and we want boards to do certain things for us. Being my own test pilot I can then give back to other people what it is that I'm feeling.