Wednesday, 11 October 2017
Fun NE swell Thurs, S'ly swell Fri, with deteriorating conditions Sat onwards
Sydney, Hunter and Illawarra Surf Forecast by Ben Matson (issued Wednesday 11th October)
Best Days: Thurs: fun NE swell with offshore winds. Get in early. Fri: fun small S'ly swell with early light winds.
Recap: Monday's SE swell eased into Tuesday, with early 3ft sets at south facing beaches becoming much smaller throughout the day. Today we've been left with tiny waves and freshening NE winds, which is building a NE windswell across the coast. Set waves are already 2ft and should become bigger later today.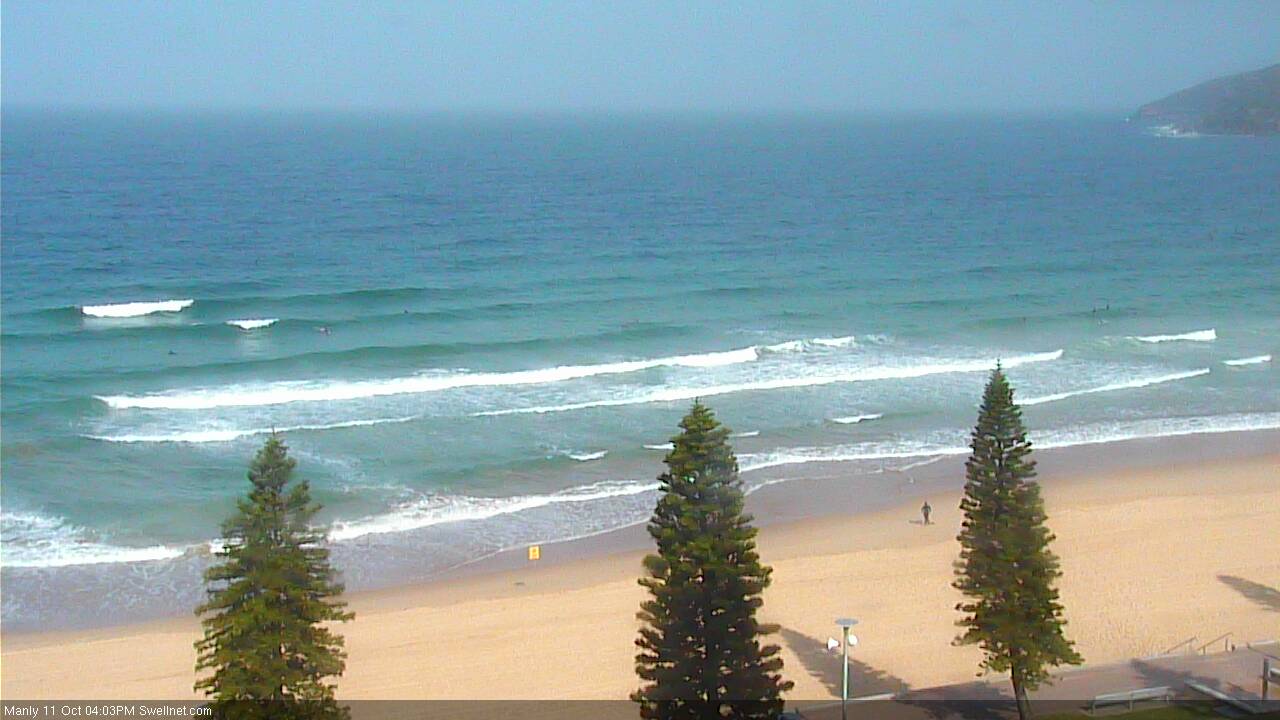 Wednesday mid-afternoon showing NE swell building across the Manly stretch
This week (Oct 10 - Oct 13)
Unfortunately, we've had a slight downgrade in the expected strength of the developing NE breeze, which has slightly pulled back the size estimations for Thursday's NE swell.
Whilst this afternoon's wave heights are currently inline with forecast expectations, I'm not expecting overnight wind speeds to reach quite the strength modeled on Monday. Additionally, the W/NW change is modelled to arrive a few hours earlier, which means we'll see a shorter peak in size around dawn before wave heights ease throughout the day.
As such, I think most NE facing beaches will probably hold somewhere between 2ft and maybe 2-3ft on Thursday morning, with one or two reliable swell magnets pushing 3ft+ around dawn. Expect size to ease rapidly through mid-late morning and early afternoon. However it'll be clean with light offshore winds before lunch, and there'll be fun peaky beaches on offer for keen, early surfers.
Expect slightly bigger waves south from Wollongong (due to the longer fetch length) though to be honest, we are at a greater risk of an overnight peak in this next of the woods - size will already be already easing by the time the sun comes up. So that may somewhat cancel out the benefits.
Thursday's frontal passage will drive gusty S'ly winds across the region through the afternoon, but we're likely to see an associated swell increase mainly across the South Coast before close of business. This swell increase will originate from a strong W/SW fetch exiting eastern Bass Strait, behind the front, and it'll reach the Sydney region overnight before providing fun early waves across south facing beaches on Friday morning.
I think the models are slightly undercalling the size here for early Friday (2ft, against a more likely 2-3ft scenario at reliable south swell magnets) and the Hunter should see a little more size as is often the case, due to a better coastal alignment. However, the NE swell will be all but gone by this time so beaches with less southerly exposure will be considerably smaller.
Expect clean morning conditions on Friday with light offshore winds ahead of afternoon sea breezes. Size will ease into the afternoon, so make the most of the morning.
This weekend (Oct 14 - Oct 15)
There's plenty of swell potential for the weekend, but we are at increasing risk of poor conditions, due to a strengthening high pressure system in the lower Tasman Sea and an enhanced coastal trough across Far Northern NSW and SE Qld. This will drive freshening E'ly winds into Southern NSW.
However there are likely to be small windows of opportunity, and it currently looks like early Saturday may see a period of light winds before the high becomes a dominant influence. Sunday may also see pockets of lighter wind owing to an unstable synoptic flow, but on the balance it's looking a little average with moderate SE winds the most likely scenario.
As for surf, a broad series of strong Southern Ocean fronts and lows passing south of Tasmania on Thursday night will generate some sideband energy for our coast. They're not going to be very well aligned within our swell window but we should see inconsistent 2-3ft surf at south facing beaches both days, with Sunday possibly seeing a few bigger sets. The models are not handling this very well at all right now, but with the ordinary wind outlook it's a moot point anyway. Expect smaller surf elsewhere.
The only benefit of this onshore flow is that it'll slowly build local E'ly windswells about the coast. Let's take a closer look on Friday.
Next week (Oct 16 onwards)
The slow moving Tasman high pressure system is expected to be a major influence for most of next week. However, its northern ridge will be aimed into Northern NSW and E Qld so most of Southern NSW will see a much smaller percentage of sideband energy from this fetch.
At this stage peaky 2ft+ sets are most likely through the first half of the week but if the system becomes better aligned for our region, this figure may be nudged up a little. It's not worth getting too excited about though.
Over the weekend a very powerful Southern Ocean low will transit the waters south of Tasmania, to become quite an impressive system as it approaches New Zealand longitudes (generating a large long period swell for the South Pacific region, i.e. Tahiti). We will see some S'ly groundswell grace our coast throughout Monday with 3ft sets likely at south facing beaches. A little more size is likely through Tuesday with a second round of slightly longer period energy but it'll be a very directional, inconsistent swell and will mainly favour exposed swell magnets.
E'ly winds will probably steer NE through the first half of the week as the Tasman high slowly migrates eastwards. So, surface conditions won't be great unfortunately.
Let's see how everything is shaping up on Friday with the latest model guidance.