Monday, 9 January 2017
Small swells all week; possible strong south swell on Sunday
Sydney, Hunter and Illawarra Surf Forecast by Ben Matson (issued Monday 9th January)
Sign up to Swellnet's newsletter and receive the Sydney, Hunter and Illawarra Forecaster Notes and latest news sent directly to your inbox. Upon signup you'll also enter the draw to win a surf trip to P-Pass for you and a mate. It doesn't get much easier so click HERE to sign up now.
Best Days: No amazing days but there'll be small peaky beachies most days worth a quick early paddle. Sunday arvo and Monday could be sizeable from the south.
Recap: A small E/NE swell on Saturday offered 2ft sets at most open NE facing beaches through into Sunday morning, before increasing to 3ft throughout Sunday afternoon. Surf size has held in today around the 2-3ft mark. Saturday also saw a small S'ly groundswell push up the coast, delivering great waves to a handful of swell magnets. Winds have remained out of the northern quadrant for the last three days.
This week (Jan 10th - Jan 13th)
Nothing special expected this week. Our swell windows will remain quite active, but with only minor weather systems and thus surf size will remain small across the coast for some time.
Our closest swell generation region are the waters offshore from the Mid North Coast, where a small N'ly fetch will remain anchored through Tuesday and Wednesday. It's not very strong nor very well aligned so potential surf size will remain small, around 1-2ft through the next few days.
Today's distant E/NE swell will ease back into Tuesday, but a re-developing trade flow south of New Caledonia will generate another small E/NE swell that should ebb and pulse throughout the week with occasional 2ft sets at exposed beaches.
A shallow southerly change early Thursday morning has been downgraded in size and strength over the last few days, and won't kick up much surf for Southern NSW. The parent low to this change (tracking south of Tasmania on Wednesday) will be too zonal in alignment for our region, which is a shame as wind speeds around the low will be very strong. We may see a few stray 1-2ft sets glance our reliable south swell magnets later Thursday (with bigger bombs in the Hunter) but it's a low percentage event. If this swell eventuates it'll probably persist into Friday morning too.
However a secondary front tracking behind this low looks a little better positioned with strong SW winds expected to nose into the lower Tasman Sea on Thursday. This should generate a slightly bigger south swell for Friday, with south swell magnets picking up 2ft to very occasionally 2-3ft sets, and some bigger bombs in the Hunter. However most other beaches will completely dip out from this south swell and will be relying on small intermittent energy from the E/NE to keep things just rideable.
As for local winds - they'll fluctuate all week, mainly light to moderate from the northern quadrant Tuesday and Wednesday mornings (becoming fresh into the afternoons) before shifting southerly Thursday. On Friday, the small S'ly groundswell should be accompanied by a freshening NE breeze as a new high pressure system sets up camp in the Tasman Sea.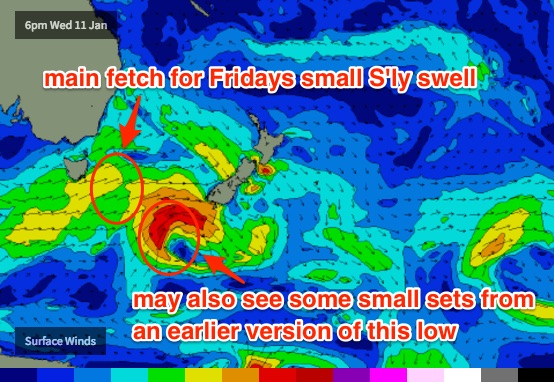 This weekend (Jan 14th - 15th)
Saturday looks like seeing small leftovers from Friday (from both the south and east/north-east), and a troughy pattern resulting in light variable winds. A shallow southerly change is expected to reach the South Coast late morning and may push into Sydney throughout the afternoon but at this stage no strength is expected (nor is any new swell initially).
However, the parent system to this change - a big, beefy Southern Ocean low - is expected to push into the lower Tasman Sea later Saturday. Now, this is more than five days ahead and a lot can change between now and then… but at the moment we're looking at a solid Sunday afternoon increase in southerly groundswell.
Monday is a safer bet for the peak size but at this stage the late session on Sunday could see 4-6ft sets at south swell magnets - though there is a risk of southerly winds accompanying the swell increase. More on this in Wednesday's update.
Next week (Jan 16th onwards)
The large southerly groundswell mentioned for late Sun/Mon is the only significant feature on the charts right now (so, we can theoretically expect an easing from Tuesday onwards).
Despite the active monsoon trough across the north of the country, the computer models are failing to resolve any significant systems in our eastern or north-eastern swell windows. But, I haven't given up hope yet of this regions becoming quite active in the coming weeks, so let's give it a few more days and see what the models are suggesting.