Friday, 21 April 2017
Fun weekend of easing trade swell; new E'ly swell due Wednesday
South-east Queensland and Northern NSW Surf Forecast by Ben Matson (issued Friday 21st March)
Best Days: Sat/Sun: should be some fun trade swell across SE Qld. Best conditions Sunday but with a little less size. Very late Tues (more likely) and Wed: new E'ly swell with good winds for northern ends. Thurs onwards: chance for a solid south swell, though only low probability right now.
Recap: There's been plenty of residual E'ly swell and small fun trade swell across SE Qld and Far Northern NSW over the last few days, with size up to 3ft in the north (i.e. Sunshine Coast), smaller as you head south. Thursday morning's winds were favourable only at a few locations, but this morning we saw a longer window of morning offshores before the SE breezes kicked in.
This weekend (Apr 22 - 23)
Our current source of trade swell is still active in the northern Tasman/Lower Coral Seas, which will maintain similar surf through Saturday as per what we've seen today. The Sunshine Coast should fare the best with 3ft+ sets at exposed beaches, and 2-3ft+ surf across the Gold and Tweed Coasts, with smaller surf south from here.
However the ridge is weakening, so the trades will ease throughout the day and consequently surf size will then gradually abate from late Saturday through Sunday.
As for local conditions, the trades will affect coastal regions north of about Coffs or Yamba on Saturday, but it'll be lighter south of here with a broad window of early SW winds across the Mid North Coast. We may see a few isolated pockets of SW winds further north but this will probably be confined to the southern Gold Coast.
Sunday should see better conditions overall (despite the easing size) with a decent period of light SW winds through the morning before moderate SE winds kick in through the afternoon.
Next week (Apr 24 onwards)
Theres plenty of swell on the cards for the middle to latter part of next week.
But before then we'll have to deal with mainly small leftover swells on Monday and early Tuesday, with light variable winds across most regions. On Tuesday across the Mid North Coast, early light winds will swing N'ly and freshen tending as a cold front approaches from the south-west. No local windswell is expected though.
Over the weekend, a deepening surface trough south of Fiji is expected to form a nice easterly dip. This system looks like it'll generate a nice flush of E'ly swell before it tracks into the swell shadow of New Zealand's North Island (before re-intensifying and producing a large E'ly swell for the NZ East Coast mid-late next week).
The leading edge of this swell is expected to make landfall across the East Coast late Tuesday - it's difficult to say whether we'll see an appreciable increase before dark - but I am doubtful there'll be much energy in the water before (say) 3-4pm or so. As such much of Tuesday will remain very small but we'll be high alert for the first new signs of E'ly energy late afternoon.
Wednesday is therefore the best day to capitalise on this swell, with a building swell somewhere in the 3-4ft range at most beaches that will be rather inconsistent but should be clean with early NW winds. There is a risk that we'll see a N'ly flow develop during the day but northern corners (as a minimum) should have very workable options.
As a side note, the models aren't picking this swell up particularly well right now (so the size I'm expecting is not showing on the swell graph/table for specific surf regions) but I expect they'll come into line over the coming days.
Elsewhere, with the aforementioned cold front moving across the Southern NSW region on Wednesday we'll see a gusty S'ly change push across Nor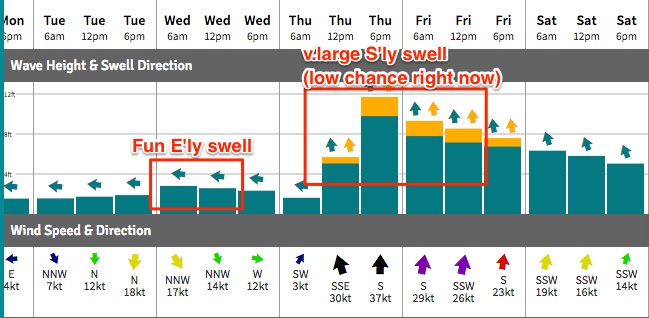 thern NSW on Thursday, and there's some pretty radical model guidance on this at the moment - our wave model (driven by GFS) is estimating 5.6m @ 9.3 seconds (due south) at Coffs Harbour by late Thursday, which translates to 10-12ft south facing beaches (see chart to right).
However, the other atmospheric models are not in agreement on the specifics of this change. The US solution has an East Coast Low forming off Northern NSW (hence the 10-12ft estimate), but the remaining models just sweep the southerly change off to the east.
Anyway, there's no doubt about the prospects of a mid-week southerly change, but its timing, strength and duration within our local swell window is unsure at this stage. There'll be a few swell sources in the mix through Thursday and Friday though (in addition to an easing E'ly swell): the primary front and low (SE of Tasmania on Wednesday) will generate some decent S'ly swell but probably no more than 4ft at south facing beaches south of Byron Bay.
As such, all of the Thurs/Fri size will depend on how the models evolve this local system. Let's take a closer look on Monday.
Have a great weekend!