Monday, 9 January 2017
Small swells and tricky winds all week; aim for the mornings
South-east Queensland and Northern NSW Surf Forecast by Ben Matson (issued Monday 9th January)
Sign up to Swellnet's newsletter and receive the South-east Queensland and Northern NSW Forecaster Notes and latest news sent directly to your inbox. Upon signup you'll also enter the draw to win a surf trip to P-Pass for you and a mate. It doesn't get much easier so click HERE to sign up now.
Best Days: No amazing days but there'll be small peaky beachies most days worth a quick early paddle.
Recap: There's been plenty of trade swell over the last few days, peaking on Sunday with solid 4ft sets. Fresh E'ly winds made conditions difficult at open beaches but Sunday morning saw light SW winds across the Gold Coast, and light variable winds south of Yamba. Today has delivered light variable winds through the morning across all beaches and a peaky, easing E'ly swell around 3ft at most beaches with a few bigger bombs on the Sunny Coast. E/NE thru' NE winds are now up across the coast though.
This week (Jan 10th - Jan 13th)
Lots of model changes over the last few days.
Although the weekend panned out pretty much as expected, the trough/low off the Central Qld coast threw a few curveballs (including more than 300mm of rain in 24 hours in a few locations!). This didn't affect the initial surf forecast but the fluctuating model guidance has altered projections for a speculated tropical low in the northern Coral Sea this week.
Unfortunately, the end result has been a downgrade of this system to the point where we're not expecting any swell from this region at all in the next week or so.
There has been a slight upside though - the models have marginally increased the size and strength of the anchored trade flow south of Fiji and New Caledonia for this week, which will maintain small levels of east swell right through into the weekend.
Unfortunately, local conditions will be tempered by freshening northerly winds on Tuesday and Wednesday. They'll be strongest across the Mid North Coast, of which the weaker pressure gradient across SE Qld coasts means there's a chance for early light NW winds in this region - but that's about the only positive aspect.
Surf size will drop from a slow, inconsistent 2ft with very occasional 2-3ft bombs on Tuesday morning to a slower, even less consistent 2ft by Wednesday. Early morning will offer the best conditions, don't waste it. Expect smaller surf south from Ballina.
A shallow southerly change is expected to clip the Mid North Coast at some point on Thursday - probably around lunchtime - but it's unlikely to push much further north than the Yamba or Ballina. We will see a period of light variable winds develop across northern regions through Thursday afternoon and early Friday before the northerlies kick in again for the weekend.
There's a little bump in E'ly swell likely for late Wednesday and early Thursday (across SE Qld and Far Northern NSW) that the models aren't picking up very well; it won't be much above model guidance but could deliver a few bigger sets above the background 2ft energy - so don't be surprised if you see a few rogue 2-3ft bombs during this time. But they'll be far and few between, and with the dicey wind outlook for Wednesday afternoon, Thursday morning may be a better option under the potential developing troughy pattern (i.e. with light NW winds). Fingers crossed anyway.
The only other possible swell that may arrive across our shores this week is a small S'ly groundswell, generated by an intense but poorly aligned low pressure system tracking south of Tasmania on Wednesday. It's expected to be too zonal in alignment for our coasts, which is a shame as wind speeds around the low will be very strong. Exposed south swell magnets south of Byron may see a few stray 1-2ft sets glance the coast on Friday but it's a low percentage event.
A secondary front trading behind this low looks a little better positioned and may generate a slightly better (and bigger) S'ly swell for Friday afternoon, though it'll probably just reach the Lower Mid North Coast before the end of the day. Expect NE winds to restrengthen through Friday afternoon across this region.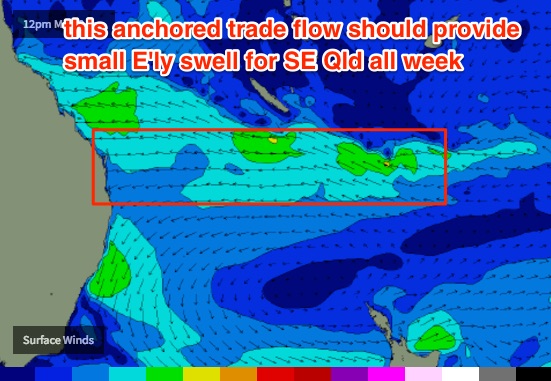 This weekend (Jan 14th - 15th)
Friday's small south swell should hold into Saturday, with very inconsistent 2-3ft sets at south swell magnets south of Byron. I'm really not that confident in this event producing anything notable so don't work around it as a possible day of waves.
As it is, northerly winds are expected to hammer the SE Qld and Far Northern NSW coasts during the day; but the Mid North Coast may see lighter winds associated with trough of low pressure preceding a southerly change for Sunday. Most beaches should see some local N'ly windswell but quality won't be high. Winds should be NW early morning though, so the small leftover E'ly swell from the South Pac trade flow may be just rideable at protected northern ends for the early session.
Sunday's southerly change looks like it'll be mainly a local affair, that is: cut off from the mid latitudes, and not initially tied with any strong swell generating system. So apart from an increase in short period windswell, surf prospects for the second half of the weekend don't look much better either though there's always the chance for an upgrade over the coming days.
Next week (Jan 16th onwards)
The parent low loosely tied to Sunday's southerly change - a big, beef Southern Ocean low pressure system - is expected to push into the lower Tasman Sea later Saturday. Now, this is more than six days ahead and a lot can change between now and then… but at the moment we're looking at a solid increase in southerly groundswell around Monday.
These kinds of swells only really favour south swell magnets south of Byron, and current indications are for set waves somewhere in the 3-5ft range, with theoretically an easing trend expected throughout Tuesday and Wednesday. Confidence isn't very high right now though. More on this in Wednesday's update.
Otherwise, the trough leading Sunday's southerly change is currently modelled to stall off the southern Qld coast on Monday, which could anchor a gusty SE fetch across the region and whip up some small local wind waves for the protected points north of Byron and into SE Qld.
Elsewhere, and despite the active monsoon trough across the north of the country, the computer models are failing to resolve any significant systems in our eastern or north-eastern swell windows. But, I haven't given up hope yet of this regions becoming quite active in the coming weeks, so let's give it a few more days and see what the models are suggesting.