Mike Psillakis: Seoul Surfer
Thursday, 2 February 2017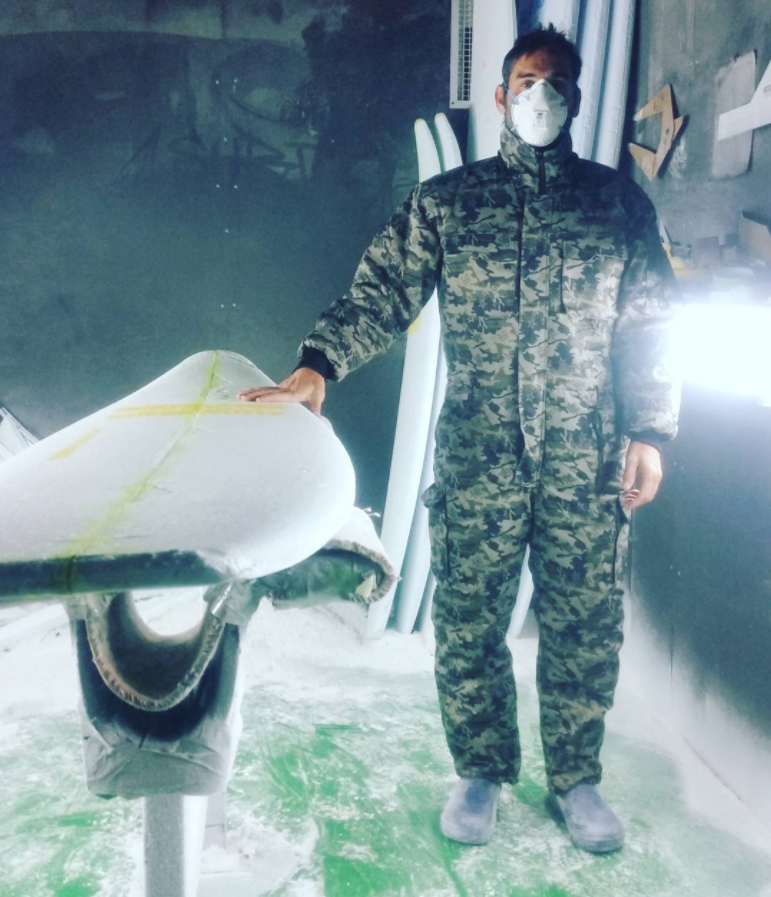 Travel is fatal to prejudice, bigotry, and narrow-mindedness, said Mark Twain, and it's also a potent force against shaping complacency. Just ask Mike Psillakis. Mike, a long-time shaper from Sydney's Northern Beaches, is currently working in one of the more obscure corners of the surfing world - South Korea.
"If you surf the same break all the time you'll definitely get your local boards wired," says Mike. However, the travelling shaper has to experience how boards ride in different waves, they need to "adjust and keep an open mind" about design. Travel adds breadth to their armoury. It extends their skill set.
And so, between sessions in the Seoul shaping bay, Mike plans to search the frigid coastline of the Yellow Sea.
Alex Workman caught up with Mike before he left.
Swellnet: I know you're no stranger to a good strike mission Mike but tell me what inspired this trip to South Korea?
Mike Psillakis: A crew came over here last year and worked at Rhino Laminating for a bit. One of the glassers who is trying to shape over there works for a company called Surfcode who are trying to get into the market. They just hit me up to come over and I thought, why not go over there and check out South Korea?
What region are you planning to concentrate on spending time shaping and finding waves?
They [Surfcode] are based just south of Seoul and we are going to travel an hour and a half south of there down the southwest coast to hopefully find waves.
How many blanks will you have, and are you planning to shape with anyone over there?
Well they have a whole container of surf blanks over there for me! They have just set up a surfboard factory there and they want shapers to head over there and shape boards. That's their whole deal.
What kinds of boards do you think you will be shaping over there? Have they asked for anything in particular?
It looks like the waves are kind of soft and flat and it's going to frickin' freezing. I think the water is only 8 degrees Celsius and there is snow on the beach so you're wearing 5mm wetties, gloves and booties – the whole thing. So I would make the boards thicker, especially your standard shortboard but mainly I'm going to be making hybrids. Hybrid fishy shortboards to suit the flatter waves and egg style boards.
They've got some beachies that look like they have a bit of punch so I'm going to make some shortboards as well and just bump up the volume to accommodate for the wetties and the cold water.
Aside from that factory over there do you know if there's a local surf scene?
There is a surf scene and there are a couple of shops I think. It's really new there and it's starting to boom now because they're kind of getting more Westernised, but essentially surfing is very new. There's a bit of hype over there at the moment and it's definitely growing.
What are you expecting culture-wise?
I can imagine it's going to be a super welcoming culture and I'm guessing it's going to be something similar to Japan regarding culture and food. I can imagine it being really hospitable. But the waves… I'm predicting freezing, cold water but I wouldn't have a clue. I don't know where they are going to take me and I don't know where the swell comes from. I don't have a clue! [Laughs].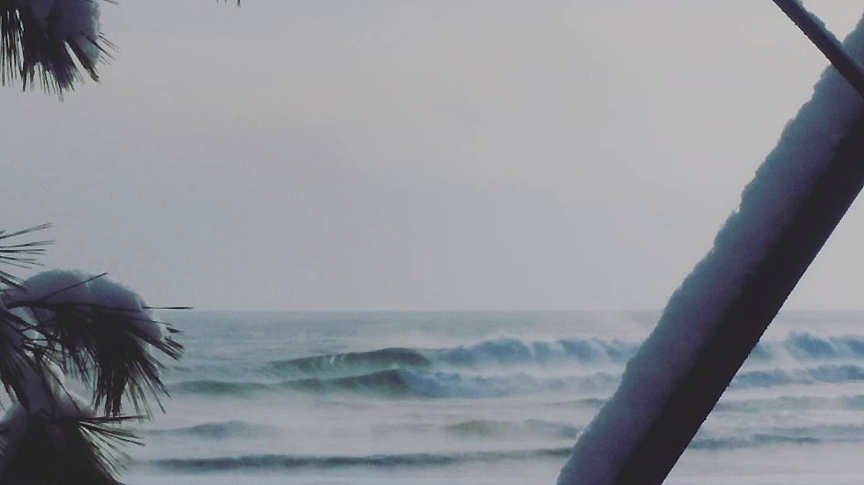 Stop Press! Mike's Instagram account reports fun 2-3 foot waves yesterday. Also makes a casual metion about snow on the beach.
Tell me about the quiver you're taking?
I'm going to take a fish – a full on twinny fish - and a shortboard just to cover my ground. I'm taking two extremes because I know I can work them in different conditions.
You've been to the Philippines, South America, Morocco and Indonesia over the years. What do you get out of a trip from a shaper's perspective?
I think what happens is, if you're a shaper and you surf the same break all the time you're definitely going to get your local boards wired. If you're surfing 2-3 foot beachies you will get those boards wired. But what happens is I find is that I go somewhere like a deep water, long point and suddenly those boards don't work and it makes you think about different things like rockers and volumes.
So you've got to adjust and keep an open mind and visualise what those waves do and what sort of rockers and concaves and contours work in those waves. That's probably the best way to describe it. You really need to experience waves like that otherwise you don't know what to make.
I've taken a board that went unreal in Sydney, then I've taken it away somewhere and surfed it on a point and it just didn't fit that wave. So if you rode a board at a 2-3 foot beachie it's not necessary going to go somewhere like a Chilean point.
Can you elaborate on how traveling is a way of pushing yourself as a shaper?
Not all surfing locations are the same. Take wind swells in the Japan Sea, or the East Sea as the Koreans call it. Predominately it is short period wind swell - the period is pretty close together. It's super consistent when this happens but can lack power unlike a groundswell. Add a 4/5/4 wetsuit, gloves, hoody, and booties, and suddenly your board from home won't work. It will be a good test riding my boards that I'd ride back home in Korea. It gives me a starting point or a gauge where to modify them. Small changes can make all the difference.
Plus there's water salinity to consider. I never took too much notice of this until I tasted the water one day on a trip somewhere and thought salt content can play a big part in your boards. I really think that a shaper really needs to ride different waves around the world to get a true understanding of how this can affect your approach.
Heading to Korea really made me think about extra volume and different rockers for the waves there. Not necessarily flatter rockers – as some breaks have a certain steepness to them, but just to accommodate for the lack of power and push.
It's also a good case for building a quiver.
Yeah for sure. It's always good to have two boards the same size. Say you ride 6'0s. It's always good to have two boards the same dimensions and one board with a high rocker for the beachies and the other one a slightly more relaxed rocker for a long down the line point where you need to draw your lines out more and also less concave because you're going faster and there might be a bit of wind on it.
So I think it's good to take even just two shortboards with different rockers because they will feel so different. Rather than changing the board, change the rocker and it can make such a big difference.
You're one of the few shapers that remain dedicated to 100% handshapes. Do you ever feel pressured to keep up with the trends while maintaining your core values?
Well it all depends on what you mean by trends. Everyone is doing their own little thing. With my own boards and my own models I'm trying to fill the gaps in for all the different types of surf and different types of surfers and trying to accommodate for everyone. I work on my high performance shortboards for guys who are complete shortboarders, and then I work with the guy who also just wants to have fun and not work so much on a wave and relax a bit.
There are so many different types of surfers and I like that. I can shift my mind from the high performance guy to a guy that just likes to draw a nice clean line on a wave. It's better compared to 10-15 years ago when everyone just wanted a high performance shortboard. Now it's about drawing different lines. It's more fun now.
It feels like there's a movement of surfers who want to establish relationships with shapers rather than trying their luck in a homogenised marketplace. Agree?
Yeah definitely. People get lost and they don't know where they're at and they need to talk to someone and they can go and talk to a shaper and the shaper can direct them to something that they are looking for. That's what my experience is. Guys go through the ringer, do the full circle and then come and see me. Which is great because then they come back.
//ALEX WORKMAN