Tricky period with an oversized, stormy swell next week
Western Australia Surf Forecast by Craig Brokensha (issued Wednesday May 31st)
Best Days: Saturday in the South West, Thursday morning next week Perth and Mandurah
Features of the Forecast (tl;dr)
Small mix of mid-period S/SW swells tomorrow, biggest into the PM, easing Fri
Gusty S/SE winds tomorrow, moderate S/SE tending E/SE Fri, then S/SE into the PM
Inconsistent SW groundswell filling in Sat, peaking in the PM with moderate E/NE tending N/NE winds
Easing surf Sun with strong N/NW tending W/SW winds
Stormy surf building Mon with strong NW tending W/NW winds, oversized Tue with strong W/SW winds
Easing surf Wed with strong SW winds
Recap
Average surf across all coasts yesterday with a weak, bumpy N/NW windswell in Perth and Mandurah, choppy and poor across the South West with strong W/NW-NW winds.
Today, the trough linked to the poor winds and surf has cleared to the east, bringing cleaner conditions and an easing mid-period W/SW swell to 3-4ft in the South West, 2ft in Mandurah and 1-2ft across Perth.
This week and next (Jun 1 - 9)
Looking at tomorrow and we've got a small mix of weak S/SW swells on the cards. The first will be locally produced today and have no size, while a strengthening polar frontal progression that formed late in our swell window yesterday will generate a more noticeable increase.
It might be undersized at dawn but a kick to 3ft to occasionally 4ft is due across the South West magnets, tiny to the north, easing back from 3ft on Friday.
Unfortunately gusty S/SE winds will create average conditions tomorrow, slightly better Friday and S/SE tending E/SE before reverting back to the S/SE into the afternoon.
Winds will shift E/NE on Saturday morning and then N/NE through the day along with a building, inconsistent SW groundswell. The source of this swell was a strong polar low west of the Heard Island region and it'll be inconsistent with sets to 4-5ft due to develop through the day, fading back from 3ft or so on Sunday. Conditions will be poor on Sunday though with strong N/NW tending W/SW winds as a weakening cold front pushes up and into the state.
Now, this front will be the first in a series of strong mid-latitude storms that will fire up towards us, under the influence of the Long Wave Trough.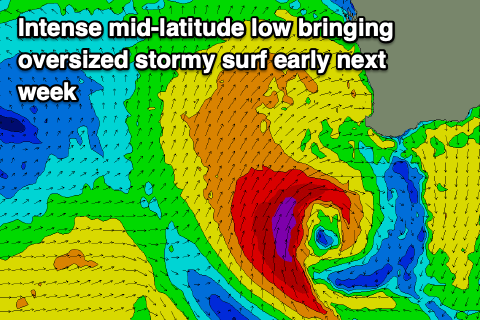 An initial flurry of mid-latitude fronts will generate fetches of strong to gale-force W/SW winds through our western swell window, with the second strongest front then spawning into a strong mid-latitude low south-west of us Sunday evening.
The low will generate severe-gale-force winds and a mix of oversized, stormy waves will develop Monday afternoon, peaking Tuesday.
We're looking at easy 15ft surf in the South West, if not bigger with stormy 4-6ft waves in Mandurah and 3-5ft across Perth along with strong W/SW winds.
The size is due to ease back Wednesday as winds shift SW but remain strong, cleaning up to the north Thursday/Friday but with smaller, easing surf.
Further frontal activity is on the cards into next weekend and the following week but we'll look at this in more detail on Friday.