Poor outlook continues
Western Australia Surf Forecast by Craig Brokensha (issued Monday February 6th)
Best Days: Sunday and Monday mornings in the South West and Mandurah, Monday morning
Features of the Forecast (tl;dr)
Weak, easing S/SW swell tomorrow with gusty S/SE tending S/SW winds
Smaller Wed with SE tending S/SW winds
Inconsistent mid-period SW swell building Thu PM, holding Fri
Gusty S/SE tending S/SW winds Thu and Fri
Inconsistent, moderate sized SW groundswell mixed with mid-period swell building Sun with gusty E/SE tending S/SW winds
Easing swell Mon with E/SE tending S/SW winds
Recap
Clean, smaller 2-3ft waves Saturday morning ahead of a new, building S/SW groundswell through the day with a window of clean conditions early afternoon before sea breezes kicked in. Sunday was cleaner than expected in the morning with easing 4ft sets, tiny to the north.
Today is now poor as a trough moves in bringing strong S/SW winds and a building, localised S/SW swell.
This week and weekend (Feb 7 - 12)
The coming period isn't too great at all, with small, weak swells due to be met by unfavourable S/SE winds as an inland low squeezes a high to our west.
The high is blocking our main swell windows and we'll have to rely on distant swell energy and storms through the coming week or so.
Tomorrow, winds will revert back to the S/SE but with weak, small and easing surf, bottoming out into Wednesday with morning SE winds.
On Thursday, an inconsistent mid-period SW swell is due, generated by a weak, distant frontal system, not topping 3ft into the afternoon when it peaks. Winds will be poor in any case and gusty out of the S/SE, shifting S/SW into the afternoon.
This swell will hold Friday morning, mixed in with a smaller, weaker mid-period swell generated by a trough projecting towards us Wednesday. Again it isn't expected to top 3ft in the South West, tiny to the north and with S/SE morning winds, not as strong as Thursday.
A temporary low point is due into Saturday ahead of a new, inconsistent SW groundswell that'll build Sunday.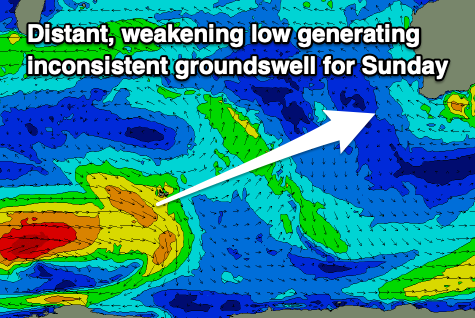 The source of this swell is a distant low that's formed south-southeast of South Africa. A tight fetch of severe-gales are currently being generated with the low due to weaken while moving east today, leaving weaker W/SW gales. The low will weaken further while projecting up and towards us through the end of the week, adding some more consistent mid-period swell to the mix.
We should see both swells building Sunday and reaching 4-6ft across the South West, 2ft in Mandurah and 1-2ft across Perth, easing Monday from a slightly smaller size.
Winds on Sunday will hopefully be E/SE through the morning ahead of sea breezes, with E/SE offshore winds again Monday morning.
A follow up SW groundswell is on the cards for mid-next week but with possible dicey winds. More on this Wednesday.