Swells from the south with improving winds
Western Australia Surf Forecast by Craig Brokensha (issued Wednesday February 1st)
Best Days: This morning and tomorrow morning in the South West and Mandurah, Friday morning in the South West, Saturday until sea breezes kick in in the South West
Features of the Forecast (tl;dr)
Easing mid-period SW swell tomorrow with strong E/SE-SE tending S/SE winds
New, inconsistent S/SW groundswell for Fri with gusty E/SE winds, tending strong S/SE
Easing surf into Sat AM, with a new S/SW groundswell for the PM with fresh but easing E/NE tending N and then S/SW winds
Easing surf Sun with strong S/SE winds, smaller Mon with S/SE winds
Recap
Windy conditions across the South West with surf to 4ft, increasing a little today with better though still strong SE winds. Sets to 4-5ft are breaking across exposed breaks and Mandurah has seen 1-2ft sets with tiny surf across Perth. The swell has kicked a bit more in size this morning in the South West with sets to 6ft across exposed breaks.
This week and weekend (Feb 1 - 5)
Today's new mid-period SW swell is due to peak this afternoon and ease over the coming days as winds improve and swing more east as a high slides in and under us.
Easing 4-5ft sets are due in the South West tomorrow morning, 1-2ft across Mandurah and 1-1.5ft in Perth along with strong E/SE-SE winds in the South West, easing a touch before shifting S/SE.
Friday will see gusty E/SE winds along with a new S/SW groundswell, generated by a strong polar low that's formed to our south. While late in formation, wind speeds around the low are gale to severe-gale (confirmed by satellite left) and this should produce an acute S/SW groundswell for Friday, peaking through the day to 4-5ft on selected south magnets, much smaller in protected spots.
Perth and Mandurah won't see any size at all.
This swell will fade into Saturday morning from 2-3ft as winds shift around to the E/NE, but another pulse of groundswell is due through the day (peaking afternoon), generated by a deepening extra-tropical low dropping south-east towards polar latitudes.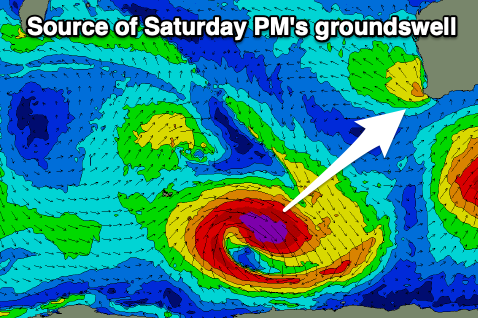 While not ideally aimed, a great fetch of severe-gale W/NW winds will generate a good pulse of reinforcing groundswell, kicking to 4-6ft on the south magnets through the afternoon as winds go sea breezey. Mandurah and Perth will again unfortunately miss out on any size.
A trough pushing in Sunday will come a day early, killing off options in the South West as the S/SW groundswell eases thanks to strong S/SE winds.
Easing surf with S/SE winds will create average to poor surf early next week with nothing really of note on the cards longer term. More on this Friday.