Tricky week of winds and swell
Western Australia Surf Forecast by Craig Brokensha (issued Monday July 4th)
Best Days: Tomorrow afternoon, Wednesday, Thursday (afternoon Perth and Mandurah, Friday morning, next Monday
Features of the Forecast (tl;dr)
Tricky winds tomorrow but improving - dawn S/SW tending variable E in the South West, strong N tending S/SE then E/SE in Perth and Mandurah
Building mid-period W/SW-SW swell tomorrow, peaking Wed AM, then easing
E winds Wed
Smaller Thu AM ahead of a new, mid-period SW swell building into the PM with a secondary pulse later Fri, easing Sat
Fresh E/NE tending lighter N/NE winds Thu, moderate N/NE tending N/NW Fri
Strong N/NW winds Sat with easing SW tending S/SW winds Sun
New W'ly swell Mon with E/SE winds
Recap
Pumping surf all weekend with a large, long-period W/SW groundswell filling in Saturday under light offshore winds, reaching 10-12ft across the South West, 3ft in Mandurah and 2-3ft across Perth.
The swell was still large but on an easing trend through yesterday with winds tending a little more northerly. Today it's a bit smaller again and wind affected with deteriorating conditions and strengthening N/NE winds.
This week and weekend (Jul 5 - 10)
Today's strengthening winds will continue into this evening before giving into a change tomorrow as a trough linked to the winds pushes east and across us.
This change will be weak and rapid with dawn, strong S/SW winds due to tend variable tomorrow morning across the South West and even light offshore. Perth and Mandurah will see strong N'ly winds at dawn, shifting S/SE and then easing.
The ocean will be raw and lumpy but improve as a new mid-period W/SW swell fills in through the afternoon.
This swell was generated over the weekend and we'll see some additional SW swell from the backside of the trough but it's not especially strong.
The South West should build back to the 6ft range and hold a similar size Wednesday morning with 2ft sets in Mandurah, 1-2ft across Perth.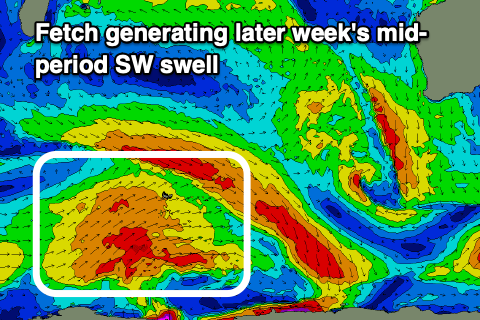 Wednesday looks cleanest with E'ly offshore winds holding all day as the mid-period W/SW and SW energy ease.
Smaller surf is expected on Thursday morning with favourable though gusty E/NE offshore winds, easing and tending more NE through the day.
A new mid-period SW swell should build into the afternoon, with a reinforcing pulse for Friday afternoon, generated by a broad but relatively weak fetch of SW winds around the Heard Island region today and tomorrow, followed by a secondary fetch on Wednesday morning.
Perth looks to be tiny and to 1-1.5ft with 1-2ft sets max in Mandurah and 4-6ft surf across the South West Friday, easing from a slightly smaller size Saturday.
Another approaching trough will bring deteriorating conditions late week with a N/NE-NE tending N/NW breeze Friday, stronger N/NW on Saturday ahead of a SW-S/SW change Sunday.
Swell wise, a localised W/NW windswell is due for Sunday but some better mid-period W/SW swell from the earlier stages of the trough (a stronger low) should peak Monday morning.
This is a tricky swell and better aimed for northern parts of the state but a fetch of off-axis SW winds should generate 6ft+ waves in the South West, 2-3ft in Perth and Mandurah. The trough should clear Monday bringing offshore winds but we'll confirm this Wednesday.
Longer term it looks like we'll see better swell producers with more favourable winds, but more on this in Wednesday's update.