Fun surf to end the week, mixed S/SW swell to follow
Western Australia Surf Forecast by Craig Brokensha (issued Wednesday May 25th)
Best Days: Tomorrow, Friday, early Saturday in the South West, Tuesday onwards in the South West
Features of the Forecast (tl;dr)
Moderate sized + mid-period SW swell for Thu and Fri with light E/NE winds Thu AM (weak sea breezes) and E/SE tending S/SE winds Fri
Easing SW swell Sat with early E/SE-SE tending strong S/SW winds (E/SE further north early)
Mod-large S/SW swell building Sun with strong S/SW winds, easing Mon with strong S-S/SE winds
Cleaner surf from Wed with an inconsistent new mid-period W/SW swell (small to moderate)
Easing surf Thu with morning offshore winds
Recap
A continuation of large stormy surf across all locations yesterday, improving slightly into the afternoon as winds eased. Today is much better across Perth and Mandurah with clean conditions and a drop in swell to a peaky 2-3ft, raw and lumpy across the South West with a more variable breeze and weak easing swell.
This week and next (May 26 – Jun 3)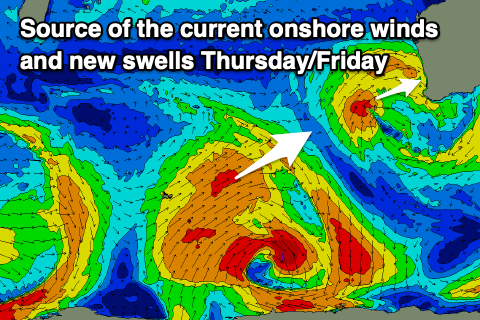 The weak, low-period energy currently breaking across the state will be replaced with some new, mid-period SW swell tomorrow and Friday, generated by a broad but relatively patchy polar low that developed around the Heard Island region on the weekend.
Tomorrow's first pulse should kick to 5-6ft across the South West, easing from a similar size Friday morning with inconsistent 2ft sets in Mandurah, 1-2ft across Perth.
Winds should be favourable and light E/NE across all locations tomorrow morning ahead of weak sea breezes, E/SE on Friday, shifting more S/SE into the afternoon.
Saturday morning will start clean with E'ly offshore winds in Perth and Mandurah but tiny surf, while a dawn E/SE breeze will shift quickly SE around Margs, then strong S/SW into the afternoon as a strengthening polar front pushes up towards us. Swell wise Margs will be smaller than the coming days and easing from the 4ft range.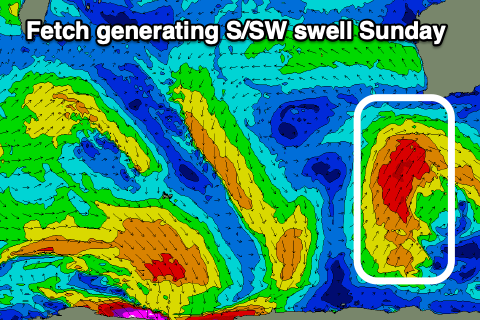 Looking at the strengthening polar front and it's not ideal for swell generation with it forming late (east in our swell window) along with not being overly strong.
A fetch of strong to gale-force S/SW winds will be projected north, producing a moderate to large, mid-period S/SW swell for Sunday, easing through Monday.
The south direction won't be great for locations north of Margs, and size wise we're looking at sets building to 6-8ft across the South West into the afternoon with 2ft surf developing in Mandurah and Perth. Conditions will be average though with strong S-S/SE winds. Protected spots out of the wind will be clean but tiny.
Winds are due to swing SE into Monday morning with easing S'ly swell from 6ft+ across the South West and 1-2ft further north.
We're then looking at a slower period of surf as the frontal system projecting up and into us on the weekend moves slowly east, with a high sitting to our west. We'll have to rely on long-range, inconsistent swell energy from storms firing up south-east of South Africa yesterday and today.
Winds will however be favourable and offshore each morning with weak sea breezes from Tuesday through the rest of the week. The inconsistent swell energy should arrive later Tuesday but more so Wednesday and provide infrequent sets to 4-5ft across the South West, tiny in Perth and Mandurah.
Longer term the outlook remains quiet but more on this Friday.