New swell from this afternoon but with poor winds
Western Australia Surf Forecast by Craig Brokensha (issued Friday January 7th)
Best Days: Exposed breaks in the South West Monday morning
Features of the Forecast (tl;dr)
Building mid-period S/SW swell this afternoon with strong S/SE winds
Slight drop in mid-period S/SW swell tomorrow with mod-fresh S/SE winds, strengthening from the S/SW-S into the PM
Reinforcing pulse of mid-period S/SW swell Sun with strengthening S/SE winds
Fading S/SW swell Mon with fresh E/SE tending strong S/SE winds
Building weak swell later week, better next weekend and the following week
Recap
Small to tiny surf right across the state with less than ideal winds for the true swell magnets.
This weekend and next week (Jan 8 - 14)
This afternoon we should see an initial pulse of mid-period S/SW swell, generated by a polar low that formed south-west of us on Wednesday. The closest fetch to us was weakest and will be responsible for this afternoon's increase, but a stronger fetch of W/SW gales on the backside of the low should generate a reinforcing pulse of swell for Sunday, slowing the easing trend.
Unfortunately both these swells won't amount to much and conditions will be less than ideal, cleaning up Monday but as the size eases.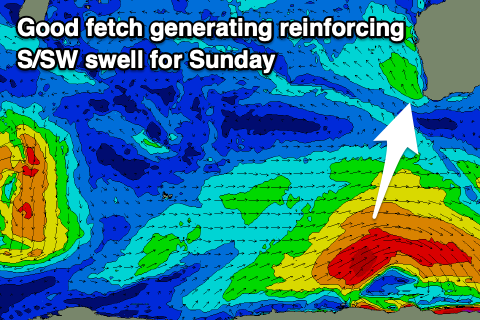 So the first pulse this afternoon should reach 4ft across the South West but with strong S/SE winds. Perth and Mandurah aren't due to see any size.
The swell is due to ease from the 4ft range tomorrow morning with a moderate to fresh S/SE breeze strengthening from the S-S/SW into the afternoon, with gusty S/SE winds on Sunday with the reinforcing pulse of S/SW swell. This should offer better 4-5ft sets across the south swell magnets but unfortunately those winds will be right into these spots.
Monday is the best bet for a surf across the Margaret River region with a fresh E/SE offshore wind but easing 3ft sets on the swell magnets. Hit the small wave spots.
Into Tuesday and Wednesday the swell will bottom out ahead of some very weak localised swell as a trough pushes up against a new high filling in from the west.
Longer term a stronger frontal progression looks to bring some better though still mid-period energy for next weekend and the following week. Wind at this stage look to be mostly from the SE as the high fills in a bit further next weekend, but we'll have a closer look at this Monday. Have a great weekend!