Large, windy end to the week
Western Australia Surf Forecast by Craig Brokensha (issued Wednesday September 15th)
Best Days: Perth and Mandurah Friday morning, Perth for the keen early Saturday, Sunday morning, Monday Mandurah and Margs, Tuesday Mandurah and Margs
Features of the Forecast (tl;dr)
Large mix of SW groundswell and stormy swell building tomorrow with strong W/SW tending SW winds
Easing mix of swells Fri with variable winds in Perth and Mandurah early, strong SW in the South West, shifting more W through the day
Easing surf Sat with strong W/NW winds (lighter N/NE early in Perth and moderate N/NW in Mandurah)
Mid-period W/SW swell for Sun PM with fresh SE tending S winds (E/SE further north)
Large S/SW groundswell for the South West Mon AM with mod-fresh E/SE tending S/SE winds, easing Tue with E/NE tending variable winds
Small SW groundswell for Wed PM with NE tending N winds, SW Thu
Recap
A good new swell with clean conditions across all locations yesterday's, coming in at 6ft+ across the South West, 2ft+ in Mandurah and 1-2ft across Perth. This morning the swell has eased a touch in the South West with less favourable N/NW winds, clean early in Perth and Mandurah with 1-2ft and 2ft waves respectively.
This week and next (Sep 16 – 24)
Following the recent days of clean, good to pumping surf, we've now got a poor run of conditions and large, building surf to end off the week, improving from Sunday and more so early next week.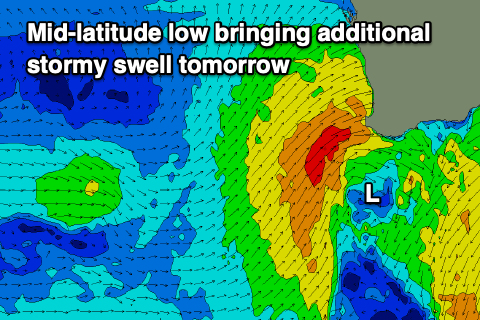 The source of this will be a mid-latitude front spawning off a good polar frontal progression around the Heard Island region pushing into us this evening while forming into a mid-latitude low.
This will bring strong to gale-force W/SW tending SW winds to the South West tomorrow with a mix of large new SW groundswell from the polar frontal progression and localised, stormy windswell on top.
Size wise the South West looks to reach 10ft+ with 4ft surf in Mandurah, 3-4ft across Perth.
The swell will start to ease through Friday as the low moves slowly east, but winds will remain onshore and strong from the SW, easing through the day and shifting more W as a weak mid-latitude front clips us.
Perth and Mandurah should see a window of variable winds Friday morning and easing sets from 3ft and 3-4ft respectively.
This mid-latitude front should bring some moderate sized, mid-period W/SW swell for Sunday afternoon, slowing the easing trend in swell from Friday and Saturday.
But coming back to Saturday and winds will strengthen from the W/NW as a low forms to our south-west, glancing the south of the state. Perth should see a period of lighter N/NE winds early, N/NW across Mandurah and with less size compared to Friday.
This low should also produce a fetch of severe-gale to storm-force SW winds late in our southern swell window Saturday, producing a large S/SW groundswell for Monday morning across the South West, smaller to the north.
Looking at Sunday first and a high will ridge in from the west, swinging winds fresh SE across the South West, more E/SE and lighter to the north along with a low point in swell. The South West looks to be around 5-6ft, with smaller 2ft sets in Mandurah, 1-2ft across Perth.
Monday then looks great with fresh E/SE offshore winds and the new S/SW groundswell providing 6-8ft sets on the swell magnets, only small and to 2ft in Mandurah, 1-1.5ft across Perth.
The surf will ease into Tuesday with morning E/NE winds, tending variable into the afternoon and N/NE tending N winds Wednesday as a new, long-period SW groundswell fills in.
The source of this swell is tricky, that being a fetch of severe-gale NW winds tracking south-east as a strong polar low forms south-west of us. This isn't ideal at all for swell production but we should see a small lift in energy to the 4ft range across the South West into the afternoon, holding Thursday but with winds swinging onshore from a trough.
Longer term some fun, mid-period swell may be seen next weekend, but more on this Friday.