Lots of swell with winds from all degrees of the compass
Western Australia Surf Forecast by Craig Brokensha (issued Monday September 6th)
Best Days: Selected spots early tomorrow AM, Thursday selected spots, Friday morning Perth and Mandurah, Saturday protected spots, Sunday
Features of the Forecast (tl;dr)
Easing SW groundswell with strong N/NE tending N/NW winds
Large, building W/SW groundswell Wed PM with strong N/NW tending W/NW winds (N/NE early in Perth and Mandurah), peaking Thu AM with SE tending SW winds in the South West, strengthening S/SE in Perth and Mandurah
Easing surf Fri with variable winds early in Perth and Mandurah, W'ly across the South West
Mod-large W/SW swell building Sat with S/SE winds, easing Sun with E winds
Recap
The South West started to clean up into the weekend with a bit of lump still in the mix and easing sets from 6ft+, clean and to 2-3ft in Perth and Mandurah. Sunday was smaller and back to 2ft in Perth and Mandurah, great and to 3-5ft in the South West.
Late in the day a new SW groundswell started to show, but this has peaked this morning with large, clean 8ft surf in the South West, bumpy and to 2ft in Mandurah and 1-2ft across Perth. Conditions have deteriorated across all locations with winds swinging more N'th this afternoon along with a bit more size in Perth and Mandurah.
This week and weekend (Sep 7 – 12)
We've go a couple of onshore days ahead before conditions clean up for a day towards the end of the week along with a large new W/SW groundswell.
Looking at tomorrow, and today's SW groundswell is due to ease and a broad, strong mid-latitude low to our west will edge in closer, bringing strong N/NE tending N/NW winds, limiting surfing options across the state.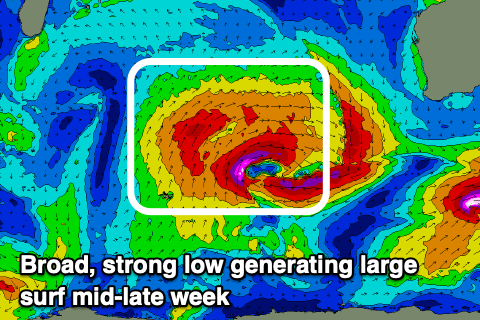 Less favourable N/NW winds are then due Wednesday morning, easing and tending W/NW ahead of a trough and change through the evening. Size wise the swell will be at a low point, but into the afternoon the first signs of W/SW swell from the low are due.
This low is quite intense and broad, aiming a patchy fetch of gale to severe-gale W/SW winds towards us today, with a less favourably aimed but stronger fetch of severe-gale to storm-force winds due to fire up on its western flank this evening before the low breaks down rapidly tomorrow.
What we should see is a large W/SW groundswell, kicking Wednesday afternoon, with Thursday morning revealing the peak.
The South West should see easy 10ft surf Thursday morning, if not for the odd bigger sneaker, 3ft+ in Mandurah and 3ft across Perth.
With the trough moving through Wednesday evening winds will swing SE across the South West with strengthening S/SE winds further north, favouring some spots over others. SW sea breezes will create bumpy conditions into the late afternoon in the South West so hunt the morning and early afternoon.
As we move into Thursday, onshore W'ly winds are due to kick back in across the South West, variable to the north ahead of a weakening frontal system.
The swell will be on the ease from Thursday, with Perth and Mandurah seeing easing 2ft+ and 2-3ft waves respectively.
A new, moderate to large W/SW groundswell is expected from the earlier stages of this front, with it projecting a healthy fetch of W/SW gales through our swell window mid-late week.
The swell should build through Saturday and peak into the afternoon with sets to 6ft to possibly 8ft in the South West, 2-3ft across Mandurah and 2ft in Perth. Winds will be best for protected spots and around to the S/SE, holding all day with great E'ly offshore winds Sunday as the swell eases.
Longer term we might be looking at a more significant polar frontal progression firing up south-east of South Africa, generating some large, long-period SW groundswell for later next week, but more on this in the coming updates.