Windy weekend, even windier early next week with XL swells
Western Australia Surf Forecast by Craig Brokensha (issued Friday August 6th)
Best Days: Selected locations out of the wind tomorrow, possibly Perth Wednesday morning, Thursday Perth and Mandurah, Friday all locations
Features of the Forecast (tl;dr)
Easing SW groundswell tomorrow with strengthening N-N/NW winds in the South West, fresh N/NE winds, strengthening in Perth and Mandurah
Building mix of large, mid-period and stormy swell Mon with strengthening W/NW winds, reaching gale-force into the PM
XL W/SW groundswell Tue with strong W tending W/SW-SW winds
Easing XL W/SW groundswell Wed with gusty W/SW winds (possibly variable early around Perth)
Easing large W/SW swell Thu with W winds in the South West, E/NE in the AM further north
Large mid-period SW swell for late Thu, easing Fri with NE winds
Recap
Great surf across all locations the last two days, with a new pulse of groundswell yesterday, topped by an even stronger pulse today. Conditions have been great and the swell a little above expectations which is a plus, coming in at 6-8ft across the South West yesterday, 2-3ft in Mandurah and building to 2ft in Perth.
Today the swell has pulsed further in the South West, with a bit more size filling in to the north. Make the most of it but with winds already swinging to the N'th this afternoon and strengthening, it's favouring a handful of selected breaks.
This weekend and next week (Aug 7 - 13)
Today's strongest pulse of SW groundswell is due to ease back in size through tomorrow and winds are now looking dicier for the South West with a dawn N-N/NW breeze only favouring a small number of locations. Perth and Mandurah should see gusty N/NE winds at dawn, strengthening through the day, with winds strengthening from the N/NW down South.
Size wise, the South West should ease back from 6ft+ across the swell magnets, 2ft+ in Mandurah and 2ft on the sets in Perth.
Sunday will be poor with NW tending strengthening W/NW winds across the South West, possibly N/NE at dawn further north but quickly shifting NW and then W/NW.
We then look at the vigorous polar frontal progression pushing up and towards us during the weekend and early next week.
The first frontal system now looks stronger with a fetch of severe-gale SW tending W/SW winds due to be projected up and towards us, from the Heard Island region.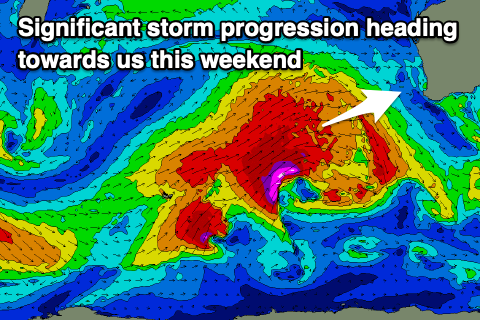 This front will stall on approach to Sunday evening, with a secondary significant fetch of severe-gale to storm-force W/SW winds piggy-backing over the top of the top, before pushing across us Tuesday.
What we'll likely see is large, mid-period W/SW swell building Monday with local windswell and strong to gale-force W/NW winds developing into the afternoon, with an XL groundswell for Tuesday, and a secondary XL pulse for Wednesday morning.
Size wise the South West looks to still come in around 15-20ft Tuesday, with 4-6ft waves in Mandurah and 3-5ft surf across Perth. Winds will remain terrible and strong from the W, shifting W/SW-SW into the afternoon.
Wednesday looks to ease back from 15ft+ in the South West, 4-5ft across Mandurah and 4ft in Perth fresh and gusty W/SW winds. The Perth region may see variable winds early in the morning, but we'll review this Monday.
Thursday unfortunately still looks to linger onshore across the South West as the swell eases further, with E/NE winds further north. A reinforcing, mid-period SW swell is due into the afternoon though, with the South West likely to hold 6-8ft (bigger in the morning). Mandurah should be 3ft with 2-3ft waves in Perth.
Friday will finally see winds swing offshore out of the NE across the South West-north with the reinforcing SW swell easing back from 6-8ft in Margs and 2-3ft further north.
Longer term we've got a good run of clean conditions and moderate sized swell pulses from the polar shelf into next week. More on this Monday though and in the meantime, have a great weekend!