A period of improved surf from tomorrow
Western Australia Surf Forecast by Craig Brokensha (issued Friday July 16th)
Best Days: The South West tomorrow morning, Perth and Mandurah tomorrow, early Sunday and Monday morning, all coasts Tuesday
Features of the Forecast (tl;dr)
New, long-period SW groundswell tomorrow with light, variable winds (E/NE-NE in the AM), tending W-W/NW into the afternoon
Easing SW swell Sun with NE tending W/NW winds in Perth and Mandurah, strengthening W/NW in the South West
Reinforcing SW swell Mon with lingering W/SW winds in the South West, NE in Perth and Mandurah through the AM
Easing SW swell Tue with fresh E tending E/NE winds
Large, windy building surf late week and into next weekend
Recap
The swell jumped back up in size yesterday with stormy, poor conditions across all locations, easing a bit in size today though remaining poor with persistent onshore winds. There are surfable waves for the desperate though in Perth and Mandurah.
This weekend and next week (Jul 17 - 23)
The strong cold front that pushed through Wednesday evening is now pushing off to the east and we'll see conditions improve tomorrow, with variable E/NE winds due in the South West, E/NE-NE in Perth and Mandurah. Winds will shift onshore from the W/NW-NW into the afternoon creating bumpy conditions.
There's no change to the large, long-period SW groundswell due tomorrow, with it generated by a strong polar low south-west of us the past two days.
We're expecting a peak in size through the morning with sets to 10ft across the South West swell magnets, 3ft+ across Mandurah and 2-3ft in Perth, easing through the day.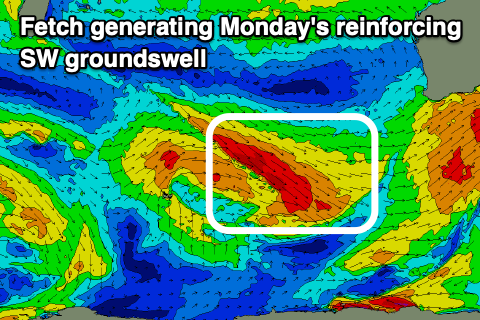 Sunday will be smaller and an approaching front will bring moderate to fresh W/NW winds to most locations, strengthening from the W through the day. Perth and Mandurah are likely to see early N/NE winds.
Size wise Perth and Mandurah look to be easing back from the 1-2ft and 2ft+ respectively.
Into Monday, winds will linger out of the W/SW across the South West though be NE across Perth and Mandurah along with a fun, reinforcing SW swell. The source of this is a healthy fetch of strong to gale-force W/NW winds moving in, south-west of us today, and this should keep the South West around 6ft with 2ft sets in Perth and Mandurah.
Tuesday will finally see winds swing offshore across the South West, fresh from the E tending E/NE as Monday's SW swell eases. Wednesday will be smaller and with a further deterioration in winds.
Longer term, we've got a strong cold outbreak due across the South West of the state, as a cold front come trough pushes up and into us Friday/Saturday. This is a funky looking system and we'll have to have a closer look at it Monday but we're looking at another extended run of large, onshore surf. Have a great weekend!