Improving surf all day tomorrow, cleanest Friday
Western Australia Surf Forecast by Craig Brokensha (issued Wednesday June 30th)
Best Days: Perth and Mandurah tomorrow, the South West into the afternoon, all locations Friday, desperate surfers in the South West Saturday morning
Features of the Forecast (tl;dr)
Easing SW swell tomorrow, slowed slightly by a reinforcing pulse with moderate SW tending SE winds in the South West, E/NE tending variable in Mandurah and N/NE tending variable in Perth
Easing SW swell Fri with E/NE tending N winds
Windy, large swells into early-mid next week owing to a stalling mid-latitude low
Recap
Poor, onshore waves across all locations yesterday with stormy 10ft waves across the South West, 3-4ft in Mandurah and 3ft across Perth.
Today we've seen the stronger groundswell move in keeping the South West around 10ft but with a moderate to fresh W'ly breeze. As expected Perth and Mandurah are cleaner with fun 3-4ft and 3ft surf respectively.
This week and next (Jul 1 - 9)
The large mid-period energy from yesterday and today's better groundswell will start to ease overnight, and winds will slowly improve across the South West.
Unfortunately it doesn't look like we'll see the variable breeze from the morning mentioned on Monday, and instead moderate SW tending S winds, then SE into the afternoon which is still an improvement. So give the morning a miss and aim for a surf in sheltered spots through the afternoon.
Sets are due to ease back from the 8ft range, slowed by a reinforcing, mid-period SW swell through the afternoon.
Mandurah should be 3ft with 2-3ft sets across Perth and with an E/NE tending variable breeze across the former, N/NE tending variable in the latter.
Friday will see E/NE winds across all locations, tending N'ly into the afternoon as the swell eases further from the 6ft range across the South West, 2ft in Perth and Mandurah.
The surf will continue to ease in size and power through the weekend with persistent NE winds on Saturday, strong from the N/NE tending W/NW on Sunday as a broad mid-latitude low starts to develop south-west of us.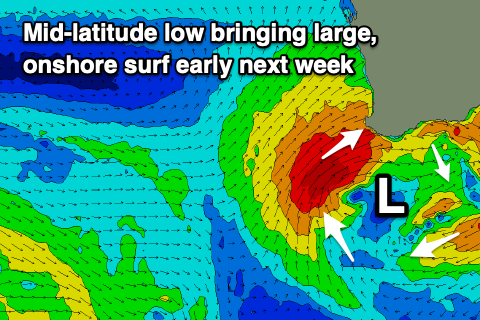 As touched on last update, this low will stall through early next week, aiming various fetches of strong to gale-force W/SW winds into us from Sunday evening, bringing large levels of stormy W/SW swell.
The surf will build Monday but with strong W/NW tending W winds, likely peaking in size Tuesday to 10-12ft in the South West, 4-5ft in Mandurah and 4ft across Perth. Winds will remain terrible and strong from the W all day, shifting SW Wednesday and easing slightly as the low starts to weaken.
As this low starts to push off to the east later next week, another is due to push in behind it, bringing another run of large, onshore surf the following weekend and week. More on this Friday and in the meantime make the most of the slowly improving conditions.