Average outlook of surf
Western Australia Surf Forecast by Craig Brokensha (issued Monday June 21st)
Best Days: Perth and Mandurah tomorrow morning, Margs Thursday
Features of the Forecast (tl;dr)
Easing S'ly swell tomorrow with strong S/SE tending S/SW winds (lighter and SE further north early), smaller Wed with similar, weaker winds
Inconsistent mix of new SW groundswells Thu, peaking into the PM with moderate E/NE tending N/NE winds
Easing surf Fri with strengthening NW winds (N/NE further north)
Large, onshore run of surf into next week
Recap
Poor surf across the South West with strengthening onshore winds Saturday, bigger Sunday but a mess.
Perth and Mandurah saw a window of light winds Saturday morning but tiny surf, better Sunday with the lift in swell and light winds. A developing mid-latitude has brought tons of rain and today, a stormy, choppy S/SW swell along with strong S'ly winds.
This week and weekend (Jun 22 - 27)
The mid-latitude low responsible for our current windy S-S/SW swell is moving slowly east and with this we'll see the swell easing in size as winds slowly relax along the coastal margin and tend S/SE.
Come tomorrow morning we're likely looking at easing 4-6ft waves in the South West, 2ft to the north and abating fairly steadily.
Winds will be poor and strong from the S/SE tending S/SW across the South West, better and more SE to the north in the morning.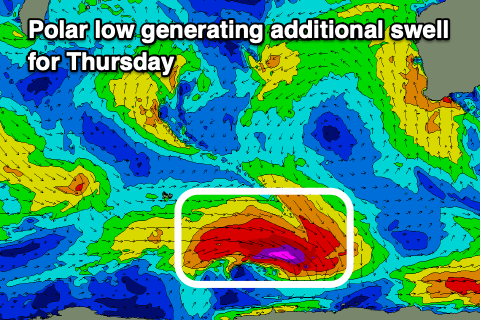 There'll be no real improvement in conditions Wednesday with similar winds, though with less strength and a further drop in swell.
Thursday looks to be the pick of the week across the South West with a morning E/NE breeze and new, inconsistent mix of building SW groundswells. Winds are due to swing more N/NE through the day with an approaching front so surf early.
The least consistent of the groundswells was generated by a distant storm, south-east of South Africa, but will be combined with some closer-range energy from a deepening polar low that's currently just east of the Heard Island region.
A fetch of severe-gale W/NW winds should produce the most notable size on Thursday with sets to 4-5ft+ across the South West (likely peaking after lunch), 1-1.5ft further north.
The swell should ease Friday but with strengthening NW winds across the South West, N/NE early further north but tiny.
We'll see N/NE winds persist with no new swell through the weekend ahead of a progression of vigorous frontal systems projecting up from polar latitudes, in and across us next week.
This looks to bring large, stormy waves to all locations next week, with no let up into early July. The activity will be linked to a strong node of the Long Wave Trough firing up to our west, but more on this Wednesday.